This blog post is part of today's newsletter issue #96. That issue has a storewide 25% off coupon code in it as a thank you to my subscribers. Look for it in your inbox later today. Also check your spam folder because this is a high-volume week for email. (Not a subscriber? It's not too late.)
The clean, bold holiday template I used for issue #96 limits how I want to write, so here's the rest of the story. This year I look at my holiday crochet project habits over the years. (By "holidays" I mean from Thanksgiving in the USA to New Years Day.)
Holiday Crochet Project Types
It turns out I look for about eight kinds of holiday crochet projects! Sounds like a lot but they usually overlap. I wonder if you are the same way? I've compressed my list into three in no special order.
Feel the Peace of the Season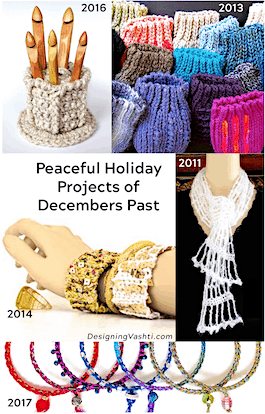 Crochet is my go-to to relax and recharge, and it has been ever since I was nine years old. (When I learned how to do Transcendental Meditation, my first thought was, "This is like crocheting.")
The crochet that replenishes me during the holidays is an instinctive thing and unique to each year. I loved looking back at these!
Clockwise from top left of image #1:
Last-Minute Gift Making
I'm easily inspired by great new gift ideas to crochet, but I typically don't have a sense of occasion until the last minute. (Fortunately crocheting smaller items is fun. They often become new designs instead of gifts though.) I greatly admire event planners and others who can plan ahead well, like those who have crochet gift lists they work through months ahead.
Last minute gift crocheting puts a burden on a crochet pattern to be easy to understand, and to call for no-fuss materials. It's sort of like freelance crocheting for magazines in the sense that it's tight deadline crochet.
If the item is a crowd pleaser, then it's production crochet territory. Ideally the pattern is easy to memorize for make multiple items from it, efficiently (and still be fun).
Niche Crochet Gifts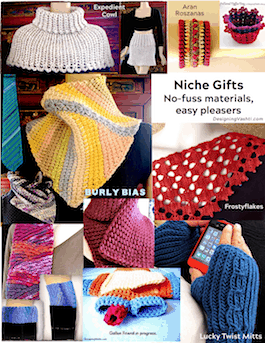 Niche items are about specialized appeal and could be the perfect thing for someone. I focused on some in the newsletter: men, boys, teens, tweens, teachers, and mothers-in-law. These are the patterns shown clockwise from top left of image #2:
Crochet Gifts for Mothers-in-Law
Seems oddly specific, doesn't it? I'm surprised by the number of times someone has told me they used one of my patterns, or took one of my classes, specifically so that they could make the item for their mother-in-law. (My own mother-in-law wanted a white angora hat to keep her ears warm.) The mother-in-law patterns:
Hostess Gifts
Some Decembers I go to so many parties. A pile of small crocheted gifts on hand would be great. Maybe a sack or decoration for a wine bottle, to decorate the lid of fresh-spiced nuts, etc.
Last year I had extra Solstice Bangles to toss onto a wine bottle neck—so festive! And the hostess ends up with new bangles.
Trend-Inspired
I checked on this season's knitwear trends and this is what I found:
Go Luxe!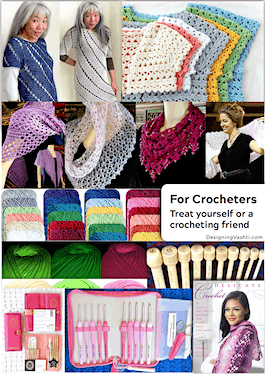 The holidays is when I splurge and reinvest in my craft. I hope you also treat yourself or another crocheter. Beyond shopping and spending, to me it's about using this time to crochet with my fanciest yarn stash and maybe break in some new crochet hooks.
Other years it has been about bling. This year I'm feeling very angora-luxe. I've been hoarding angora yarn for too long.
If someone asked me what they should get from my shop and money was no object for them (or they want to make the most of the coupon code in the newsletter), these come to my mind in no special order:
I wish for you the experience I aim to have with my 2018 holiday crochet projects: peace, cheer, inspiration, and warmth inside and out.