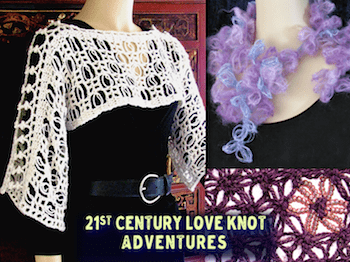 Updated on 7/18/18. View the above image full size. This is a conveniently clickable group of things I mention in 21st Century Love Knot Adventures classes. I teach the next one on July 25, 2018 in Portland OR. See student feedback. I show a huge amount of published and unpublished crochet designs in this class and I try new love knots for each class! Each illustrates the stitches and techniques learned.   — Vashti Braha
Thinking of signing up for this class? I wrote the Crochet Class in a Vest blog post with you in mind.
21st Century Love Knot Adventures
In crochet, the Love Knot is also known as Lover's Knots and Solomon's Knots. Before 1950 it was most commonly known as "Knot Stitch" and occasionally "Hail Stone Stitch."
Downloadable Love Knot Crochet Patterns
Vashti's Forthcoming Love Knot Patterns
As of 7/18/18.
Yveline features a new use for love knots: surface crochet embellishments! (Link goes to 6/15/18 blog post "First Look: Yveline, a Tunisian Wrap".)
Flowerfall is the result of several different love knot mastery skills, intended for display in the 2018 class. (Link goes to 4/23/18 blog post "A Crochet Class in a Vest". Also see "Flowerfall Vest Update".)

​Love knots serve as important examples for several different newsletter topics!
Online Love Knot Collections
Love Knot How-To's
Any Books on Crocheting Love Knots?
Yes! Jenny King wrote one: Crochet with Love Knots (Annie's Crochet 2014).
Non-English Terms (notes)
Beaded Love Knots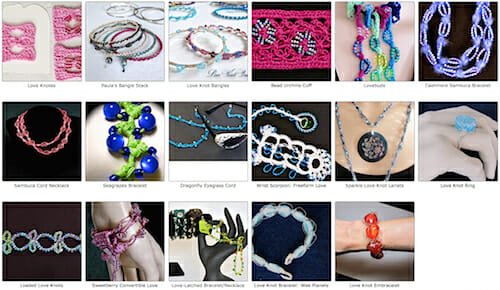 Love Knot Links Miscellany
Older sources were first compiled for the 2012 class. All links work as of 4/05/18.