Tunisian Crochet Patterns from Lacy to Solid
Tunisian crochet, a type of crochet for which special Tunisian crochet hooks are available, has gone by different names over the years. Those of us who grew up in the USA in the 1970's called it "afghan stitch". Prior to that it has been called everything from "Hook Knitting" to "Tricot Crochet" to the romantic "Royal Princess Stitch."
If you think you know what Tunisian crochet is, make sure you're up to date! It's enjoying an exciting renaissance.
Subscribe to my newsletter to stay informed about this hot crochet technique. Learn about new Tunisian stitches and find out when new Tunisian crochet patterns and hooks are added to this site.
The formerly dense, thermal Tunisian crochet has many new lacy looks with fashionable drape. It's starring in new yarns for new projects and sometimes co-starring with other interesting crochet techniques in the same project, such as Slip Stitch, Broomstick, and Hairpin Lace. Some of my laciest, most ethereal designs, such as Mesmer and Weightless, are easily created with simple Tunisian stitches.
The most distinctive difference between regular and Tunisian crochet is that each complete Tunisian row has two parts: a "forward pass" (begin by putting loops on the crochet hook) and a "return pass" (complete the stitches by working each loop off of the hook).
Is it more like crocheting, or more like knitting?
During each forward pass, each stitch is held on the hook across a row, and this causes it resemble knitting to some folks. It's often an enjoyable first experience of crochet for knitters. In fact, classes for it are growing in demand at yarn shops around the country.
Check this Events page to find out when I'm teaching Tunisian crochet classes online and in yarn shops.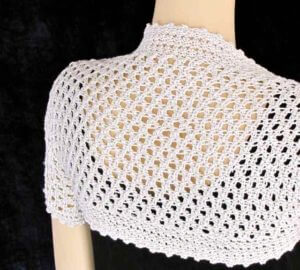 I think Tunisian crochet has more in common with regular crochet than with knitting. One hook is used throughout instead of two needles. Although the stitches can initially look very different (and some even mimic knitted fabric), they have an innate crochet structure. For example, the return pass resembles chain stitches and is structurally equal to slip stitches. A fun fact that to my mind is the most important of all is this: the lesser-known but handy linked stitches of regular crochet are structurally the same as Tunisian stitches.
About Tunisian Crochet Hooks
A Tunisian row can have any number of stitches in it, and the Tunisian crochet hook only need be long enough to hold all the stitches. A Tunisian hook with a long flexible cable attached to it is best for a very long row of stitches, such as for an afghan worked in one piece, or for a shawl or scarf worked lengthwise.
At the other extreme, a row with few stitches, such as with Tunisian entrelac, can be worked with a common regular crochet hook as long as it doesn't have a thick handle along most of the hook's length.
The single greatest difference between the "Afghan Stitch" of the 1960's-70's and the breezy Tunisian crochet of today may be the new larger Tunisian crochet hooks on the market (above size K/6.5mm). I rely on them heavily when designing fashionable Tunisian with softly draping yarns.
Tunisian Crochet and Yarn
I find that many crocheters and knitters who encountered the "Afghan crochet" of the 1960's-'70s strongly associate it with yarns for making the dense blankets and car coats in vogue back then. Usually a worsted weight acrylic or wool yarn was crocheted with an "afghan hook" smaller than a size I tend to use. (I usually start with a size K/6.5mm hook for medium weight yarns and then go up or down hook sizes from there.) This kind of Tunisian is still great for afghans and structured jackets if not worked too tightly.
The pink silk vest pictured below features the same basic Tunisian Simple Stitch used for thick afghans for decades. I used a large hook size. There was no "Tunisian curl" (Tunisian crochet doesn't lie flat when it's crocheted tightly or with stiffer yarns).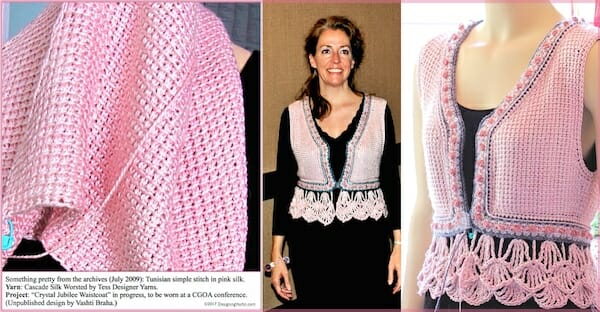 Tunisian Simple Stitch and Beyond
Like many crocheters, I was perfectly content knowing one Tunisian stitch–for decades! Tunisian is best known for its versatile basic stitch, called Tunisian Simple Stitch (a.k.a. "Afghan Stitch" and is abbreviated Tss in patterns).
This stitch may be even easier to learn than the basic Single Crochet of regular crochet. With its unique and appealing woven appearance it looks good in any yarn. Simply changing the hook size, or the yarn's fiber content or plying, or alternating yarn colors every row or so, can give an entirely fresh look.
To be among the first to know when we add new Tunisian crochet patterns, be sure to subscribe to my e-newsletter.