The Craft Yarn Council of America provides guidance for classifying crochet projects according to the skill level required. The goal is to help crocheters choose projects they will enjoy. Each skill level has its own easily recognized symbol. The guidelines and symbols have been widely adopted in the industry and are summarized in the chart further down this page.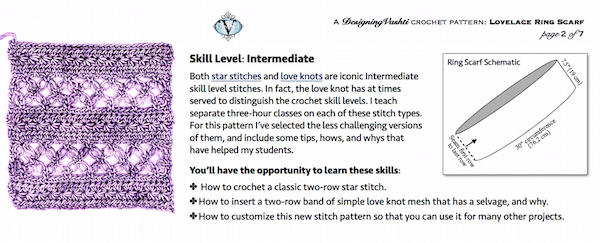 Vashti's Advice
Recommended for newer crocheters: the skill level designation for projects is a great place for you to start if you're still learning the basics.
Experienced crocheter? Use the guidelines to choose a Beginner or Easy level project for travel or "TV crocheting".
Remember that these levels are very general. As a designer and teacher, I find that some projects fit more neatly in this system than others. Each crochet project is creative and unique—that's what we love about them!
Look for crochet patterns that get specific about which skills are needed within a skill level. Consider the Intermediate skill level: that's a particularly broad one. Skill specifics let the crocheter know exactly how the pattern is—and is also not—Intermediate. When I write patterns I go another step beyond even that. I include a list of specific new skills the crocheter will acquire while using the pattern. See image above of the skill level details on page 2 of the Lovelace Scarf pattern.
Are you an advanced crocheter but new to using written crochet patterns? Practice with projects rated Beginner or Easy. The way a pattern is worded, edited, and charted requires its own skill set. After all, crochet instructions can usually be explained or depicted more than one way. A pattern for five sizes that's tersely edited to fit on one page requires experience to use!
Look for crochet patterns that are designed & written explicitly for more than one skill level, such as when there's an option for more experienced crocheters to use a specialized stitch variation, while the less experienced can simply skip it. I love writing this type of pattern.
Be wary of using these skill levels to describe the crocheter rather than the project. The generalizations are often not helpful enough and can even be misleading; see my Beyond Basic Crochet page.
The Four Standard Crochet Skill Levels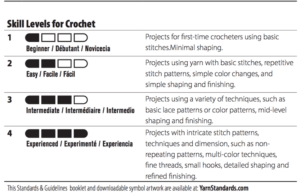 Beginner Projects for first-time crocheters using basic stitches. Minimal shaping.
Easy Projects using yarn with basic stitches, repetitive stitch patterns, simple color changes, and simple shaping and finishing.
Intermediate Projects using a variety of techniques, such as basic lace patterns or color patterns, mid-level shaping and finishing.
Experienced Projects with intricate stitch patterns, techniques and dimension, such as non-repeating patterns, multi-color techniques, fine threads, small hooks, detailed shaping and refined finishing.