I'm delighted that my good friend Doris Chan has chosen DesigningVashti.com to be the exclusive source for her independent crochet pattern line, DJC Designs.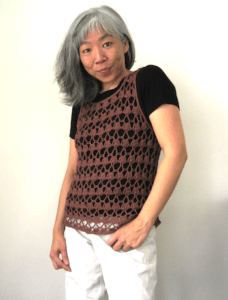 Like many crocheters, I've been a fan of her elegantly wearable designs since the moment I discovered them in 2003. Doris' DJC patterns are listed all in one place on our home page for your convenience.   –Vashti
Doris' creative genius for seamless top-down in-the-round garment construction is easy and exciting to crochet because she makes sure her patterns have the professional stitch diagrams they require. Doris also doesn't hold back on the helpful tips and fitting advice, based on her wealth of experience. Her DJC patterns are usually booklet-sized because of the extensive visual aids, options, and range of sizes.
Visit her blog, Doris Chan Crochet.
Join her Ravelry forum, Doris Chan Crochet.
Doris Chan has been at the forefront of modern crochet design ever since a photo of her doily shawl attracted the attention of a notable yarn company in 2002. Shortly thereafter, she joined the Crochet Guild of America and became a familiar face and an enthusiastic volunteer at the Chain Link conferences.
With her design approach, prodigious output, and tireless service, Doris has impacted every corner of the industry: from the fit of seamless crochet clothing, to yarn design, to the visibility of crochet in knit-centric contexts. She inspires devotion in magazine editors and yarn companies for her drop-everything design turnaround times. Her large fan base adores her seamless, polished approach to modern lace clothing that is fun to crochet and easy to wear proudly; and, her can-do spirit is irresistible.
Doris has been a passionate force for creating spaces for newer crochet designers to thrive. Her mentoring mantra is "If I can do this, YOU can." The annual fashion shows and design contests presented by CGOA have grown into well-organized events over the past decade due to her efforts and leadership.
Doris' four crochet books with Potter Craft/Random House:
Convertible Crochet: Customizable Designs for Stylish Garments (2013)
Crochet Lace Innovations: 20 Dazzling Designs in Broomstick, Hairpin, Tunisian, and Exploded Lace (2010)
Everyday Crochet: Wearable Designs Just for You (2007)
Amazing Crochet Lace: New Fashions Inspired by Old-Fashioned Lace (2006)
Born in 1954, Doris Chan worked in radio before designing crochet professionally. She can often be seen on stage with her local theatre group in Pennsylvania.