Have you arrived at this page from Ravelry, Facebook, a blog post, pattern PDF, or elsewhere? Welcome. This is the only place to find the complete list of my archived crochet newsletters, with update notes and direct access to each. Go directly to the list below.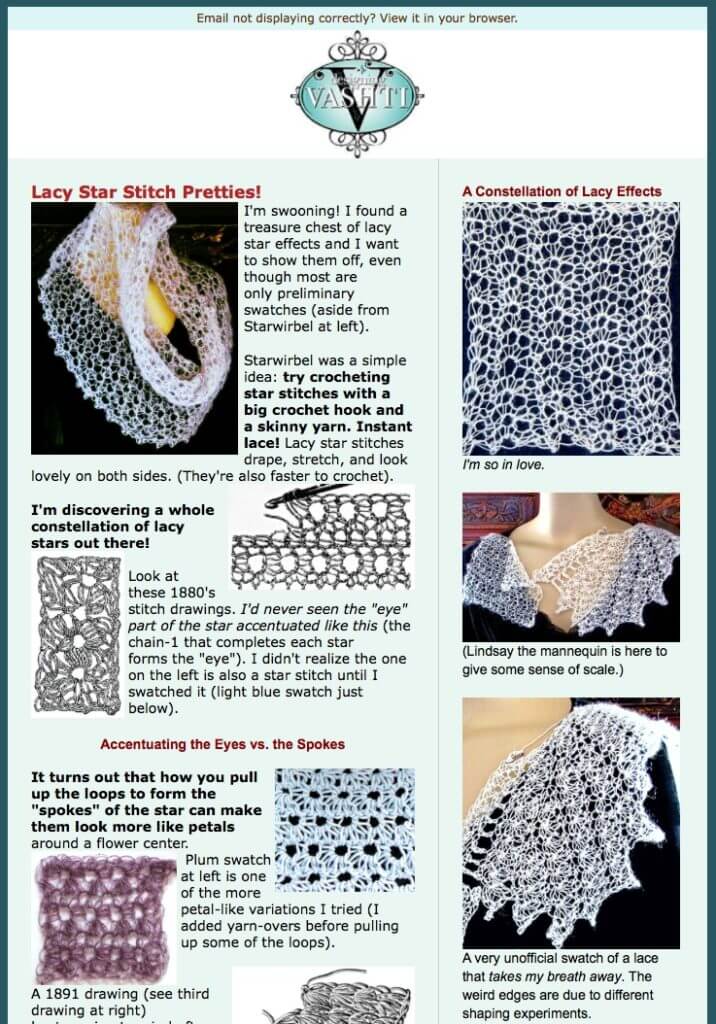 I proudly present a full backlist of my archived crochet newsletters. This page is a public log of my progress as I add each one to its permanent public archive on this site.
As I upload and update each back issue, I'll add its direct link to the list below. Use the issue number (such as #60 for the one pictured) to find the issue you want in the list. If it isn't clickable, it's not yet republished.
The Originals, Enriched
Each of my archived crochet newsletters is in the process of getting its own permanent page on this website. You'll be able to leave comments, bookmark and return to it, share, pin, and print out a copy. I love that I can add new stuff as the topic evolves. If I've updated it more than once, I'll note the most recent date at the top of its page.
I'm generally preserving the original issues except for very light editing and link-fixing here and there. Many of the topics continue to evolve. Issue #2 is an example of when I add new material and some original notes that were squeezed out of the issue the first time around. This kind of stuff goes at the end of its page, clearly indicated. In the case of Issue #3, the whole issue got a dramatic overhaul!
How to Find an Issue
Know the number of the issue, or the general date it was sent?
The first-ever issue, #1, was sent September 2, 2010. Issue #100 went out September 1, 2019. Scroll through the list below by issue number, which is also chronological.
Prefer to browse?
I created this page just for you. And for me, when I just want to scroll through the memories.
Have a topic in mind?
Have a topic in mind, but you don't know the number or date of the issue(s)? I'm working on a way to display newsletters grouped in subcategories.
Vashti's Archived Crochet Newsletters Complete List: 2010 to the Present
On a mobile device? Scroll to the left or right if you don't see FOUR columns (Issue #, Sent Date, Original Title, Notes).
Issue #
Sent
Date
Original Title
Notes
#1
2010-09-02
New Crochet Talk: Inaugural Issue
#2
2010-09-16
A Super Crochet Maneuver
Updated title:

Crochet Stitch Equivalents (Issue 2)

#3
2010-09-30
A Very Different Kind of Crochet Stitch
Updated title: Limpet Stitch: Crochet Half Hitches (Issue 3)
#4
2010-10-14
Graphing Waterlilies
#5
2010-10-28
A Fever for Neck Warmers
#6
2010-11-11
Thick, Thicker, Thickest
#7
2010-11-24
Tunisian for Yarn Bail Outs
#8
2010-12-09
Commutative Property
#9
2011-01-06
The Ribbing Issue
#10
2011-01-20
Breaking Out of Tunisian Ruts
#11
2011-02-03
Fibers That 'Sproing'
#12
2011-02-17
Twist Some Loops
#13
2011-03-03
Shrugging Off Winter
#14
2011-03-17
Ireland, Japan, and Crochet Lace
#15
2011-04-01
Unpacking V-Stitches
#16
2011-04-14
Flavor Burst Crochet
#17
2011-04-28
Fancy Cords in 360º
#18
2011-05-13
Deep Crochet Research
#19
2011-05-26
Netting vs. Lace
#20
2011-06-09
Travel Crochet
#21
2011-06-23
Wee Pebble Stitches
#22
2011-07-08
Crochet That Pours
#23
2011-07-21
If Stitch Patterns Could Speak
#24
2011-08-04
Mirroring Stitch Types
#25
2011-08-18
Tweak Those Gaps Along Row Edges?
#26
2011-09-01
Fun With Stitch Blocking
#27
2011-09-15
Stalking the Wild Slip Stitch
#28
2011-10-06
Mohairs for Crochet
#29
2011-10-20
Short Row Startle!
#30
2011-11-05
Yarns of Different Stripes
#31
2011-11-17
Sparkly Crocheting
#32
2011-12-01
Quick Crochet for Kids
#33
2011-12-16
Jumbo Hooks
#34
2011-12-31
Protecting Crochet Creativity
#35
2012-01-14
Draping Simple Shapes
#36
2012-02-17
Ribs, Old & New Grooves
#37
2012-03-08
When Stitches Lean
#38
2012-03-23
A Jewelry Experiment Method
#39
2012-04-24
Love Knot Research
#40
2012-05-14
Pulling Up a Long Loop
#41
2012-07-12
Beachy Kimono & Ruana Shapes
#42
2012-08-11
"Inverse" (NOT Reverse) Crocheting
#43
2012-09-27
Silver Wire Crocheting
#44
2012-11-08
Dainty Eyelets for Winter Lace
#45
2012-11-30
Slip Stitch FAQ
Blogged a version of this: Slip Stitch Crochet FAQ.
#46
2012-12-13
Clones Knots, Open & Closed
#47
2013-02-19
Rayon Threads. Really?
#48
2013-03-14
Diagonal Tunisian Crochet Discovery
#49
2013-04-20
'TEKSplorations' for Tunisian Lace
Blogged about the Tunisian Extended Stitch: Tunisian Extended Stitch Ripple.
#50
2013-05-16
Those Crochet Stitch "Feet"
#51
2013-06-18
Lacy Summery Seams
#52
2013-07-18
Slip Stitches, Wool Breeds, & Plying
#53
2013-08-06
Slip Stitch Flowers
#54
2103-09-27
How (& Why?) of Crochet Coffee Cozies
#55
2013-12-02
Fun Yarn Tests, and – BIG NEWS!
#56
2014-01-09
Yarn Color Charms to Make
#57
2014-02-14
Which Beads Added Which Way?
#58
2014-03-13
About That Bump in the Chain
#59
2014-04-01
Star Stitch, the Tunisian Connection
#60
2014-04-25
Star Stitch Lace Pretties!
#61
2014-06-06
When Top Loops Are Optional!
#62
2014-09-06
Hexagonal Lace Types
Blogged overflow from this issue:

Beaded Delta Crochet Types of Lace

.
#63
2014-10-02
Fun with Double Stranding
Blogged overflow from this issue, Double-Strand Crochet, and more overflow: More on Double Strand Crocheting.
#64
2014-11-07
Dramatic Tunisian Edge Increases
Blogged a version of this: How to Increase Tunisian Crochet Blocks.
#65
2014-12-05
Mock Cables in Slip Stitches
Blogged the project: Crochet Cable Boot Cuff Pattern Progress.
#66
2014-12-21
Hot Trend: Boot Cuffs!
#67
2015-02-05
That Weird Popcorn Stitch Step
#68
2015-05-23
Filet Net Textures, Rotated!
#69
2015-07-04
Wish Bracelets: Why Not Crocheted?
#70
2015-08-14
Starting a Stitch with a Backtrack!
#71
2015-09-19
Beyond Crochet Hook Debates
Blogged: downloadable Crochet Hook Diagram, and Crochet Hook Size Charts.
#72
2015-10-10
"Long Tail" Crochet
Blogged: Long Tail Crochet Foundations.
#73
2015-11-25
How to Shape Star Stitches
#74
2015-12-16
Crochet a Filament of Cheer
#75
2016-01-23
It's MORE Than an Invisible Decrease!
Blogged a version of this: When to Crochet Between Top Loops.
#76
2016-02-12
Heart Shapes with Slip Stitches
Blogged a free heart pattern to go with this issue: Slip Stitch Crochet Hearts. Also see

Crochet Bunnies Flat or Puffy

.
#77
2016-03-08
Find the Color Code of Short Striping Yarns
Related blog post: Rosebud Argyle Color Pooling Stitch.
#78
2016-05-02
Möbius Mindbending Experiences
Related blog post: Mindbender Mobius News.
#79
2016-06-11
Steek (Cut) Stitches the Fun Way ✂
Blogged the overflow from this issue: Steeking Crochet (Newsletter Overflow).
#80
2016-09-01
Pattern Schematics for Insiders and Outsiders
#81
2016-11-04
Crocheting Pendant Loops ➰
#82
2016-12-10
Holiday 2016 + Foundation Star How-to
[includes #82.5 (12/15/2016) Updates to Last Week's Issue]
#83
2017-02-28
Hidden Pictures in CUT Stitches!
#84
2017-05-05
Crocheted Ruffles
#85
2017-07-07
New Stitch Patterns
#86
2017-08-10
Edgings That Multitask
#87
2017-08-24
Announcing a Ruana 'DAL CAL' (design-along crochet-along)
#88
2017-11-18
Yarn Overs⤵, Unders⤴, and 'Purlwise'
Blogged overflow from this issue: Yarn Over, Yarn Under (Newsletter Overflow).
#89
2018-01-13
Crochet Around a Ring *Differently*
Blogged the design that inspired this issue: Last Minute Crochet Jewelry Gift.
#90
2018-03-04
Elegant Tall Stitches
#91
2018-04-07
Crocheting a Yarn's Twist Energy
#92
2018-05-19
Clever Substitutions
#93
2018-07-21
Unzip Foundation Chains
#94
2018-09-01
Referring to Stitch Parts
#95
2018-10-19
Color Revolution
#96
2018-11-29
Choosing Holiday Projects
Blogged the charts of ideas: Holiday Crochet Project Habits.
#97
2019-02-10
Crochet "Life Lists"
Downloadable PDF of

Crochet Bucket List

.
#98
2019-04-06
Tricky Tunisian/Afghan Hooks
#99
2019-06-07
Barefoot Sandal Phenomenon
#100
2019-09-01
It's Issue 100!: Scaling Every Which Way
#101
2020-04-25
How I Reset Major Crochet Slumps


#102
2020-06-13
Wild Whys of Y-Stitches
Currently included in the Tall Stitch Class Resources Page until it gets its own permanent page.
#103
2020-10-09
Big Picture of Crochet
Updated title: What IS Crochet, Really?
#104
2022-01-26
The Paradoxical Return Pass
You might be able to view it here until I add it to this site.
#105
2022-04-22
Ripple Stitch DNA
View it here until I add it to this site.
#106
o
o
o
Vashti's Crochet Inspirations Newsletter all issues.
---