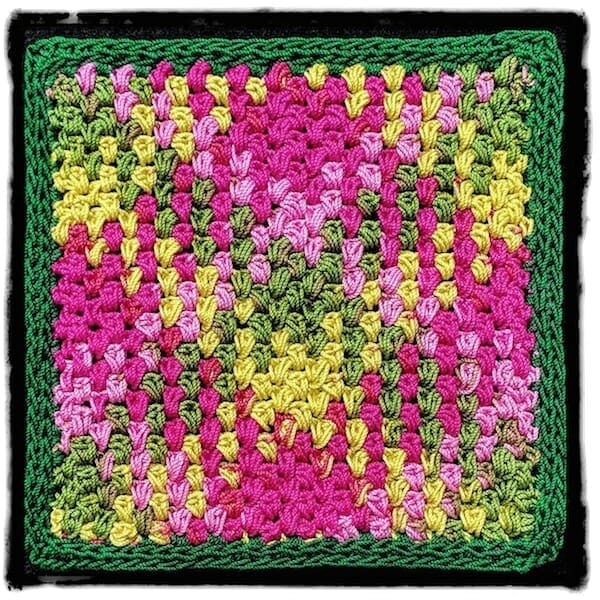 Size 10 variegated Lizbeth cotton thread, color #10-104 Spring Garden. I created a "Color Eater" variation of the moss stitch for it. Row by row pattern below.
Have you seen the planned color pooling crocheters are doing to get a cool argyle or plaid look with variegated afghan yarns? You can use lots of different stitches for this, but the height of single crochets (sc, or in UK/AUS: dc) is great, especially with moss stitch (a.k.a. linen, granite, seed stitch).
Planned Pooling with Cotton Thread
I pooled the colors of a size 10 crochet thread into an argyle and "Rosebud Argyle" is the result. It's 3.5″ x 3.5″ and dense because I used a color-gobbling stitch pattern, so I added a border and turned it into a "mug mat" (coaster). I'll be bringing it to the Creative Planned Color Pooling class.
If I had used the classic moss stitch pattern of [sc in next ch-space, skip next sc, ch 1], my swatch would have come out more than double that size: over 7″ x 7″ (I ripped it out before measuring exactly how much smaller it is with my stitch variation).
Even the 3.5″ size is bigger than I expected! My original goal was only 1″ or 2″. New lesson learned: the color changes in variegated thread look short until you start crocheting with it. The stitches just don't take up much thread.
Stitches Change the Color Width
I really wanted the experience (and general look) of a moss stitch pooled argyle, so I needed to substitute with stitches that eat up a lot more thread. Why? The length of each color in a variegated thread or yarn is fixed. When the colors repeat, their sequence is also fixed. The total length of one whole sequence is your fixed width. The way you alter this fixed width is with the stitches you use. (There are other options but not for this post.)
Each row of moss stitch is [sc in next chain-space, skip next sc, ch 1]. With each new row, the sc's are over the ch's and the ch's are over the sc's. It is common to use half double crochets (hdc, or UK/AUS: htr) instead of sc. I haven't seen much of it lately, though. I hope crocheters are feeling free to alter the moss stitch, especially if you're doing planned pooling.
Below I've written up the stitch pattern instructions for my color-gobbling moss stitch variation. It's the one I used for the swatch pictured above. I wrote it as if you're using a solid colored yarn or thread.
Vashti's "Color Eater Stitch"
Pattern Notes
The "color eater stitch" is [slip stitch, 2-hdc puff] in the next ch-space. The slip stitch is to keep the hdc puff closer to the height of a sc and puffy (rosebud-like). It also helps keep the color changes distinct when you're pooling.
Like moss stitch, each row is [color-eating sc substitute in next ch-space, skip next color-eating sc substitute, ch 1]. With each new row, the color eaters are over the ch's and the ch's are over the color eaters.
It's easy to fine tune how much you use of a color when you're pooling with it. For example, sometimes I did a 3-hdc puff instead of 2 to eat up more color. Or, a tighter ch-1 and shorter puff to eat less color. I got better at this with the later rows. Maybe you can tell in the swatch.
When color pooling with it, do whatever you need to at the row ends: just a ss and hdc to use less color, or even a 4-hdc puff to use much more.
Abbreviations
ch – chain stitch
hdc – half double crochet (hdc, or UK/AUS: htr)
2-hdc puff – [yarn over, pull up a loop] twice in the same designated stitch, yarn over and pull loop through all 5 loops on hook.
ss – slip stitch
How to Crochet It
Foundation chain: With a solid colored thread or yarn for your first swatch, chain an even number.
Row 1: Skip 3 chs, *[ss, 2-hdc puff] in next ch, ch 1, skip next ch, repeat from * until one ch remains, [ss, 2-hdc puff] in last ch, ch 2, turn.
Row 2: Skip first puff and ss, *[ss, 2-hdc puff] in next ch-space, ch 1, skip next puff and ss, repeat from * for rest of row, [ss, 2-hdc puff] in space of turning-ch 2, turn.
Repeat Row 2 for pattern.
For more on planned pooling, you might like this recent blog post: Color Pooling Developments.