Many crocheters have been trained to see the slip stitch as a humble little stitch that is very useful, though limited. It has such a simple structure that there couldn't be much to it.
Or could there?
Pictured above: "Bosni-Misti-Möbi", a recent teaching project. It's a true mobius (i.e., seamless infinity rounds with no turning) of 100% Bosnian-type slip stitches, with stacked color pooling and a Bosnian lattice border engineered to maintain the same color uptake (stacking) of the rounds as the rest of the stitches.
---
It's Global
A venerable old subcategory of Slip Stitch Crochet is known in many countries by different names. English speakers have called it Bosnian Crochet, Muslim Crochet, and Shepherd's Knitting. In Norwegian it is pjoning, and in Swedish it's krokvirkning, smygmaskvirkning, and bosnisk virkning.
It may be the oldest form of crochet.
Many crocheters and knitters remember seeing their relatives from other countries such as Morocco, Bosnia, Poland, Norway, and Sweden, crochet thick, dense socks, mittens and hats with slip stitches. The fabric is so dense that mittens made from it are very warm, durable, and soft.
Some of these traditional slip stitch items are even waterproof.
Not only is the fabric practical, it's beautiful! Two simple versions of the slip stitch can be all that's necessary to create the intricate patterns of textures and colors of this centuries-old art form.
Slip Stitch Crochet is an Unmapped Frontier
Unmapped frontier in English, anyway. The known territory for us is tiny: new crocheters learn that they need slip stitches when joining a round, or for traveling invisibly across other stitches, such as when crocheting doilies, granny squares, and other motifs.
Unfortunately we also learn that this is all it's good for. Please see my Slip Stitch Fake Facts page, which corrects the persistent misinformation.
Slip Stitch Designs – Anything Is Possible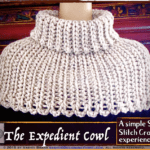 It's easy to jump right in. Use our free slip stitch crochet patterns: start with the Slipster Slackscarf, then swatch the Eva Scarf or the popular Slip Slope. Be sure to check my newly updated Slip Stitch Crochet FAQ page as you crochet these patterns.
I'm loving "big-hook slip stitch" for beginners—and for making larger garments fast! Please feel free to use thicker yarns and larger crochet hooks than the ones listed in these patterns.
How Many Kinds of Slip Stitches Are There?
Definitely more than one kind. Have a look at my Slip Stitch Fake Facts page.
It's precisely because the diminutive slip stitch has such a simple structure that a seemingly insignificant change in how it is crocheted results in large-scale effects. Merely changing the hook size or yarn type can be enough to create something stretchy enough to be worn as a "magic tube" scarf, or slinky enough to seem to pour over the shoulders. Change the entry point of the stitch, change the direction of entry, change the direction of working, change the 'yarn over' that completes the slip stitch, and more.
Unlimited Possibilities
Sign up for my free e-newsletter for updates on exciting 21st century developments in Slip Stitch Crochet as I discover them!