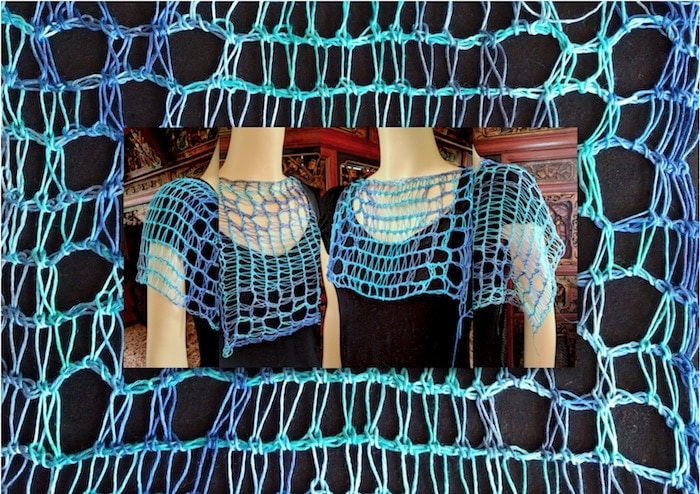 This is the gauge swatch from the new Eilanner Shawl pattern, but I used tencel thread and a giant hook for kicks. So airy! It inspired me to try draping it on a mannequin different ways. View full size.
I released a new Tunisian crochet pattern the other day. There's a lot going on in it! I think of the design as containing modules of mini-patterns. Some of them hint at new stitch patterns.
Seeds of New Stitch Patterns
Often if you change one thing about a stitch pattern you can get a whole new effect that's cool enough to count as a new stitch pattern. (This would be a good newsletter issue, come to think of it…) Here are some I swatched while Eilanner was being edited, and the things I changed to generate them. I posted them to Instagram.
Change the Yarn and/or Gauge
An obvious way to get a new effect with a stitch pattern is to use a dramatically different crochet hook size, or yarn thickness/fiber type, or all of these (as in that first image above). Super summery look! Reminds me of tall grasses.
There's something else going on with it too: it's really just a gauge swatch pattern. The skill level for Eilanner is Experienced. Getting the exact gauge is not important for the pattern but I thought it would help some crocheters to focus on just the main stitch pattern without the fancy edging at both row ends and the constant increasing.
Know what else started out as "just a gauge swatch"? Fish Lips Scarf-to-Shrug!
By the way, if you're interested in Eilanner but worry it's too challenging, work up to it with its predecessors. Shakti is like "Eilanner 101" and Islander is "Eilanner 102". (I named Eilanner after Islander.)
Repeat a Special Stitch Group All Over
Another way to do a stitch pattern spin-off is take a stitch group and repeat that. Here's Eilanner's "tattoo flower" eyelet group repeated as an all-over motif.
This right here is a fraction of the possible new stitch patterns to generate this way! For example, the eyelets could be grouped differently, or stacked in columns instead of spread out in an alternating way. Moving eyelets around is an art form in itself.
I haven't even tried sprinkling in stitch texture contrasts. Have a look at what happened when I added a similar stitch texture: love knots!
I woke up this morning with another idea for a stitch pattern that will probably show up in Instagram once I swatch it up. (The way Instagram displays images helps me contemplate designs.)
Isolate One Key Stitch
Not every stitch pattern has a key stitch to isolate. Eilanner does, though: the shallow-extended stitch I blogged about last week. The swatch below is pretty rustic and it's not easy to see what is different about the stitch, but have a look.
It's kind of loose so that I can see what the stitch texture is doing. I chose Icelandic wool for this because I love that the shallow-extended stitch is like a reversible and non-curling version of Tunisian Knit stitch.
If you like seeing my experimental swatches, follow me in Instagram where I tend to post them first. And please tell me what you like or don't about them! It inspires designs and class topics.