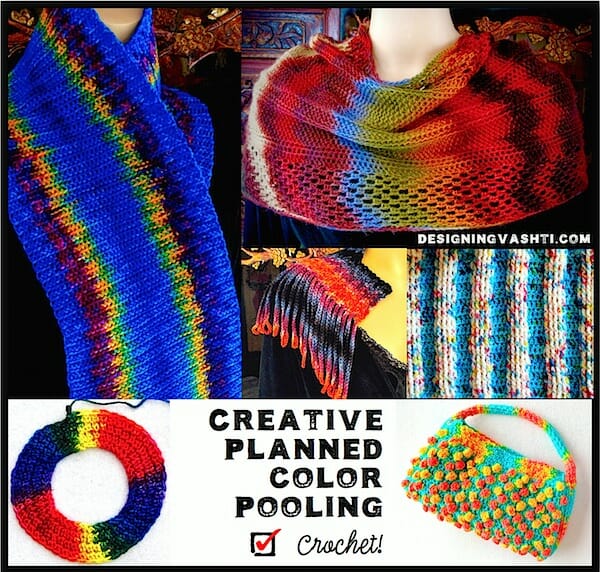 Updated on

7/18/18

. View the high-res image. This is a conveniently clickable group of things I mention and display in Creative Planned Color Pooling classes. I teach the next one on July 28, 2018 in Portland OR. (An earlier version of this class was called "Crochet Stitch Games" and included game-like serendipity techniques; between then and now, planned pooling has become a popular technique!).     — Vashti Braha
Thinking of signing up for this class? I wrote Color Pooling Developments with you in mind.
Crochet Patterns & Crochet Alongs
Recommended Issues of Vashti's Crochet Inspirations Newsletter
My Color Pooling Blog Posts
Photo Albums & Inspiration Boards
Recommended Color Pooling Sites
PlannedPooling.com where you can plot the color sequences of your yarn and see how it pools based on your plan.
Pooled Knits Ravelry group.

This group is how I first found member sanne7788 who does the most inspiring pooled Tunisian crochet I've seen so far! (Scroll down to see them all.)

Planned Pooling With Crochet Facebook group for crocheting argyles, founded by Summer Cromartie. Especially see Brenda-Leigh Bennett's 10/21/16 resource page there!
Deborah Bagley wrote a meaty multi-part series on several kinds of planned pooling. Start with the introductory roundup of it: Hook and Learn: A Feast for Your Color Pooling Eyes.
Laura Bryant: Ikat knitting effects with her ikat-style hand dyed Prism yarns, featured in Vogue Knitting. I took Laura's pooling class at my local yarn shop and here's my ikat attempt with slip stitch crochet.

If I had to pick only ONE book to read about planned pooling, it would be her 2013 Artful Color, Mindful Knits: The Definitive Guide to Working with Hand-dyed Yarn.

Marly Bird: Fantastic YouTube videos and blog posts for crochet planned pooling that argyles.
Glamour4You, Sewrella, Rockin'Lola (her granny stitch argyle guest post), Naztazia: Bloggers with popular tutorials for crocheting pooled argyles. Also see Kathy Lashley's post, a rare one on the "lightning bolt" effect when pooling in the round, and Kinga Erdem who explains her bold zigzag argyle using just half double crochets [UK: htr].
Karla Stuebing: 2013 article, "Art and Science of Planned Pooling." It's about knitting but very inspiring for crochet.
Wannietta Prescod: this blog post links to her earliest inspiration and to her influential Sweetspot 2009 article for Knitty.
Planned pooling crochet patterns, a self-updating link: Ravelry doesn't seem to have a category for this technique yet, so I used the keyword "pooling". Of 23 search results it looks like 20 are true planned pooling. Of these, 17 are argyles, and most appear to be seed stitch (as of

4/16/18

).
Planned pooling knitting patterns, a self-updating link: as with the crochet search link above, I used a keyword search. Of the 91 results (as of

4/16/18

), about 80 are true planned pooling designs.
Any Books on Planned Pooling with
Crochet

?
Found one! Yarn Pooling Made Easy by Marly Bird. Published by Leisure Arts, 2017.