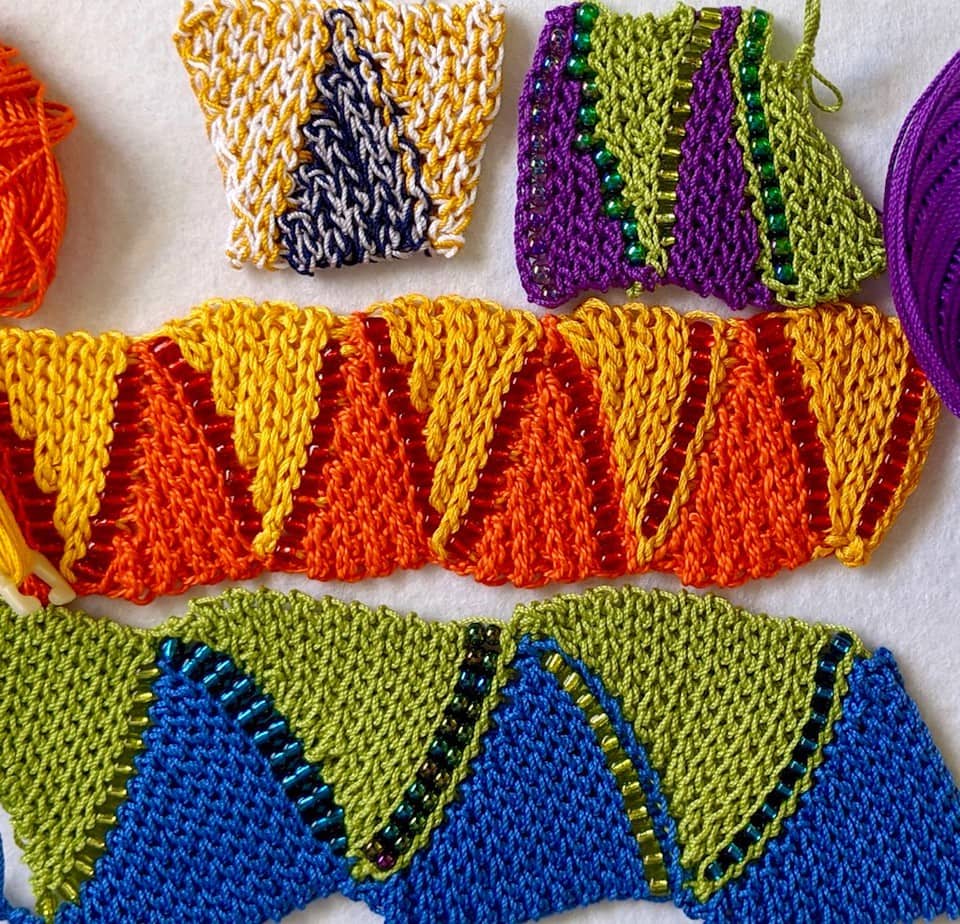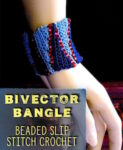 These four swatches test beads, threads, and stitches for my upcoming jewelry class, "Bivector Bangle, The Class". I've specified flat bead crochet in this blog post for two reasons.
First, I photographed them flat before seaming into a stretchy tube. Slip stitch crochet makes it easy to slip it on the wrist with a good fit; that's the "bangle" part.
Not the Rope Kind
Second and maybe more important, they're not crocheted in the round. I've learned that this is unusual. Crocheted ropes of seed beads, a.k.a. "tubular bead crochet", are the most common kind of crochet jewelry I've seen; my Candied Pony Beads pattern is a humble example of the art. Slip stitches are the preferred stitch, but some use single crochets.
Crocheters in English-speaking countries have enjoyed making bead ropes for a long time. (Oddly, this hasn't prevented crochet how-to books from claiming whole projects shouldn't be made from slip stitches.) In the world of Slip Stitch Crochet "Bosnian" distinguishes slip stitches in the round from the ones crocheted flat, in rows.
Instead of crocheting in constantly spiraling rounds, I crocheted these swatches in rows, and turned to begin each new row. So, flat bead crochet!
Other Kinds of Flat Bead Crochet?
Here's another curious thing. Although bead crochet ropes are popular examples of Bosnian crochet, plenty of other Bosnian crochet items aren't beaded at all. Compare this with flat slip stitch crochet: I almost never see beaded examples.
I crocheted these beaded slip stitches flat:
---
Test Results of Swatches
As for my test swatches, here's what I learned. Too much to write here! Some quick highlights though.
Threads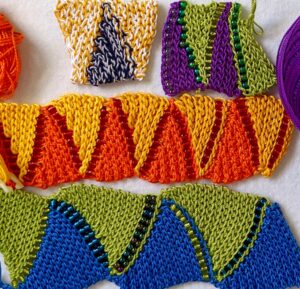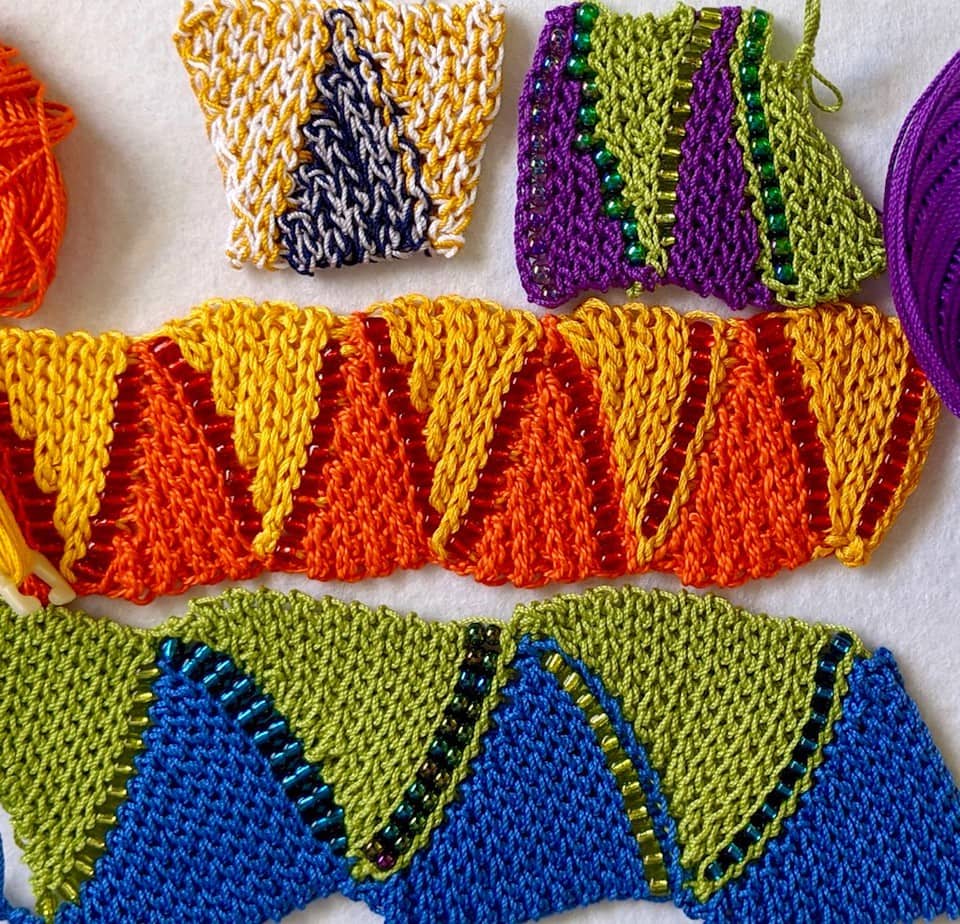 For the yellow wedges (middle row) I used cotton embroidery floss. It worked fine even though I used all six strands. It could have been too thick.
Six strands of floss are roughly equivalent to sport weight yarn and to size #3 crochet thread. I need it to be closer to fingering weight yarn and size #5 crochet thread. It felt a bit thick while crocheting it, but it was ok. It comes out slightly more raised than the orange wedges, in an interesting way.
I tested two strands of size #10 thread held together throughout. (This is the small heathered sample in the top row.) It works fine. Two strands of size 10 are equivalent to one strand of size 5 for this pattern. (For a full project I'd use two strands of the same color so that the beads stand out well.)
Beads, Stitches
I tested different wedge widths. The green and purple one (top row) is the only one that matches the way I crocheted the wedges of the original two Bivectors I made ten years ago. I still prefer them. In class I'll explain wedge variations.
Lastly, I tested different ways to add the beads. I also revisited doubling them up in wee stacks, which I'd flirted with doing years ago. You can see some bead stacks in the bottom row. The major lesson for me here is, Japanese seed beads for this design are a shortcut to easy happiness, as a general rule.