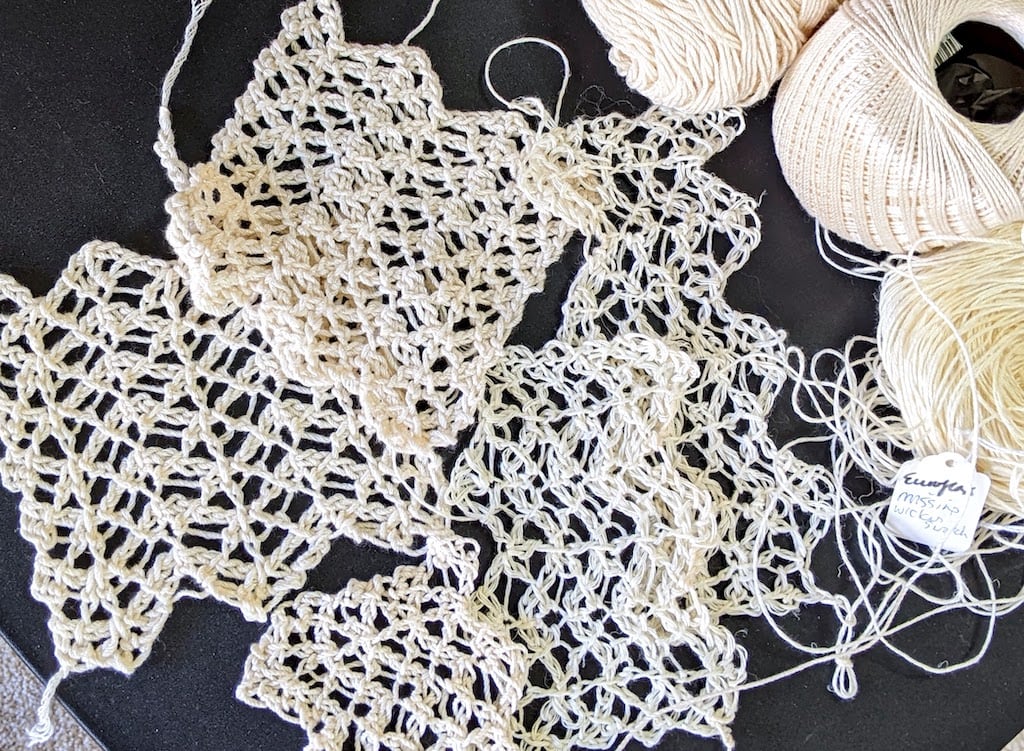 I'm ready to commit to one of these five swatches for a Jane Austen-y lace pullover. My new Zegue-Along online class starts in a few weeks. This blog post will give you initial information in case you want to make something like this in class. My goal is a beautiful, uplifting springtime layer–a roomy pullover–that might even make a great Mother's Day gift, or bridal accessory.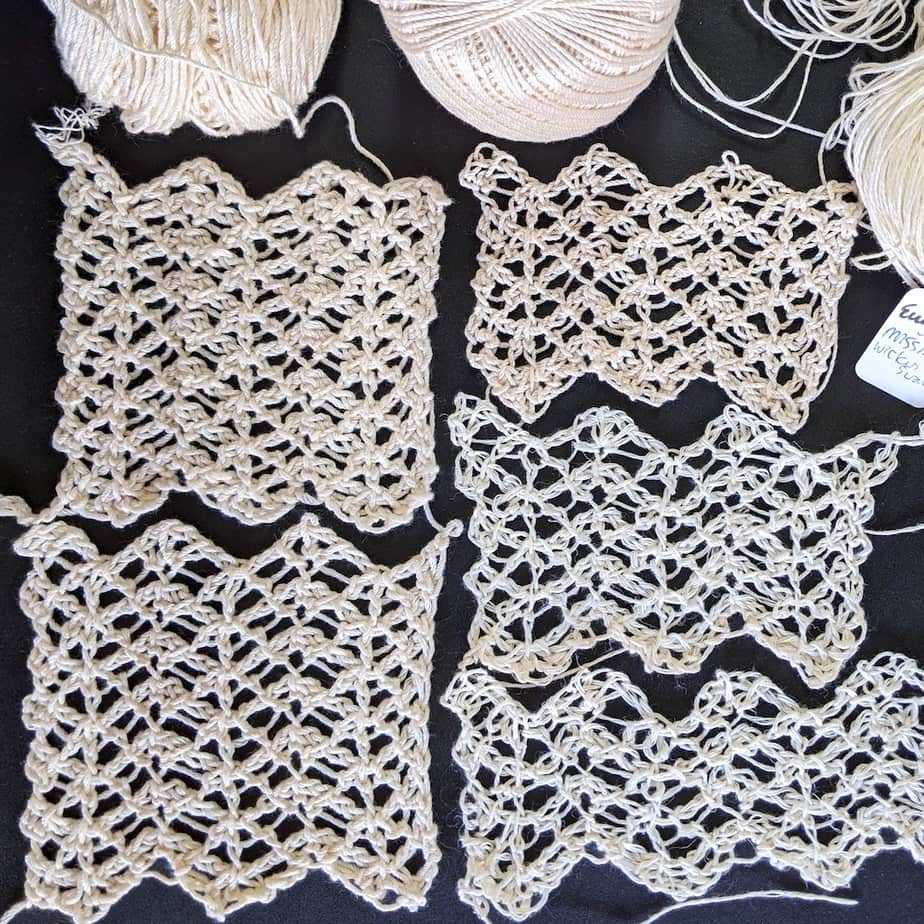 These 5 swatches test many things like yarn twist, fiber content, crochet hook size, and a stitch variation. The two leftmost swatches are my Lotus yarn with a 5 mm (H) crochet hook and a 5.5 mm (I) hook. Top right: J.P.Coats Royale and an H hook. The other two are Euroflax linen with a 4.5 mm (G7) hook and an H hook.
I'll get to these in a bit.
First, my "pullover" plans.
Basic Lace Pullover Shape
Most of all, I want long sleeves of this lace. Kind of roomy but not as much as a kimono. Long sleeves are a commitment! And, I'd like to use only simple shapes—no shaping, just a few rectangles—but I might need to do a bit of tapering to avoid kimono sleeves.
I'l be crocheting from the top down instead of bottom up (or possibly from side-to-side), because I want the option to stop at a cropped length. This way I could wear it during class and then add length later.
What About the Head Opening? Neckline?
I like wearing V-necks, and boatnecks if modified slightly. Both are great for a lace pullover. This lace will be easy to steek! This means it's "self-healing" if you cut it. So I have a nice option of just crocheting big rectangles, then cutting a head opening later!
If I crochet the rows horizontally, a steeked neckline would be a boatneck type. If crocheted side-to-side, the rows would run vertically, and a steeked head opening would result in a V neckline.
All of these things help bring the construction method into focus.
The Swatches
I used the same Zegue variation for all five swatches. Instead of extended Tunisian knit stitch ("Teks"), I used a twisted Tunisian extended stitch ("TwTes"). I'll demonstrate how to crochet both of these in class, and more.
The three yarns I tested are considered sport weight. I used hook sizes ranging from 4.5mm to 5.5mm because this is Tunisian crochet. A crochet hook size of 3.5 (E), 3.75 (F), or 4.0 (G6) with sport weight is more typical for regard crochet.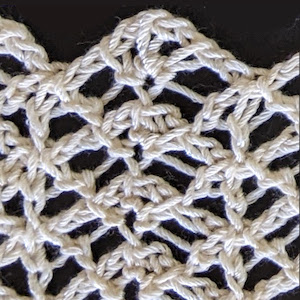 Twist and Spin
Three kinds of twist are going on in these swatches! The yarn is twisted, the crocheter adds some twist, and the stitch loops are twisted. So, I tested this pattern with yarns spun in both directions. You can see the texture differences in the close up photos.
I crochet right handed, so I automatically add a little counter-clockwise or "Z"-twist to the yarn as I go. Crocheting left handed does the opposite: adds a bit of clockwise "S"-twist to a yarn. The twisted-loop Tunisian stitch I used adds "S" twist. A leftie would twist the loop in a "Z" direction. It's a lot of twisting. Or, untwisting.
Please bear with me, I just have to get this out of the way: yarns with two or more plies twisted together also tend to start off with twist in the opposite direction, but this doesn't concern us here. The Lotus and Royale yarns have S-twisted plies that are then twisted together in a Z direction. This is called its "final twist". For this project I'm only concerned with a yarn's final twist direction.
Yarns vary not only in their twist direction, but also in how much twist. A yarn with a lot of twist is said to have a "hard twist". The Euroflax yarn is a good example of a "soft twisted" yarn.
The Lacy Verdict
I started out hoping I would love the Euroflax. I've had 1600 yds of it waiting in my yarn stash since 2007! Still waiting for the perfect project for it, I guess. I love linen and I only want to use it if the project shows it off. Here, though, it looks old and stringy.
Until I tried a 5.5 mm hook with the Lotus, I preferred the Royale. The surface texture looks rich and fascinating in person (in photos the surface texture tends to look flat). It has enough twist to stay twisted even with all the S-twisted stitch loops. The ropy look gives a slight nautical and casual effect compared with the fine-grained sheen of the 12-ply Lotus.
If you can pick out the return pass chains in the Euroflax swatch, you might see that my Z-twist crocheting of them has canceled out almost all of what little S-twist the yarn has. Then see how the forward pass stitches with their S-twisted loops preserve the yarn's S-twist better.
Lace Pullover: Next Steps
Measure the rows and stitch repeats per inch of the Lotus swatch I did with the 5.5 mm crochet hook.
Decide the finished length and width I want of the sleeves.
Decide if I'm crocheting the rows from sleeve cuffs to cuff, or widthwise. I'm leaning toward two widthwise sleeve pieces for a v-neck result like this top (except with longer sleeves).
My working name for it is Clarenzeg (link goes to its Ravelry project page). I can't wait to start!