Before anyone else, subscribers learned about crocheting lacy star stitches like Starwirbel with issue #60, Star Stitch Lace Pretties.
---
Vashti's Crochet Inspirations Newsletter
Since September 2010 I've produced an information-rich crochet newsletter once or twice a month. It continues to be unique in the world of crochet, and it's free. I explain why, below.
New: a chronological and [partially] clickable list of all back issues. The newsletter also has its own Facebook page where you can see additional links, images, and comments for each issue.
My Three Goals for the Newsletter
Satisfying these three goals is deeply meaningful for me. This is why the newsletter is free.
1. To say something new about crochet.
I must explore, question, and daydream about crochet stitches and techniques. Not gonna stop. This drives me to produce the newsletters, and they in turn spur me more. They push me to test my "lab swatches" more, and to research deeper into our crochet history.
As an example, the idea for issue 97 (Crocheter's Life List) came from seeing a book about a "bucket list" for knitters, and wondering about a bucket list for crochet. Crocheters don't have a book for that and I didn't find much online. As I made my own, I wanted to offer it to other crocheters. This meant research to attempt the biggest picture possible of crochet and different crocheters' experiences of it. You can download a Crochet Life List PDF from my blog. It's designed for you to make it your own.
Not too long, not too short.
The newsletter format has valuable limits. I always turn up too much information for one issue. Often, the process of writing one reveals that the topic (carefully chosen to be neither too long nor short for one issue) is actually like a "zip file"! Often, what seems like one topic is actually a bundle of two or more. My writing about it triggers it to unpack into something much bigger than I expected.
It's super rewarding when this happens! It's also frustrating when I'm trying to get the newsletter sent, so I jot down everything and save it. (And, remind myself that this is exactly why I'm doing this: I'm mining for gold and I've hit a vein.) My newsletter drafts binder is quite plump.
One result over ten years of this has been that the issues become tight summaries of geeky, fresh, unique crochet topics for me. They often turn out to be seed forms of crochet classes I go on to create. These are classes that regularly fill up to the limit with waiting lists!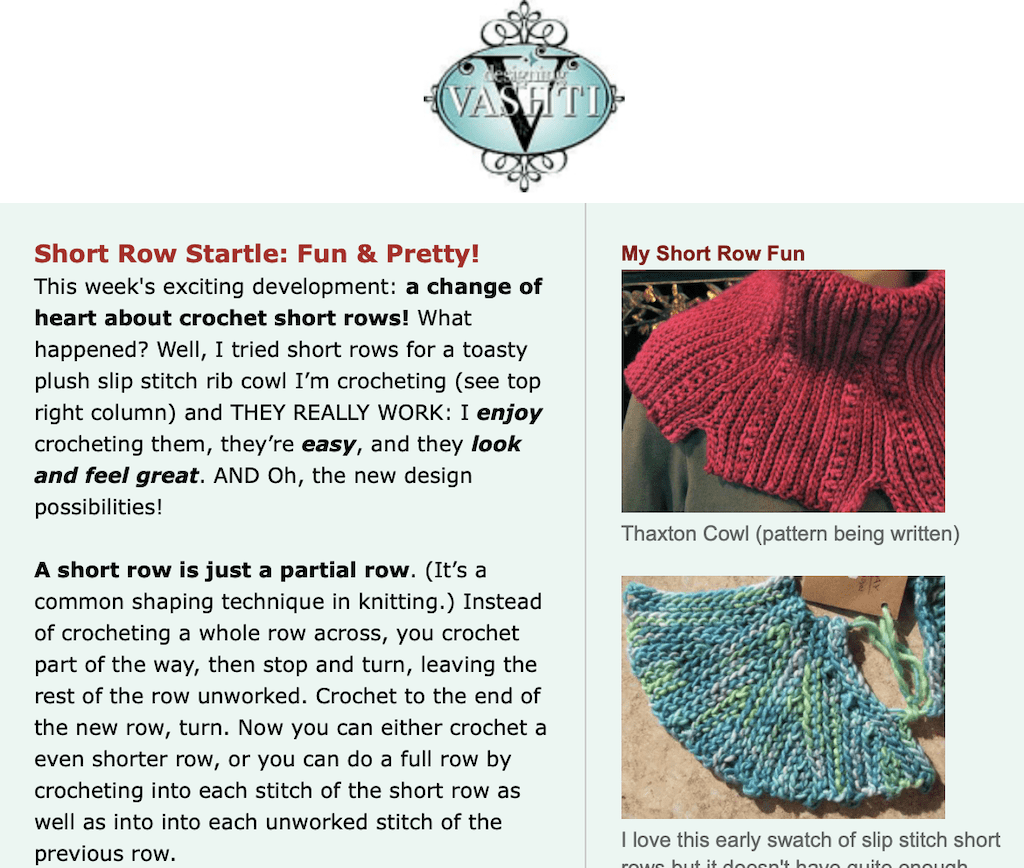 2. To find my fellow crochet explorers!
The typical crochet emails you can subscribe to are not true newsletters. They may be someone's digest of recent blog posts, or really just advertisements to delete. I want to offer to crocheters like me an exciting alternative to the kind of crochet emails that I delete.
As I choose each issue topic and write about it, I think, if I were a subscriber of Vashti's Crochet Inspirations, would I look forward to this? Would I be inspired to pick up a crochet hook, and to save a print out of the issue to read again? That's my goal. I want to find out about a forgotten little pocket of crochet, or see something familiar from a new angle. I want to be inspired to think more about what it is about crochet that I love so much.
3. To have one place to share my different kinds of crochet developments.
I can't imagine a better way to let everyone know when I:
Create a new stitch video or step by step photo tutorial;
Find important news about crochet that I think we should all know about;
Publish a new downloadable crochet pattern, e-book, etc;
Offer a crochet class in person or online.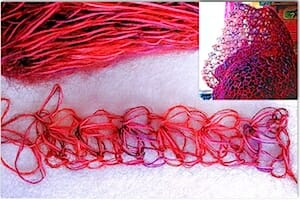 My strongest motivation while serving on the board of directors for the Crochet Guild of America is CGOA's mission statement, because it's also my mission: to further the growth and development of my beloved crochet. Writing this newsletter is part of this mission.