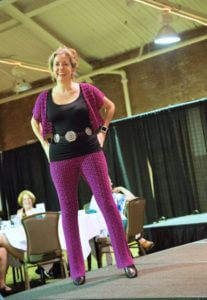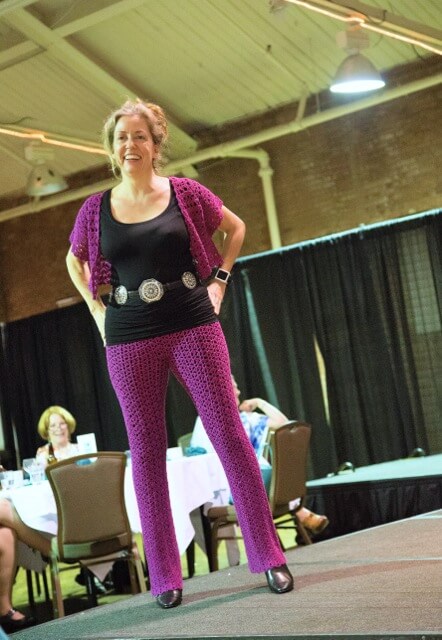 When this DesigningVashti website was new (back in 2010), I began the "About Me" page this way:
As of 2004, I'm a full-time professional crochet thinker and tinkerer. I love to promote crochet as many things: an art, hobby, learning tool, and practical medium. I do this with designs and classes.

For my newsletter I try to write about what I don't see others writing about crochet.
I reflected recently on my years with this crochet website. Scroll down past the "About My Crochet Patterns" section for a 2018 Crochet Manifesto!
Patterns include both US and UK terms for crochet stitches, project measurements, and yarn weights.
Do you like to crochet things to sell? It's great that my designs inspire you to make and sell the finished items. I'm adding this statement to each new self-published patterns but it applies to all of them even if you don't see it stated in an older pattern.
Visit Vashti's Crochet Lounge in Ravelry for pattern support and for just hanging with the crochet mellow for a spell.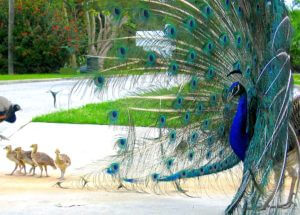 Magazine editors have described my design style as "breezy". Maybe that comes from living and working in a subtropical paradise. Peacocks roam freely in our neighborhood. I grew up in Wisconsin, so the natural world I encounter here in Florida is fascinating.
My crochet designs have been published in magazines and books since 2004, including Interweave Crochet, Crochet!, Crochet Today, Knit.1…. and have been seen in other publications and websites. I started my first crochet blog in 2006.
2018 Crochet Manifesto!
My top crochet priority is to protect it from being limited by misconceptions and stereotypes. Crochet is vastly varied and versatile. I have to look hard for its actual limits, yet I find there's no shortage of folks who confidently add limits to it! Crochet is perpetually underestimated.

One reason crochet's origins are inconclusive is that few researchers recognize crochet, know what to look for, why it matters, or even know what it is. It's a problem with today's crochet too: some county fair judges mistakenly disqualify a crocheted entry when it doesn't match a preconceived idea of what crochet is.

My #2 crochet priority is to explore the under-explored. Crochet is a thinking medium for me. It's mathematical, philosophical, theoretical, practical, powerfully syncretic, and expressive.

These two priorities drive my designs, newsletters, and class topics and always have. It's also why I've been working with the Crochet Guild of America (CGOA) to develop their Masters Programs, and with the recently formed Center for Knit and Crochet (CKC) to formulate cataloguing standards for crochet.
Meet Up With Me at Crochet Events!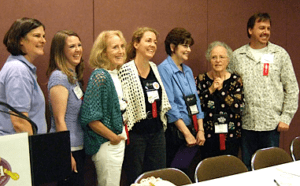 I love to meet crocheters at national conferences, local yarn shops, and online. Perhaps we've met at a Chain Link crochet conference (CGOA) as far back as 2002. I've also attended other national industry events such as Stitches, TNNA (The National Needlearts Association) and CHA (Craft and Hobby Association).
CGOA's 2018 national Chain Link conference was wonderfully fun, as always. Plan now so that you don't miss out: For 2019 (CGOA's 25th Anniversary) it will be in Manchester NH, mid-July. Updates about my classes and yarn market booths will be posted here.
"How Did You Get Your Name?"
I know I have an unusual name, and my husband is partly responsible for that (smile). I'm often asked what my background is, and if "Vashti" is a Russian or Indian name.
My parents are both from southern Ohio. My father's background is Irish and my mother's is English, French, and German. "Vashti" is actually an old name from the Bible (it occurs briefly in the Book of Esther). Now you know!
Early Crochet Start
My mother taught me how to crochet when I was nine. This was in the 1970's in rural Wisconsin. The nature crafts show called "Hodgepodge Lodge" was my favorite TV show, and our favorite store was LeeWards Creative Crafts. My mother, sister, and I learned most of the fiber-related crafts like spinning, knitting, weaving, tatting, crewel, needlepoint, cross stitch, and beading. I dyed my own handspun wool with marigolds from my flower garden. At the age of 12 I created my first business of custom-made macramé necklaces with fine linen cord.
Contact Vashti
To contact me about your crochet questions and concerns, or for shopping issues (purchasing, downloading, etc.) please email me or visit the Contact Us page; for other kinds of information and ways to connect, be sure to see our News page.
This online forum in Ravelry is a great way to get crochet help and new ideas about a DesigningVashti pattern from a friendly and very knowledgeable group. Questions about our exclusive crochet patterns by Doris Chan? Visit her Ravelry forum.
Alerts about everything—my patterns, freebies, stitch videos, ebooks, CALs, freebies/giveaways etc.—always go in my newsletter. This News page lists ways to stay looped in.