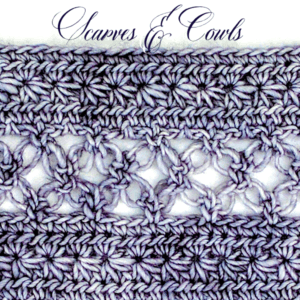 Crochet is my favorite form of creative expression. The process of crocheting is as enjoyable for me as the finished result. I love its more traditional expressions of lacy beauty, and I love many less common looks that crochet can also do (and perhaps hasn't yet). I simply love it all.
This DesigningVashti website is a tribute to this lifelong passion, which has blessed me with many wonderful friends who share my love of crochet. — Vashti
What is crochet?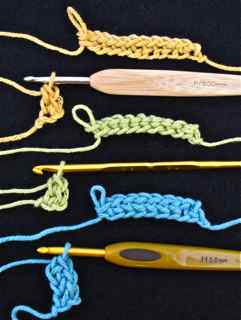 Crochet is a way to create many things (fancy intricate lace, thick strong cords, colorful blankets, clothing, toys, jewelry, etc) using:
Something with a hooked end (usually a stick with a smooth hook carved into one end or both, but can even be one's finger!), and…
Simply pulling looped strands through other loops with a hooked tool creates an endless variety of crochet stitches. It's intriguingly complex looking, yet its structure is based on just a few simple principles.
Where did crochet originate? How long ago?
We lack enough evidence to say for sure. Crochet might have originated in more than one place. It has certainly been done, and beautifully, for a very long time.
Is crochet easy or difficult to do?
It's easy enough for young children to learn, yet too difficult for any machine to do.
For many people it is easy to learn. Some folks just can't get the hang of it, so it's an individual matter. Also, sometimes it depends on the teacher.
Is crochet like knitting?
Yes and no.
NO, because the tools (crochet hooks versus knitting needles) feel different enough to use that people can have very strong preferences for one over the other.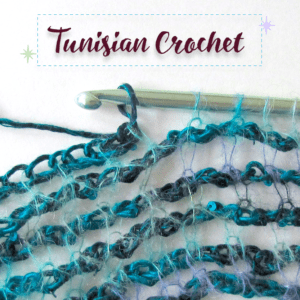 YES, because in both cases you are getting a piece of string to cooperate evenly to result in a lovely usable fabric. Handling yarns of different textures and colors is the same pleasure whether you're crocheting or knitting. In both cases one develops fine hand-eye coordination for tensioning the yarn as it flows through your fingers and becomes stitches. Crocheters and knitters can all use the same yarns, threads, and wire. Don't let anyone convince you otherwise!
NO, because the structures of crocheted and knitted fabrics are different. Crochet stitches are independently created and you can link them to each other from nearly every possible angle. Knitting stitches are so interdependent that they are all completed together, kind of like a wave. In most crochet, you complete each stitch and move it off of the hook as you work. It's easy to recognize someone knitting because they use two sticks and the stitches are all lined up along them. (Many people see Tunisian crochet as resembling knitting at first glance because the crochet stitches are left on the hook until you complete a whole row.)
YES, because both are therapeutic. Both are simple repetitive activities, so both have that relaxing "yoga" effect on the nerves and brain waves (as you might have heard about in the news).
NO, because each has its own history and traditions.
YES, because you can make the same range of items. Whether it's a belt, bag, sweater, dress, shawl, scarf, mittens, afghan, dishcloth, rug, bracelet or toy, there is a way to crochet it and a way to knit it, and which way you choose to make it is purely personal preference. Don't let anyone convince you otherwise!
I tried learning to crochet and couldn't do it. Any suggestions?
Most people can make the foundational stitch of crochet: the Chain Stitch. Traditionally, children practiced by making chain stitches until they used up a whole ball of yarn! That's a lot of chain stitches. I wonder how many were too bored by this to continue.
Nowadays, beginning crocheters are rarely told to make this many chain stitches, but some learners may need practice handling the yarn and hook together. It's a new kind of coordination that takes time.
If you learned the chain stitch and then were taught how to do a popular basic stitch called the Single Crochet by crocheting into some chain stitches that you had just made, this could have been the problem and it's not your fault. This is not necessarily the best next step.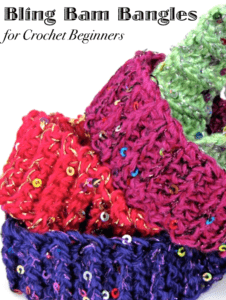 It's easier and more fun for many beginners if the next step after learning the chain stitch is any of these three:
Single Crochet into a ring. This step prepares you to make round items like flowers, hats, bags, granny squares, or doilies for your first project.
Single Crochet into holes punched into a piece of leather or vinyl fabric. This step prepares you to make flat four-cornered items like scarves, dish cloths, pillow covers, square bags; also to edge hand knits.
Tunisian Simple Stitch into chain stitches. This step also prepares you to make flat four-cornered items like #2 above; often especially helpful for knitters who have had trouble getting the hang of crochet.
How do you know if something is crocheted?
Some people are very good at identifying crochet by sight. Each completed crochet stitch has a telltale chain-like top that is sometimes easy to spot.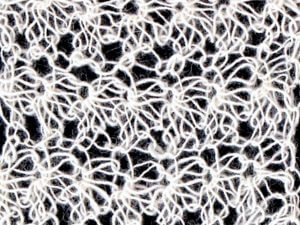 However, there are so many different kinds of crochet, and crochet is so versatile, that it's easy for it be mistaken for other fiber arts, such as knitting, tatting, embroidery, and weaving.
It helps to know what tool was used to make an item. Some Bosnian and Tunisian crochet can look like knits, but they are still crochet, not knit. Only a crochet hook is needed. Knitted stitches require knitting needles instead.
In the case of older pieces, the tool may be missing. More experience may be needed to identify less common types of crochet. The range of textures and looks crochet can have is remarkable. In fact, this range is typically underestimated! This is an ongoing obstacle to bringing the history of crochet into sharper focus. (For more on this, see What IS Crochet, Really?.)
Why crochet by hand when a machine
can do anything faster and better?
Personally, I love that there is still no machine that can crochet. All the crochet you've ever seen is handmade—even the mass-produced crochet in stores.
Crocheters can really build up speed! Some people love to crochet for this reason. Even if there were a crochet machine, crochet is still plenty fast enough to be fun to do by hand.
By the way, hand knitting remains plenty of fun even after 1589, when knitting machines were invented. It can't be fully replaced by machines for many reasons.