About Tunisian Crochet Patterns
Standards in Tunisian crochet pattern writing are less developed than for other crochet patterns. I hadn't noticed this until I began publishing my own Tunisian crochet patterns. When I write a non-Tunisian crochet pattern, I check with the industry's official yarnstandards.com site and usually find everything I need, from yarn weight descriptions to skill levels and crochet stitch symbols. The important thing about this is that I feel confident that other professional crochet designers are using the same site as they write their patterns too. This helps all crocheters.
Tunisian Standards are Evolving
When writing a Tunisian crochet pattern, however, there is a still-developing standard list of Tunisian stitch symbols and skill level details. Sure, a Tunisian pattern that requires no shaping is rated easier than one that does need shaping. It gets fuzzy when it comes to how Tunisian stitches are worked into which stitch loops. Some are more intermediate or advanced than other stitches.
Example, pictured: the Five Peaks Wrap pattern was rated Easy when it appeared in the Spring 2010 issue of Interweave Crochet Magazine. It is 90% Tunisian Simple Stitch (the beginner's stitch), and in most of the rows, you do the same thing over and over.
However, this bias-crocheted L-shaped wrap is such a different experience of Tunisian crochet that in retrospect, it should probably have been rated Intermediate.
Pattern Formats
I'm also finding out as I teach Tunisian crochet classes that the best way to arrange the sections of a Tunisian crochet pattern, and write certain things, differ from what works for non-Tunisian crochet patterns. Tunisian crochet patterns contain a handful of unique abbreviations in addition to the usual ones. Unless the only thing going on is Tunisian simple stitch, crocheters may struggle more if the list of Tunisian pattern abbreviations is on a separate page. (It requires one to flip back and forth between pattern and abbreviations list.)
At the end of this post I've listed the most common abbreviations that are special to Tunisian crochet patterns.
The Five Rules of Tunisian Crochet Patterns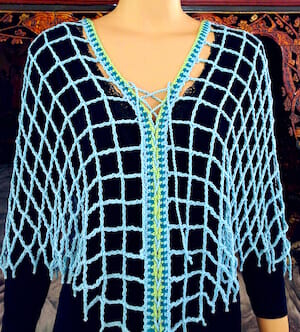 Knowing these default standards will help you use Tunisian crochet patterns. They might not be spelled out in a pattern. I'm not sure whether these five have ever been explicitly explained in one place.
Each complete row consists of two steps: a Forward Pass, when you put loops on the hook; and a Return Pass, when you work the loops off of the hook.
The fronts of your stitches face you at all times; you do not turn your work at the end of a Forward Pass or Return Pass. (Unless specifically instructed to.)
The single loop on the hook at the beginning of every Forward Pass counts as the first stitch of the new row. We do not chain to begin a new row, unless specifically instructed to, such as for taller stitches. Also, skip the very first stitch along that beginning edge of the row, otherwise you'll increase by one stitch.
The last stitch at the other end of the Forward Pass is worked into two edge loops, not just one. It results in a nicer finished edge. Work this last stitch more loosely to match the first stitch of the Forward Pass. This is because the first stitch typically loosens as you complete the row.
Most Tunisian stitches contain a total of five loops. They're called "bars" in Tunisian crochet patterns. There is a front and a back vertical bar, and three horizontal bars at the top of these two vertical bars. (Taller and compound stitches will have more stitch loops.) Imagine what this means: you can work into not only 1 of 5 different loops of a stitch, but any combination of these 5…or into the space between two stitches…time for me to go swatch some ideas. So much more to discover about Tunisian crochet!
Pattern Abbreviations
Tunisian crochet patterns share many common and standard abbreviations with other crochet patterns. Some examples: st for stitch, ch for chain, rep for repeat, RS for right side of item or stitch pattern.
The Most Common Abbreviations in Tunisian Crochet Patterns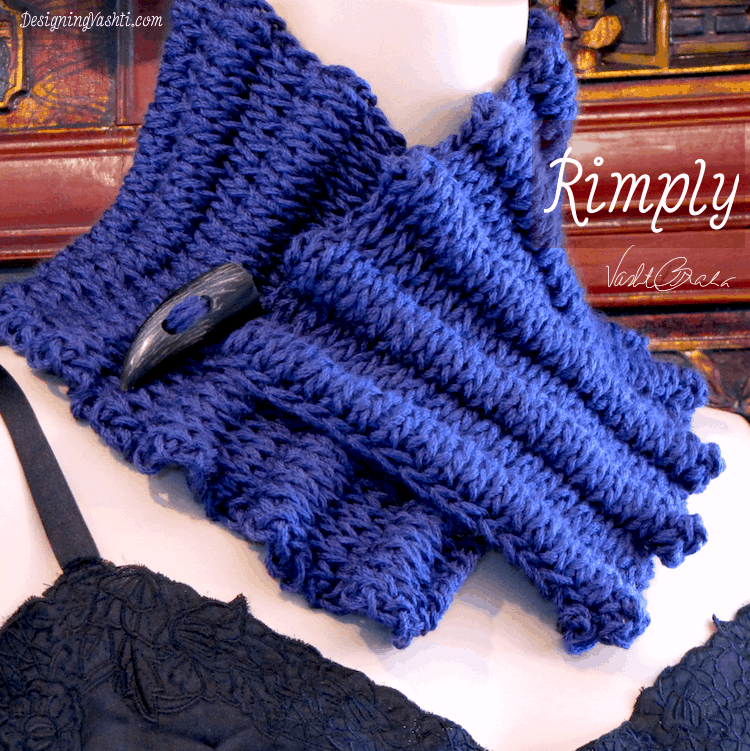 vb = vertical bar
hb = horizontal bar
FP or ForP or FwdP (or similar) = Forward Pass
RP or RetP or RtnP (or similar) = Return Pass
Tss or TSS = Tunisian Simple Stitch
Tks or TKS = Tunisian Knit Stitch
---
So, how many of the five rules of Tunisian crochet patterns do you always remember, even if they're not explicitly stated?