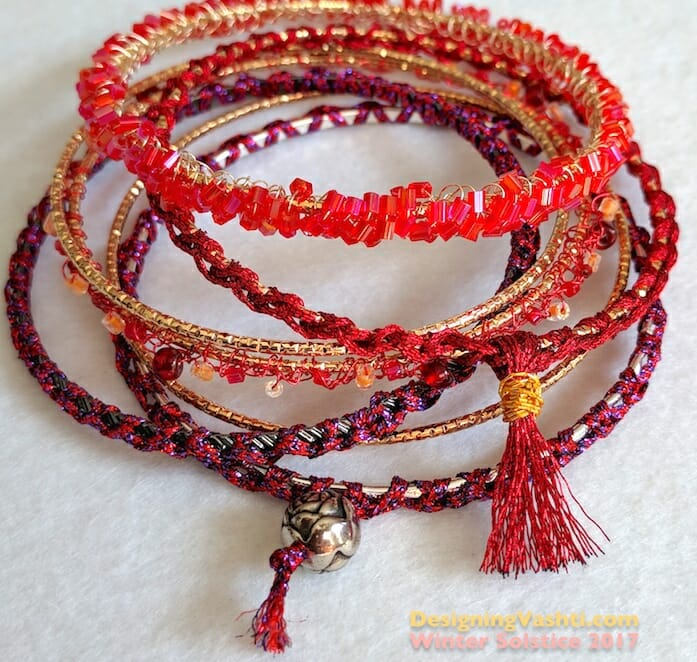 I'm crocheting these festive bangles for quick holiday gifts (Hanukkah, solstice/yule, Christmas), hostess gifts (I have five holiday parties to attend), and for myself. It's relaxing now to make them. I'll wear some to the parties.
Each completed bangle is costing me about 50¢ (not including labor, a.k.a. the love in every stitch ❤️).
"Solstice Bangles" Free Pattern
Below is the complete pattern for what I'll call "Solstice Bangles" because tomorrow morning is the Winter Solstice (first day of winter). I contemplate this sometimes as I crochet around the bangles; it's a satisfying "full circle" feeling. I'm completing another sparkly "wheel of the year".
Skill level
The starter pattern is Beginner-friendly. So many ways to get fancy with it. Add some challenge with wire or beads.
Materials
This section looks long because it includes tips for substituting with items you have on hand.
Bangle "blanks": Look for thin, narrow, permanently closed (not hinged or locking) metal bangles. They're often sold as a group to be worn stacked, meaning all at the same time. If they are labeled with a size, choose only "large" because any crocheting you add will reduce the final inner circumference. I don't want any tarnishing or chipping, so I prefer to buy them exposed to air without a package wrapper. If they have soldered seams, check them for strength. This is especially important for gifts because you don't know how much force someone will use to slide it on over their hand. I only buy them locally so that I can test the seam and finish of each one. Over the years I've kept an eye out for them in places like Claire's, Wal-Mart, Target, etc. The quality varies wildly. I can recommend the ones in Wal-Mart now (pictured). They come in bunches of 15-18 bangles for $4.88.
Yarn, if you're not adding beads: Here's where you can use the interesting embroidery braids, flosses, and fine novelty yarns languishing in your stash. My first choice is a fancy metallic Kreinik braid type if I'm not adding beads. My little 5-meter spool can cover two, possibly three skinny bangle blanks. Some fingering and lace weight yarns would work, and any crochet thread size. Beginners: start with a sock yarn or size #3 or #5 crochet thread, and no beads. Then graduate to a fancy metallic floss/braid type, then try very fine wire without beads first (30ga to 32ga thickness).
Yarn if you're using beads: I've had the best luck crocheting with wire. The wire holds the beads in place the best for me. Wire is a unique crochet experience. If you've never tried it, please see my newsletter issue on it, or the Embracelet pattern.
Crochet hook: This is easy. Use whatever hook size that makes it easiest for you to crochet tightly and evenly.
Beads (optional): I like very small beads for this. I don't go much larger than "e-beads" (size 6 seed beads). Beads with small holes also work better for this so that they don't jiggle and shift around. This means gem, chip, and pearl beads are great! You can use a larger accent bead for a tassel finish.
Sealer, stiffener, adhesive, fine yarn needle, etc. (optional): You might wish to use a fabric protectant such as Scotchgard if your yarn is an absorbent fiber. I used three coats of clear nail polish to secure a tassel of metallic embroidery floss because it doesn't hold knots well. I may use this, or some clear fabric paint, on the inner surface of a bangle to keep the stitches from twisting around the bangle.
Pattern Abbreviations
ch = chain stitch
sc = single crochet (UK/AUS: dc)
ss = slip stitch
Crochet a Basic Solstice Bangle
Step 1: Leave a 4″ yarn end that you can crochet over it, weave in later with a needle, or leave hanging with a bead or tassel. Crochet all stitches tightly. Slip stitch around the metal bangle tightly, *ch 1, ss, repeat from * until bangle is covered.
This is up to you: use fewer stitches to cover the bangle by stretching them taut around the bangle. They'll be less likely to twist and shift around the bangle, and you'll see more of the metal. Or, use an excess of stitches for a different look: I love the wavy zig-zag texture of the (ch 1, ss) combo. You'll see much less of the metal this way.
Step 2: When you've crocheted the number of stitches around the bangle that you like, join the last stitch to the first one. I remove my hook from the stitch loop, insert the hook in the first ss, and pull the last stitch loop through it with the hook, then fasten off.
Step 3: Decide what you want to do with those yarn ends. Weave them in. Or, string an accent bead onto both ends, knot them, and trim ends close to the bead. A third option is to tie the ends together, cut more yarn lengths, then add to the yarn ends and tie into a bundle to make a tassel.
Step 4, optional: If you add a fabric protectant, test a swatch first. You could coat the inner rim with a glue or sealer to prevent stitches from twisting around the bangle. Add a drop to knots if they might loosen with wear.
Add Challenge
The basic Solstice Bangle pattern is crazy simple, right? Add just one variable and it's a different experience. For example:
Add other stitches or change them completely. You could try all sc. I used such a fine red wire for a beaded bangle that I had to use sc instead of ss to make them more visible. Embracelet is an example of using love knots.
Hold two different glittery strands together as you crochet, or use 6-strand embroidery floss. (Managing multiple plies as you crochet so tightly around a bangle does get tricky.)
Just add beads. That'll keep you busy! I like to add one or more beads to the ch of the (ss, ch 1).
Use wire as the yarn. A thicker wire such as 26ga may be difficult for some people to crochet with, but it sure shows up well, and makes a statement even without beads. It also holds up nicely and is less likely to twist around the bangle. Finer wire is great for showing off beads.
Try to crochet the wire as tightly as you can. (It will still be looser than you intend.) When you're done, tug on each bead a bit while also giving it a half-twist. This will tighten the stitch around the bead and bangle. I also compress everything by pressing and scrunching the stitch loops together into the bangle. I guess you could consider this a "blocking" method for wire jewelry?