Home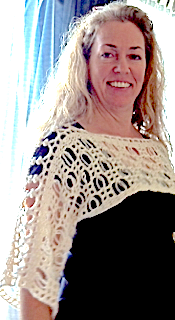 Welcome to DesigningVashti.com. I'm Vashti Braha (wearing Fishlips Shrug at a yarn conference). Need help? Find a broken link? Email me directly. You're at the home base for my in-depth crochet classes, intrepid newsletter, long-running blog, and crochet shop of over 100 items. (The shop URL used to be www.shop.designingvashti.com/. The permanent URL for it is now https://www.designingvashti.com/.)
In the shop you'll find: Doris Chan's exclusive DJC pattern line, my own indie patterns, the brazenly Z-twisted Lotus yarn Doris and I created together, patterns specially for Lotus, all Jelly Yarn®!, and crochet hooks of several sizes, brands, lengths, and combinations. As always, shipping is free in the USA. Shopping is certified secure.
June 2020 Updates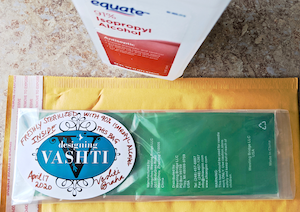 COVID-19 measures: We're freshly sanitizing the inner
packaging of each shipment with 91% isopropyl alcohol
CGOA Crochet Conference & Classes: I contracted to teach seven in depth crochet topics this July at CGOA's Chain Link conference. The conference will be ONLINE ONLY for 2020. I'm in the process of converting the material of two of my classes to teach it for CGOA's first ever virtual Chain Link conference! I'll post more information in my newsletters, blog, and this Upcoming Events page as it becomes available.