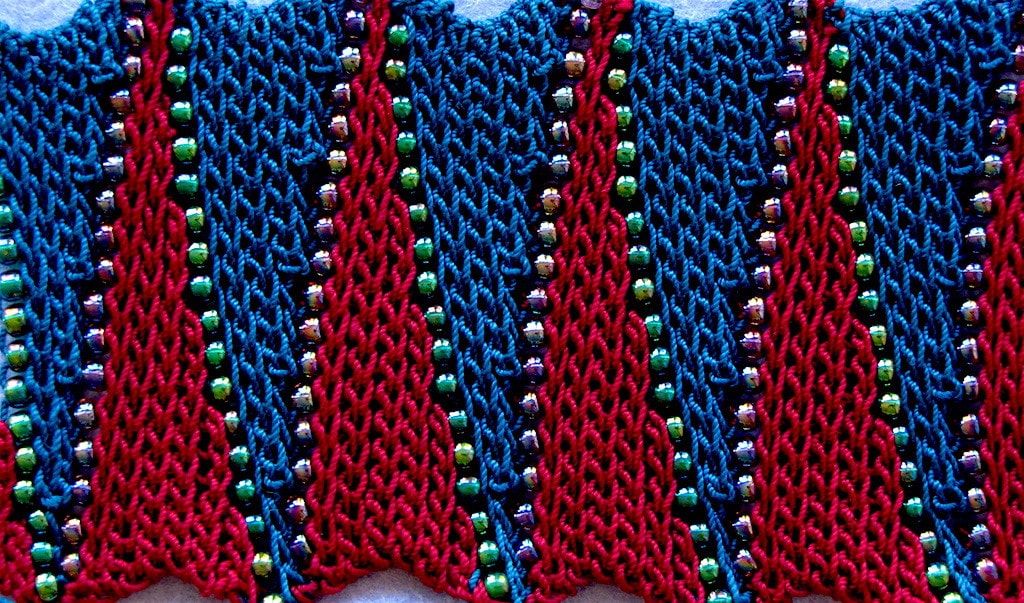 I'm excited to learn that Handy Hands now carries a size 5 crochet thread called Elisa. Like Lizbeth (the thread that Handy Hands is known for), Elisa is 6-cord gassed, singed mercerized cotton. If you don't understand all of these terms, just know for now that they indicate improved strength, durability, and appearance. In other words, Elisa is a good choice for crocheting heirloom items, and in my case, jewelry.
This excites me because it's the kind of thread needed for my Bivector Bangle class. Finding size #5 cotton thread for jewelry (roughly equivalent to fingering weight/sock weight wool yarns) is not always easy. I've tested Lizbeth for jewelry and it would be great for its color range, but size 5 is pretty much the only size it doesn't come in.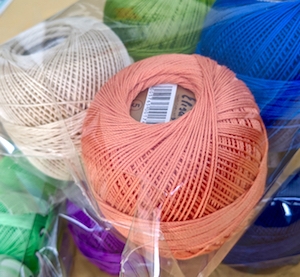 Initial Elisa Test
Elisa differs from Lizbeth in more ways besides its size 5 weight: Elisa is made in Austria, in a limited number of colors. (In addition to the five pictured above, a yellow and white are available.) Lizbeth is made in China and the color range is unbelievable. The two threads feel slightly different: Elisa has a softness and slight bounce whereas Lizbeth has the crisp feel that is more typical of this very hard wearing, hard twist thread category. Lizbeth's "bounce" is a bit more wiry.
My quick Elisa swatch (blue) came out slightly larger than the purple Opera one. I think this is due to the added bounce of a 6-cord thread; the loops want to stand out from my hook a bit as I crochet. I'll try being more aware of this when I swatch it again, with beads added.
Bivector Bangle Threads
For my first Bivector Bangle I used size 5 Coats Opera thread in burgundy and teal (pictured at the top). It has since been discontinued. Opera is a 3-cord (meaning 3 plies), not a 6-cord thread. This enables it to have a silky, supple feel. Many widely available crochet threads in the USA are 3-cord; some are even 2-cord and may be called perle or pearl.
Crochet Thread Quality
When you're using a crochet thread with a low number of plies and/or a low amount of twist for crochet jewelry (as well as heirloom items), the quality of the cotton fiber itself matters even more. The longer the fibers, like Pima or Egyptian ("mako"), the better. Mercerizing also adds strength to any cotton fiber.
For me the closest thing to Opera nowadays is DMC's Cébélia. It's an elegant mercerized 3-cord with a good color range for its size 10 and 20 weights. Unlike Opera, Cébélia was never a size 5 crochet thread, to my knowledge. I've seen it here (USA) in the big chain craft stores for years.
L'il Bivector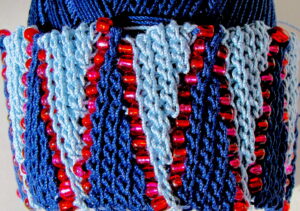 My second Bivector is a narrower bracelet in two blue threads and glass beads in alternating pink and red. For both colors I used a 6-cord size 5 crochet thread by Manuela. Its dense, wiry-crisp texture is very similar to Lizbeth thread. Maybe you can get a sense of its texture from its photo.
I crocheted both Bivectors about eight years ago. For a third one I tried a sock yarn of loosely twisted silk and merino wool in yellow and green, with pairs of stacked beads.
Understanding Thread Sizes
There's plenty more to know about crochet thread. It takes a surprisingly long time to understand how the thread and yarn weight categories work (longer than it takes to progress from one crochet skill level to the next!).
Size 5 crochet thread is thicker than Size 10 and thinner than Size 3. Perhaps Size 5 is less common because by traditional Victorian standards even Size 10 was considered "coarse". Nowadays crocheters use a lot of Size 10. Within each size, there is some slight variation in thickness among brands. Sound familiar? Crochet hook sizing is like this too.
I've been blogging about crochet thread types for a long time. For more details on the basics, see Cotton Crochet Thread Sizes and Equivalents and Choosing Cotton Thread for Crochet Jewelry. Also Plying and Spinning Cotton Crochet Thread. See my more recent posts tagged with crochet thread.