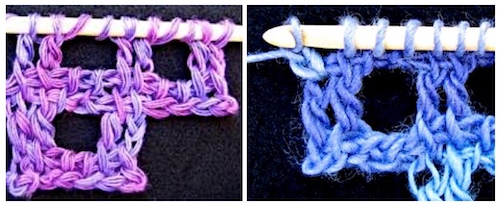 This blog post is third in a short series about the development of a new Tunisian crochet pattern pdf.
Two kinds of yarn tests.
I did two kinds of yarn tests for my new Tunisian crochet filet scarf (first blogged here).
#1. For Tutorial Close Ups
I've learned to take three things into account: the yarn's plying, color, and thickness.
Yarn plies: I have the best luck with a single ply yarn. More than one ply can add a distracting texture, especially in close ups. I love the look and colors of the purple yarn in the first photo, but its plies worried me. (Each individual ply of this unusual 100% cashmere yarn is twisted, but there's no twist holding them all together.)
The color(s): Yarn colors also matter for Tunisian crochet filet close ups. A single light color shows texture depth the best. I tend to avoid variegated yarns, with exceptions here and there.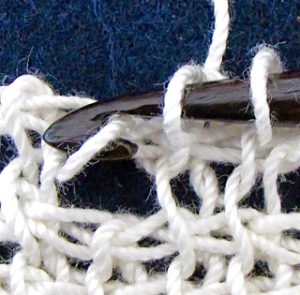 Subtle color shifts can be a real plus with Tunisian crochet, though! I think this might be because it helps the eye distinguish forward pass loops from return pass loops. (Four Peaks images are good examples of this. Strong contrasting color shifts would normally be distracting. This isn't the case for Four Peaks because of the small, fine-grained Tunisian simple stitches.)
Yarn weight: If I'm taking close up photos, and the camera has a good zoom lens, why does it matter how thin or thick the yarn is? How about using a crisp crochet thread? I discovered the hard way that I have better luck with a thick yarn. With thread and skinny yarns, the individual fibers show up too much in each loop. Even slight fuzziness is magnified. It makes the yarn or thread look old, shaggy, and worn out.
#2. A Winter Yarn
I fell in love with my first Tunisian crochet filet design in wool. That would be…Warm Aeroette! (Hence the "warm" part.) Traditional filet lace has mostly been a cotton thread kind of crochet project. Maybe that's why I didn't think of wool at first.
Until Aeroette I'd only had Tunisian crochet filet thoughts in bamboo (Ennis), silk (Aero), and cotton (dishcloth test in my Lotus yarn). It's thanks to Warm Aeroette that I discovered how nice Four Peaks is is in a toasty aran-weight wool.
I needed to test with classic wool yarn to know Aeroette better. Could it work in something other than Aero's fancy silk? Unlike Four Peaks, the wool yarn I used isn't thick; it's a fingering/sock weight fine-micron merino wool. (Fine-micron merino has a lot in common with cashmere.)
Thin fingering weight gives the tall Tunisian filet stitches a fine-grained texture. In a thick wool like the Mochi Plus (blue photo above), the filet-style lacy eyelets could look clunky or lumpy as a scarf. Would be a lovely afghan border though!