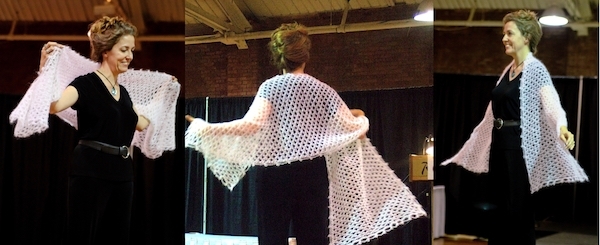 At least one of these photos was taken by Doris Chan at the Chain Link Conference fashion show, 2010, Manchester New Hampshire. View full size.
Found these photos I'd forgotten about! They was taken at a crochet conference in 2010. I'm modeling the Tunisian Weightless Wrap because it won an award in the CGOA Design Contest.
CGOA Design Contest, 2010
Read my short article on the very first year of the contest (2008). It has since become an exciting annual event, thanks to Doris Chan's tireless efforts in the early 3-4 years of it.
The Weightless Wrap is the inspiration for one of my longest running crochet classes on Tunisian eyelet meshes. I've just completed the 2016 class resource page for it–that's how I found these photos again.