Last week I started a new design that I need to wear soon. I'll be attending a daytime memorial service in Florida. My plain black sleeveless dress just needs a light covering for my upper arms and chest. That's why this project is in all black Lotus yarn. (It's purely a coincidence that I'll finish in time for Halloween tomorrow.)
Its tentative name is Graven because I first thought of raven's wings, and it has an engraved-looking texture. I think the last all-black thing I designed was a 2007 mini skirt of single crochet for Caron yarns in their Simply Soft yarn.
Story—its Style and Texture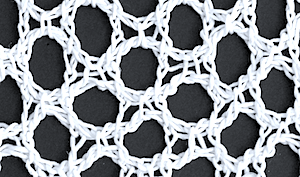 The main stitch pattern is similar to one I created for Weightless and Liebling. I've planned to design with it for years. I chose short rows to shape it instead of steadily increasing in the round from the neck down, or gathering the neckline. This made it an interesting process.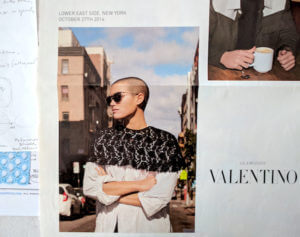 A recent "Glamgloss" ad by Valentino inspired the design idea. Originally I was going to name it "Glaze" or "Lotus Glaze". It evolved and now will probably be more of a capelet to be worn open in the front or closed in the back.
About the Edging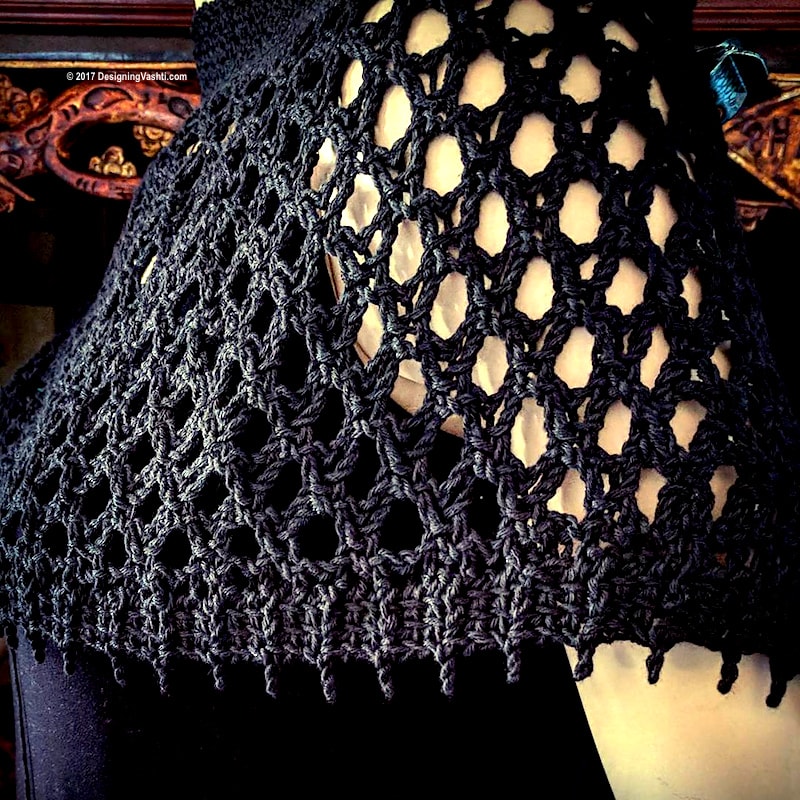 Last night I tried out the edging you see here. It blocked overnight and today I'm very happy with how it resolved some issues.
Edging priorities:
Prevent flaring or ruffling at the hem
Add a bit of length because I made it too short for me
Give it a restrained but special design detail.
I hope it's restrained enough! (I struggle with that.)
The stitch choices are very carefully picked to deal with how the hem hangs. This is my top priority because I feel like a little girl if something ruffles even slightly over my upper arms. Some of the stitches recede to create a subtle ribbing effect that pull the hem in just enough. I like the vertical texture they add.
The tiny twisted loops (the shortest I could make them) are actually energy coils that add resilience to the flexy rib, since this yarn has no wool or other stretchy fiber in it. The picots I tried didn't do this. It's also dense enough overall to weigh down the hem without the need for beads or a hidden chain.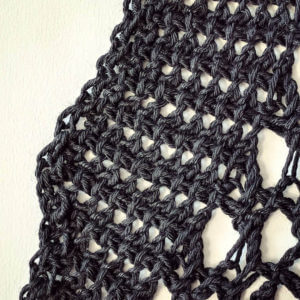 I first used a twisty loop edging for Aquarienne, my newest published pattern. For that design they're beaded and a bit longer.
For the neck edge I used a different stitch pattern while crocheting the main piece. You're looking at twisted Tunisian extended stitches. Interesting texture! I haven't used them like this before.
As a Crochet Pattern
If/when I write up Graven as a downloadable pattern, it will be for an Experienced skill level and with a video. This is mainly due to what it's like to do the main Tunisian mesh in short rows. Graven has a project page in Ravelry where I'll post updates.