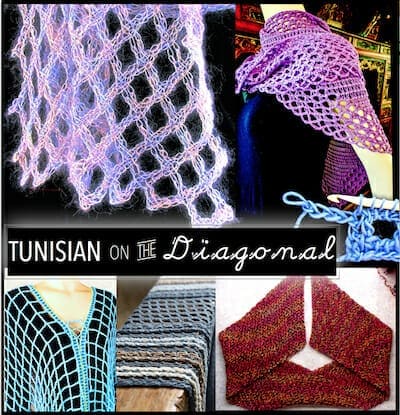 Final update of this page is in progress, please check back

. View the high-res image. This is a conveniently clickable group of things I mention and display in Tunisian Crochet on the Diagonal classes. I teach the next one on July 27, 2018 in Portland OR.  I show a huge amount of published and unpublished crochet designs in this class including new, never seen! Each illustrates the stitches and techniques learned.   — Vashti Braha
Thinking of signing up for this class? I wrote New Angle on Diagonal Tunisian, and newsletter issue #93, with you in mind.
Diagonal Tunisian Crochet Patterns
Recommended Issues of Vashti's Crochet Inspirations Newsletter
Blogged It
Photo Albums & Inspiration Boards
Recommended Sites
All about the "Half-Hitch" stitch
Quick how-to video (Backward Loop Cast On is the same as a half hitch stitch.)
See the CAL discussion thread listed above.
Getting Geeky About the Geometry of Diagonal Tunisian
Create-Your-Own Graph Paper
Any Books on Diagonal Tunisian?
Not that I'm aware of. Here are my three favorite Tunisian crochet references in print:
2008: Tunisian Crochet Patterns 100, Nihon Amimono Bunka Kyo-kai, Japan ISBN 978-4-529-04484-4
2000 (1991), Rebecca Jones: Tricot Crochet The Complete Book, Lacis Pubs., Berkeley CA. ISBN 978-1-891656-28-6
2004, Angela "ARNie" Grabowski: Encyclopedia of Tunisian Crochet, LoneStar Abilene Pubg LLC, TX. ISBN 978-0-974972-55-8
The Five Peaks Tunisian Crochet Shawl design in the news & around the 'net
I created this resource list for my students & others to explore the Five Peaks Tunisian crochet shawl, and similar start-in-a-corner, edge-as-you-go L-shaped wraps.
Inspiring Features, Examples, and Variations of the Five Peaks L-Shape
Doris Chan's Fairlane
Nicky Epstein's __
Barry Klein's _