One Color or Two?
Want to see some stitch patterns change when the yarn color changes?
The two-color Tunisian crochet swatches are for my class handout (yes, still working on them!). I needed to clearly distinguish the forward row from the return row, so I color-coded them. I didn't expect to like them so much! The one-yarn versions are below their two-color swatches.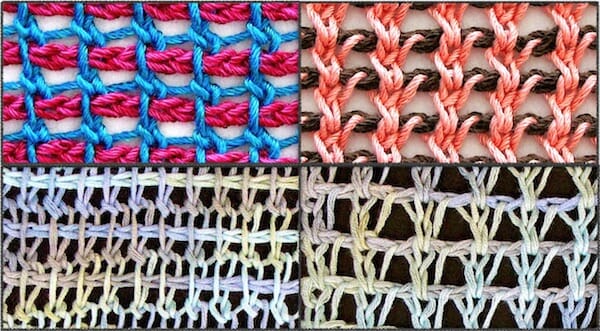 (Note that the one on the bottom left is a slightly different stitch pattern from the one above it. I was thinking they were the same until after I created this graphic and I don't have a better substitute. The difference is, in the top left photo, there is an extra chain stitch in the red return row after every blue stitch. That spaces the blue stitches apart more than the stitches are in the one below it.)
Isn't it fun to see how just alternating colors in a simple stitch pattern can give it a fresh look?
Sometimes a swatch needs to convey more than words when space is a premium (such as in a class handout). Color-coding really helps.
Progress Update
on my crochet conference readiness: only ONE class handout left to send to the tech editor! That's FOUR down, one to go. My goal is the end of this week. Then you'll start seeing blog posts of other topics like new Lotus yarn colors, or Charleston.