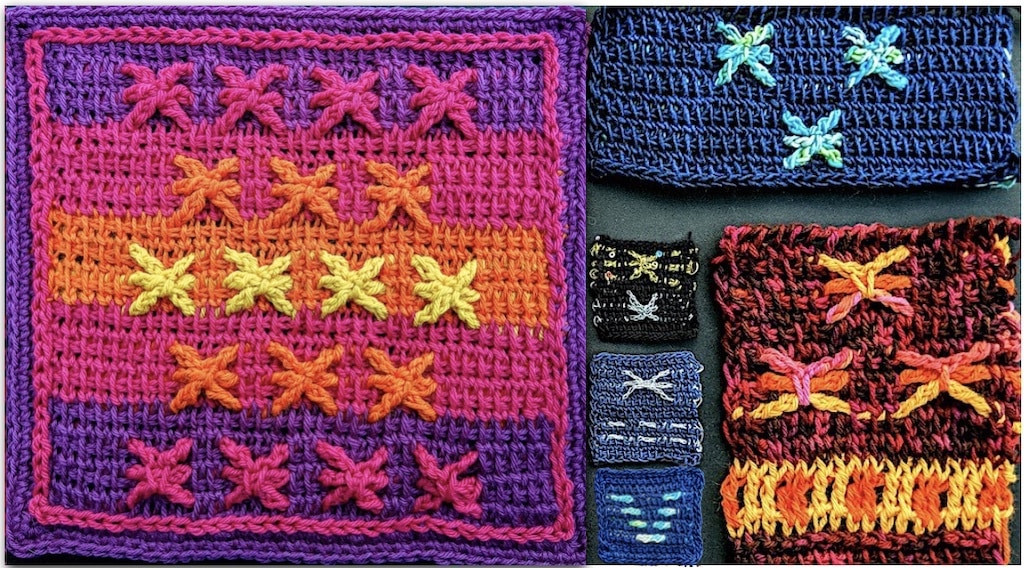 Today I'll show you how to "emboss" Tunisian return pass crochet stitches step by step. The complete pattern for the blanket square is also included below. The background stitches are Tunisian extended simple stitches (TES). The starry groups are extended Tunisian Yarn Overs (TYO) in contrasting colors.
My 12-inch square for Knitter Knotter's 2021 Tunisian Blanket Crochet-Along (CAL) features this novel color work method for Tunisian Crochet. The finished 12″ square is the one on the far left in the image above.
About the 2021 Tunisian Square CAL
I love how the CAL is going! Host Arunima Goel has created a fun way for designers to contribute a square, and for crocheters to experience new Tunisian stitches. My square is #18. By the end of 2021 there'll be 24 fresh and free intermediate-level 12″ square patterns.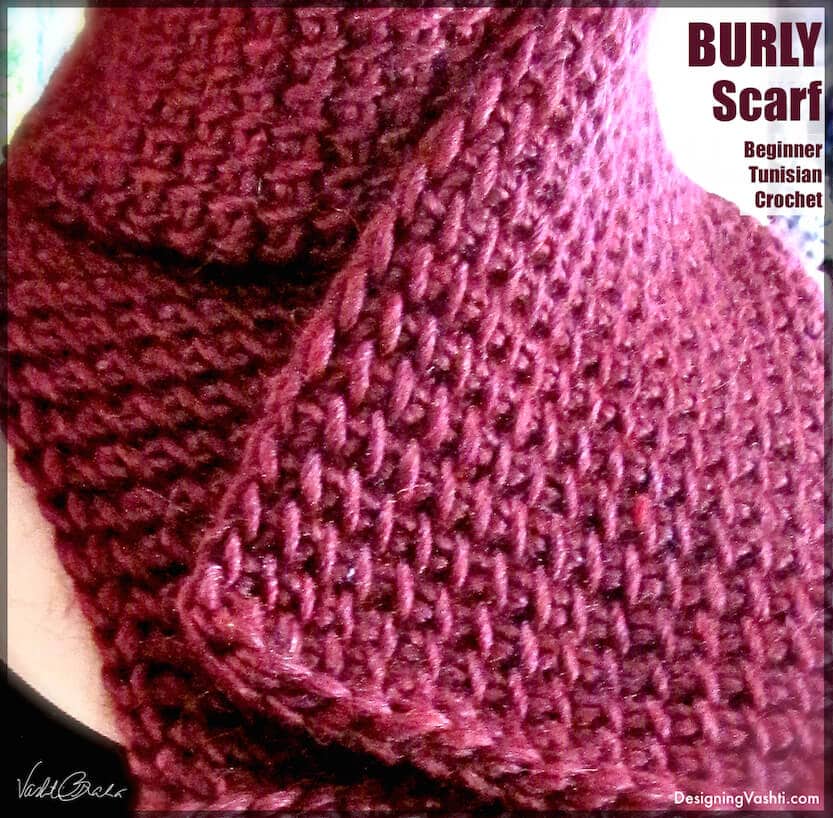 Are you a Tunisian Crochet beginner? Or just need a quick review?
This Colorwork Method
I seem to have stumbled upon a way to get a fully raised texture horizontally, and in a contrasting color. And, no lacy holes!
I wanted to test the usefulness of extending Tunisian Yarn Over (TYO) groups. Sometimes a group of several TYO can get loose and loopy, just like the yarn overs of really tall stitches tend to do in regular crochet. Extending tall stitches by adding a chain here and there while making them helps use up that slack. (For some alternatives to extending, see How to Fix Loose Loops of Tall Stitches.)
Embossing return stitches has potential.
As a return-pass-based color work method it can be combined with existing Tunisian Mosaic, and especially Overlay methods. These are forward-pass-based methods that do fancy things vertically, with tall stitches. The possibilities boggle!
Make other embossed shapes. Once you learn how to emboss Tunisian return stitches, you can make other shapes besides the starry groups you see here. Arrange horizontal bars in patterns. Make some longer or shorter. Modify the stars to have spokes in different lengths or amounts.
As a fabric, it's self-reinforcing yet lean and flexible. This is mainly thanks to the Tunisian Extended Simple Stitch (TES). If you've followed my newsletters and Tunisian classes over the years, you know I'm a big fan of extending Tunisian stitches. Normally TES fabric would be too thin or lacy for a blanket square. This is where the embossed rows come in.
How to Emboss Tunisian the Easy Way
For your first try, pick two colors and alternate them for each row: a main color (MC) for the background, and a contrast color (CC) for the raised embossed stitches. The colors will help you see where to put each next stitch.
Follow the practice swatch; it's just twelve rows of ten stitches each. The instructions also explain the why's, and pattern abbreviations as they come up.
Continue reading

How to Emboss Tunisian Return Stitches (Free Pattern)