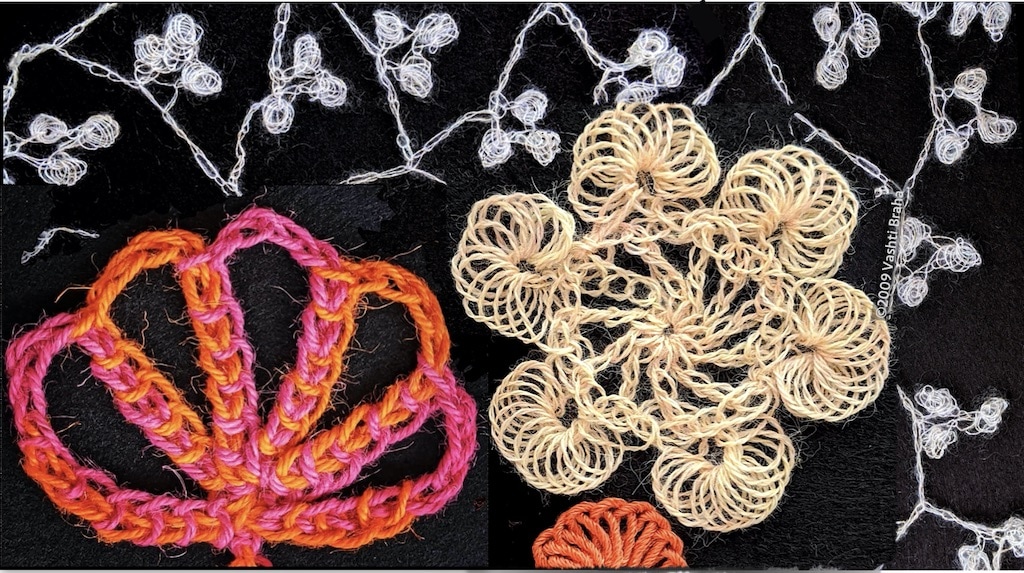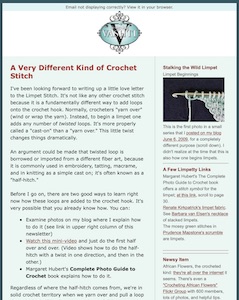 Updates October 20, 2020: I expanded the Timeline entries for 1977, 1982, and 1991.
---
The limpet stitch crochet topic evolved dramatically in the ten years since I wrote my third newsletter about it. As of September 4, 2020, this greatly updated version is now my ultimate resource page for crocheting limpets, limpet variations, and more reasons to crochet with half hitches. It even has a timeline and a table of related terms.
"Limpets, those cheery, little-used sideways shells."

Sue Perez (a.k.a. Mrs. Micawber)
Issue #003 went out to just over 370 subscribers in 2010. That's about 70 more than for issue #002. I remember feeling very encouraged by that. One of my early goals was to find likeminded crocheters. Back then, the only folks talking (enthusiastically!) about the limpet stitch, like Mel, Myra, Barbara, Margaret, and Pippin, were members of FFCrochet, the International Freeform Guild (INTFF) yahoo group. Limpet stitches have expanded their reach, as you'll see below.
I've been looking forward to writing up a little love letter to the Limpet Stitch. It's not like any other crochet stitch because it is a fundamentally different way to add loops onto the crochet hook. (September 2010)
The first thing a crocheter learns, after making a slip knot and putting the loop on a crochet hook, is to yarn over (wind or wrap the yarn around the crochet hook). We can't make any basic stitches without it. Strictly speaking there's only one way to do it. If you wind the yarn around your hook the opposite direction, it's a yarn under. (Read all about yarn overs, yarn unders, and reasons to use both.)
There are other ways to add new loops to the crochet hook beside yarning over (or under). The one we use for limpet stitch crochet is challenging at first only because changing how you yarn over feels very alien! It's actually simple, easy, and quick to do. The limpet stitch has an avid fan club.
Beyond the Standard Yarn Over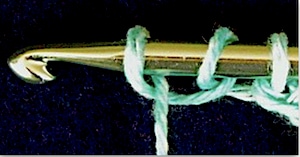 From a crocheter's point of view, limpet stitch yarn overs have an added half-twist in them. In the photo at right you can see how the two loose loops on the hook have a little twist at the bottom of them. Adding the half-twist as you yarn over is a neat trick.
This simple little twist is powerful. It is the basis of all needle lace, macramé, and tatting. It's fundamental to sewing and embroidery. Latch hook rug making requires it, and bobbin lace starts with it. It's the simplest cast on in knitting.
Making room for it in our crochet toolbox means reclaiming the DNA that crochet shares with these other string arts. You may wish to make room for two more, like I have. The little half-twist can turn in two different directions: to the left (counterclockwise), or to the right (clockwise). The two loops in the photo turn to the left, as if a cursive letter "e" is written backwards: "ɘ".
Continue reading

Limpet Stitch: Crochet Half Hitches (Issue 3)