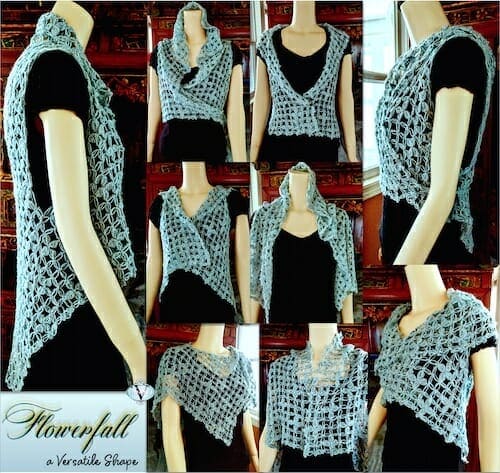 Remember my Crochet Class in a Vest blog post about a week ago? I'm happy to report that Flowerfall is progressing nicely through the pattern writing obstacle course. View full size image.
Snip & Unzip An Armhole Mini-Video
Watch me open the armholes after I finished crocheting the lace: Snip & Unzip An Armhole. These self-healing stitches don't mind being cut. It's the low-stress way to create armholes. Really! Much easier than breaking the crochet flow to place them correctly.
Special Shape
Flowerfall is a modified diamond shape: imagine a diamond with its top and bottom corners lopped off. You start crocheting the shape at the left front corner and end at the right front corner.
When you wear it upside down, the hem ends at a different place and the amount of fabric in the collar changes. (It's also reversible.)
The armholes are generous and not centered, which increases its wearable ways. You can even treat the armholes like head openings. That results in a poncho look, see the bottom images.
An older design, the Leftfield Diamond, is the first time I crocheted this shape. That's when I found out how versatile it is.
Side-Tied Waist Option
See the top right-hand image above? There's a hint of a tie belt at the waist. It inspired me to add ties to the front corners for a wrap belt option. These are removable and repositionable, with a petal-like accent that echoes the chained petals in the stitch pattern. I don't have photos of them yet.
You can keep up with Flowerfall at its project page. It'll work out great for at least two of my class topics: 21st Century Love Knot Adventures and Self-Healing Stitches & How to Cut Them.