On the left is a self-healing stitch pattern. I've removed two rows of love knots, and the stitches left behind are fine the way they are—I have not edged them. No "lifeline" was required to prevent unraveling.
On the right, a red lifeline has been woven into the base loops of some of the double crochet stitches (dc, or in UK: tr). The nearby stitches without a lifeline are unstable and will unravel. View full size.
The Self-Healing Crochet Stitches and How to Cut Them class is thanks to an accidental discovery I made in 2013. A rectangular wrap kept sliding off of my shoulders. It has interesting edges, so I added (cut open) armholes to wear it as a vest.
I held my breath, cut a stitch, and…
Nothing happened. The stitches didn't care. Why though? (Some stitches DO care. A lot!)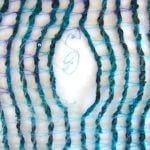 At first I thought it was an odd quality of only a few kinds of Tunisian stitches. After testing why this happened, I created a class called "Steeked Tunisian Lace for Fun Fast Fashions".
By the time I taught it (2016), I'd already discovered the same effect with some regular crochet stitches. That led to a new version of the class​​, "Easy to Steek Crochet Stitches" in 2017.
Self-Healing vs. "Steek"
Nowadays I'm thinking "self-healing" conveys the topic better than referring to steeks. Steek is a specialized knitting term. I see too many question marks over crocheters' heads when I use it. Also, steeking often involves cutting across several rows whereas in my class we cut open ONE row.
Cutting a self-healing stitch is creatively liberating and empowering. For me as a designer it's exhilarating! I think "self-healing" conveys some of the positive, low-stress feeling people have in this class.
​Which Crochet Cutting Class?​
My friend ​Pauline Turner will be teaching a class​ called "Cutting Crochet" at the same event on ​Thursday, ​July 26.​ Our two "how to cut" classes seem to be very different​.
When renaming my class I briefly considered "Cutting Crochet" as a way to avoid the steek term. I worried that it would bring to mind the traditional reasons a crocheter would need to cut crochet: to fix, tailor, or repair it. My class is not traditional.
"Game Changer"?
"It's a Game Changer" — Vashti's mom (crocheter).
If you can add a head opening, armholes, and even decoratively shaped openings wherever you wish in a crocheted item, it means this is a distinct, different construction method. Here's why my mom might be right:
It changes what we can do with schematics and simple shapes.
Beginners can understand and use the basic principles of it.
It simplifies the crocheting: just keep crocheting to the end. No need to make sure you start the armholes in the correct row. Stop crocheting when you want to, not when you're a fixed distance from an opening.
The opening you add later is actually superior to crocheting it in as you go. It's less lumpy.
It's certainly a game changer when doing planned pooling with a variegated yarn (argyling, color stacking, etc). Crocheting a simple shape straight through is really important for this kind of crocheting. If you were to add an opening as you're crocheting, you'd throw off your color sequence. To be able to cut open armholes, a head opening, pocket slit, and even a scarf keyhole later is ideal.
It turns out that a large number of stitch patterns are, or can be subtly tweaked to be, self-healing.
Self-Healing Crochet Stitches and How to Cut Them has a 2018 class resources page.