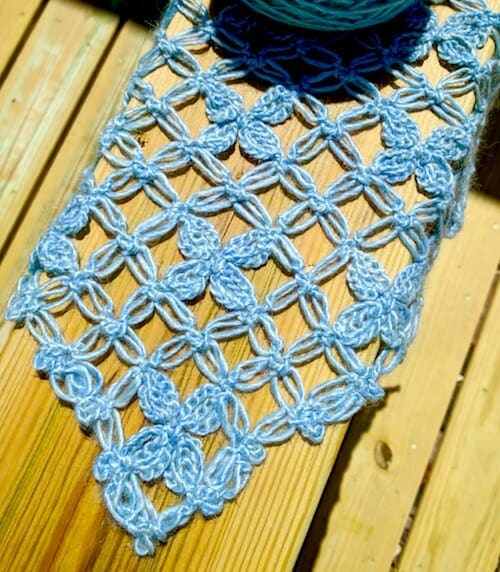 Want to see what I'm working on? This will be Flowerfall, a hanky-hem waterfall vest that I can wear when I teach 21st Century Love Knot Adventures this July in Portland, Oregon. I'm now two-thirds done.
Several Class Skills in a Vest
I'm designing Flowerfall to be a visual aid for several skill levels. I'll also be adding the pattern to my shop for those who can't attend the class.
Love Knot Beginner Skills
Another view of this diamond mesh would be the love knot sections of Lovelace. (It's so iconic that the stitch is synonymous with the mesh in some how-to sources from the 1800's to now.) Then, compare it with the Electra Wrap's triangular love knot mesh.
For Students With a Bit of Experience
How to increase and decrease this mesh, and add picots as one way to finish the edges as you go.
The when, why, and the how-to: making love knots with slip stitches instead of single crochets (UK: dc).
My new favorite way to keep love knots from loosening later if the yarn is slippery.
A new way to crochet into love knots that I recommend for a project like this one.
For Those With More Experience
How to do corner to corner (C-2-C) love knot mesh in which you start in one corner and end in the opposite one.
How to sprinkle in other stitches with the classic love knot mesh to create lacy new stitch patterns!
Multi-Purpose Visual Aids = Ideal
This is my seventh year shipping teaching aids across the USA for crochet classes. I teach four to six different topics per event. Visual aids are everything! I always end up with a lot of crochet items to ship.
In the past few years I've started designing class items that combine several points of information in one. Not only do I cut down on the shipping this way, it's a fun design challenge. I also love coming up with how a design for one class topic can double or triple as a visual aid for other topics I'm also teaching.
Self-Healing Stitch Alert
An example of this is I'll be adding armholes to Flowerfall by cutting them open. Know what this means? It'll also be a great visual aid for the Self Healing Stitches and How to Cut Them class! I might even bring it to the Tunisian on the Diagonal class if I don't make a Tunisian one in time. Even though Flowerfall isn't Tunisian, it's an example of an easy shape to crochet from corner to corner in any stitch. (Flowerfall is even relevant to my slip stitch classes. It's the first design I've done with slip stitch love knots.)
I'll post again about this design so that you can see its modified diamond shape, how its armholes happen, and different ways to wear it. I'm smitten ? . Flowerfall's Flickr album has three photos so far.