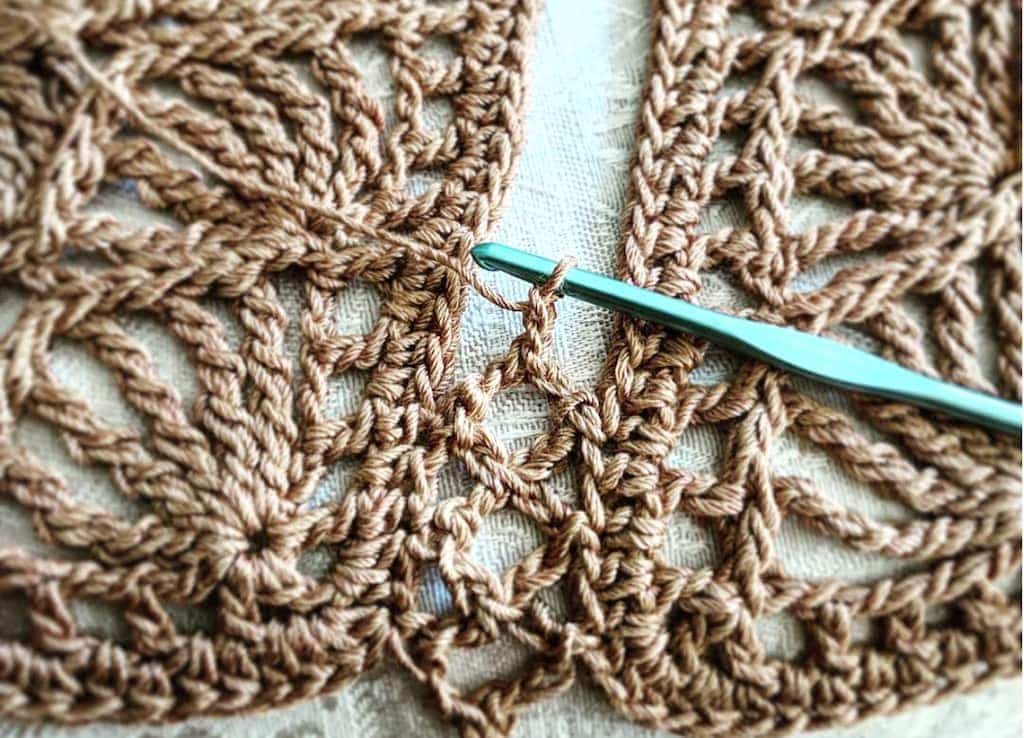 I seamed with stitch equivalents in this 2019 image. It was not in the original 2011 newsletter issue #2, A Super Crochet Maneuver. It's explained at the end.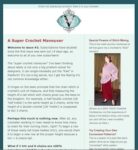 First, the original newsletter issue, below. It went out to a few more than 300 subscribers in September 2010. That's nine years ago! I've removed the original two-column formatting, colored backgrounds, and especially the outdated links. I've refrained from revising the original text, except for light edits.
This stitch equivalents topic looks different to me now. I've added my current (September 2019) thoughts at the end.
Welcome to issue #2.
Subscriptions have doubled since the first issue was sent out 14 days ago, so welcome to all of you new subscribers!
The "super crochet maneuver" I've been thinking about lately is not only a big problem-solver for designers, it can single-handedly put the "free" in freeform! It's not a big secret, but I get the feeling it's not common knowledge either.
Crochet stitch equivalents hinge on the basic principle that the chain stitch is crochet's unit of measure. Measuring the height of a tall stitch with chains gives you the keys to the kingdom. For example, a half double crochet (UK/AUS: half treble) is the same height as two chains, while the height of a double crochet (UK/AUS: treble) is—theoretically—three chains.
Perhaps this much is nothing new. After all, any crocheter working in rows needs to know how many to chain for their turning chain, right? For example, to begin a row of those really tall triple trebles (abbreviated trtr, or in UK/AUS, quadtr), one would chain six, because a trtr is six chains tall.
Equivalent Stitches
What if one trtr and six chains are 100% interchangeable? Then you get to decide where you want to end up after making a stitch. You choose which stitch gets you there.
My Stitch Equivalents "Aha!" Moment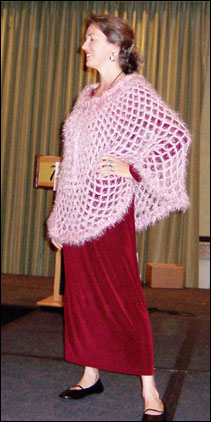 This is the mesh poncho mentioned below that gave me a crocheter's "Aha!" moment.
I'm wearing it at the 2004 CGOA Chain Link Conference. It was my first experience of being in a "fashion show", and maybe you can't tell but I was incredibly nervous up there.
A local longtime crocheter wanted to recreate the lattice-as-you-go edge of my Islander wrap and couldn't get it to work. She had an "Aha!" look when I told her that first you decide where you need your hook to end up, then you choose whatever gets you there—it might be a tall stitch, the equivalent number of chains, or a combo.
If you were already hip to this extraordinary feature of crochet, was it an "Aha!" moment? Have you become a power user of it? I remembered my own "Aha!" moment and it was after I'd already been crocheting for decades. A designer friend and I were talking about it the other day.
Prettier Joined Rounds
In 2002 or so I was making a simple diamond mesh poncho in the round from a vintage pattern (see photo of pink poncho above). Each round was chain stitches with a single crochet in a chain space to create the fishnet holes.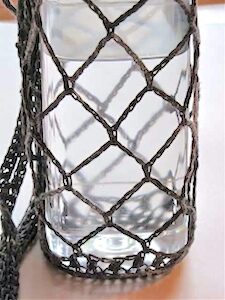 I thought the instructions were a little odd: why do I suddenly do a tall stitch to join the round? Why not the way I did granny squares and Irish roses in the 1970's? Back then, if I needed to start the next round in a slightly different place, I slip stitched over to it, then began the next round.
When I suddenly understood how the tall stitch was eliminating the need for that slip stitch traveling, I was initially suspicious: "Hey! How can you just do that? That's a different stitch! What's that going to look like?"
Well, it sure looks and drapes better than the stiff bulgy bit the slip stitches would have added! The poncho is too fuzzy to see, but just try to find the tall stitch joins in the lean mesh water bottle tote at right.
So, it's a clean, elegant, simple way to join lacy rounds. You can see why the topic came up in my conversation with Doris Chan.
Strategy for Starting in a Corner
This liberating problem solver has come in handy lately because I've been playing with turning any stitch pattern into a "corner-start" pattern. In other words, start in one corner and create a triangle or diamond or offset rows. If possible I also like to build in an edging as I go.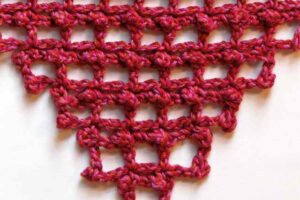 Starting in a corner means increasing steadily on both ends of the rows as symmetrically as possible. I need to add a new set of stitches as if there's a foundation to work them into, even though there isn't. Here's how I used it in a filet-type experiment, the Leftfield Diamond vest.
I needed to create a new tall-stitch filet space out of thin air at both ends of every other row. (The beginning of a row is easy, just chain more first.) I also hoped to build in a picot or two to match the rest of the stitch pattern.
Picot Filet Ending Increase (Example)
Stitch abbreviations used: ch = chain, dc = double crochet (UK/AUS: tr), dtr = double treble (UK/AUS: ttr), sc = single crochet (UK/AUS: dc), sl st = slip stitch, st = stitch.
The base filet-picot row before increases are added

This stitch pattern alternates two rows: the even-numbered rows are a chain 2, sc in the next dc pattern with no increases. Each filet space in a odd-numbered row is made with a dc worked into the sc of the completed row, *ch 5, sl st in the 3rd ch from hook for picot, skip 2 ch, dc in next sc*.

Begin picot-filet space at the end of the row

Repeat from * to * (of step 1) for the top left corner of the new increase space. (A dtr looked the best for me as a stand-in equivalent for the bottom and side of a block.) I yarn over 3 times for the dtr, insert the hook in the same st as the last dc made, [yarn over, pull through 2 loops on hook] twice; before completing the dtr, I need to add a picot.

Complete the picot and new space

Create picot for the lower corner of the new space: ch 2; ignore the two loops on the hook that are waiting for you to complete the dtr, and sc around the post of the dtr completed so far. Then, [yarn over, pull through 2 loops] until dtr is completed.
Is this a familiar type of crochet maneuver to you? Do you think it is to other crocheters?
Big News of Issue 2
These four patterns were added to the shop that week:
That's Ellen Gormley's daughter modeling the girl's size of the Birthday Skirt! She's in college now.
---
Stitch Equivalents in 2019
First, I created an illustration to update what I meant about the pink poncho realization in the "Prettier Joined Rounds" section.

Stitch Equivalents for Seams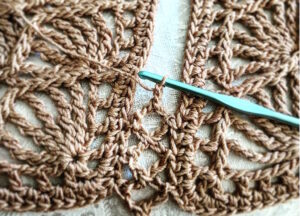 About that photo at the very top of this post: it's a close up of a motif joining method I'm using with Lustrous Tan Lotus yarn. I created it for a summery vest that's tentatively called "Dactylifera". It might be the first time I've ever used this stitch equivalents strategy for a seam. The tall stitches in it are linked to a motif edge, which causes it to curve the same way that chains with a slip stitch in the motif edge creates a linked curve.
I've experimented with many crocheted seams over the years. Even did a newsletter on some (#51, Lacy Summer Seams) which I'll link to here when it's uploaded. (Meanwhile, see the Fish Lips and Sister Act designs, and this experiment in Ravelry.) Even where I thought I might have used some equivalent tall stitches…I didn't.
Increasing at the End of a Row
I think the picot filet increase explanation in the original newsletter is a bit complicated. I hope some readers were able to use it anyway. Back then I'm not sure how aware I was that this is a known increase method in filet crochet (such as Karen Manthey's explanation). As I recall, I only gradually saw it explained in more places, maybe because I wasn't doing shaped filet projects.

It also works for Tunisian filet crochet! I doubt I knew this until at least 2012.
Either way, fixing loose top loops of super tall stitches becomes necessary.
[Caption for symbol chart at right: A Tunisian filet crochet stitch diagram. Of these three Tunisian crochet rows, the bottom one is all Tunisian trebles. 2nd row: chain extra to add a filet space to beginning of new row, [twisted Tunisian double crochet, Tunisian yarn over] for row; end with a Tunisian double treble (Tdtr) to add a new space at the end of the row. See how it bends to serve as the foundation of the space plus its last double crochet?]
The Bigger Picture
From this original topic I went on to think about stitch equivalents in a few more directions. One is the range of substitutions we can do in crochet, from stitches to yarn types. The more experienced a crocheter is, the savvier the substitutions. (That became issue 92, "Clever Substitutions".)
Another part of this bigger picture is the basic difference between a crochet stitch that needs a foundation and one that doesn't. (And, what counts as a "foundation".) Mixing chains with some equivalent tall stitches works great partly because they also look fine together. Their textures are so similar that the eye rarely picks out a tall stitch from a bunch of chains.
What if love knots (a.k.a. solomons knot) are used for a diamond mesh in place of chains? A love knot's texture is so distinctive that an equivalent tall stitch would really interrupt the look. Like chains, love knots need no foundation, no place to anchor the base of new stitch. In this case you can do a second love knot and double back on the first one as for Flowerfall, or turn the love knot into a stretched half double (UK/AUS: htr), like a 1-hdc puff. This is an idea a student had in one of my CGOA classes and I'll post her name here when I find it in my notes!
Whew, I think that's everything. Feels good to have an easily updated, permanent home for each newsletter issue.
---
Yes, You Can Subscribe to The Crochet Inspirations Newsletter
Join us for the second 100. The first 100 issues are archived and ready to be blogged here like the oldie above.
The newsletters are free. There's a way to become a newsletter supporter at the level you choose.