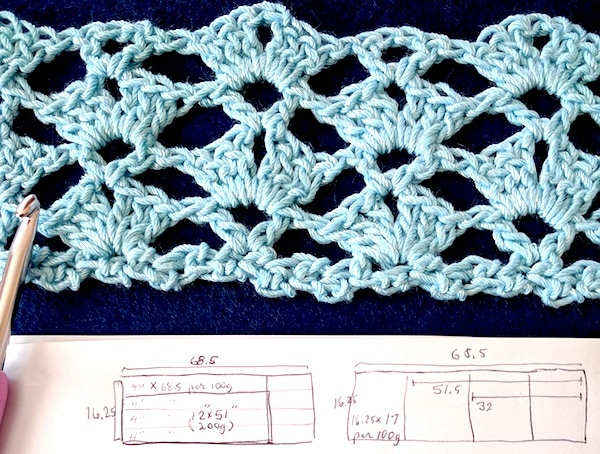 Happy NatCroMo! (National Crochet Month)
Designer Andee Graves featured our Lotus yarn with her new Shining Day Wrap crochet pattern. She's one of CGOA's 2018 board members. At her blog she explains,
"There will be 3 other patterns available free for CGOA members only, each only for 1 week. Be sure you've renewed your membership or joined CGOA before you miss out!"
Today is the last day you can get this pattern for free.
Why? It's part of the 2018 CGOA NatCroMo celebration and this one is free for everyone—CGOA members and nonmembers.
Shining Day is crocheted in a lacy stitch pattern that is flowing wonderfully off my [pink] hook. I think it flows so much because you crochet into chain spaces at an easy gauge.
A Flowing Foundation Row
This wide lacy rectangle is worked from the center out on both sides of the foundation row. You'll have matching ends, each with a pretty picot border.
For a design like this, you wouldn't want the foundation chains to look noticeable or feel tighter than the rest of its flowing lace. No problem! Andee uses a great type of foundation row. It's not only stretchy, it has a nice texture that blends in.
About Yarn Amounts
Andee used four 100g. balls of Lotus to get a wrap that is 16.25″ X 68.5″. Four balls is 1,024 yds (4 X 256 yds).
The Cone Idea
Some folks have wisely been ordering Lotus Z-Bombes, which are value-priced one-pound cones. One pound of Lotus is a bit over 1,100 yds, or about 4.5 balls. (I always allow a Z-Bombe to go a bit over a pound after subtracting the weight of the cardboard. I write the exact unique weight of each Z-Bombe on its tag.)
The Lotus Snacks Idea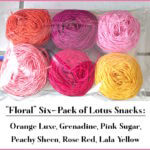 In my recent newsletter issue #90, I mentioned a multicolored Shining Day using a six-pack of Lotus Snacks. I think spring fever made me do it. I kept picturing a riot of floral colors like I do every spring.
Unfortunately I miscalculated the yarn amount for that in the newsletter. The mini Snacks are one-third the size of a regular Lotus ball: 85 yds per 33 g. Not one-half.
CORRECTION: A Six Pack O' Snacks totals 512 yds, not the 768 yds I stated in the newsletter.
My 512-yd. Shining Day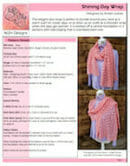 See my drawings above in that photo of my light blue swatch? That's me figuring out that a two-ball (same as six Snacks) Shining Day would come out to 12″ X 51″ (or a bit longer).
My swatch is 11.5″ wide. I needed 46 foundation stitches to do 4 stitch pattern repeats.