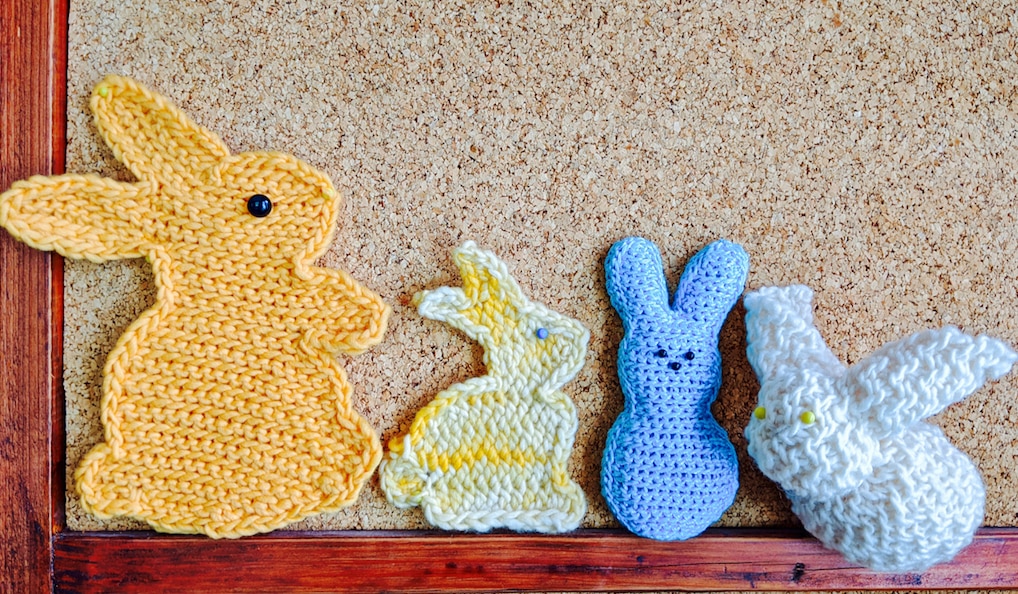 This past month I used Tunisian and slip stitches to crochet bunnies flat, rather than in the round. Make two, seam together, and stuff for 3D bunnies. Leave flat for appliqué!
Compare all the shapes in the photo above and below: there are some side-view silhouettes (the yellow wool bunnies) plus several marshmallow candy style bunnies in light blue Lotus yarn.
Two are stuffed, but all started out flat. The stuffed white wool bunny (above far right) uses the square method: I crocheted a flat square of inverse slip stitches, and then seamed and stuffed it. (I followed this tutorial for a knitted square bunny.)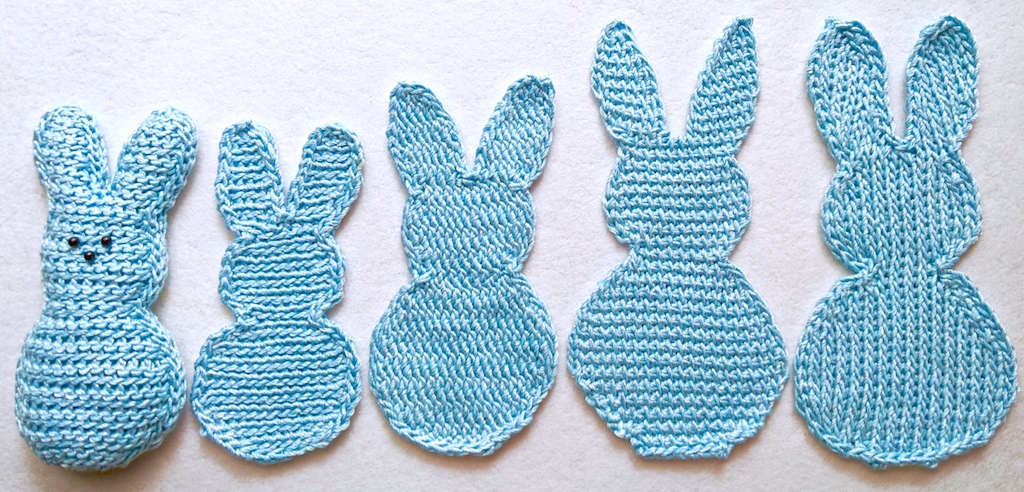 ---
My informal and rather obsessive online research tells me that 95% of all the crochet amigurumi (stuffed toys) are single crochet stitches in the round. The other 5% are single crochet flat, in rows. It's easy to know which were crocheted in rows because the texture is very different from rounds with no turning. Crochet designers Donna & Michaelene rock the flat method with single crochet.
Internal or External Shaping?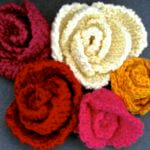 When you crochet bunnies flat, all the shaping happens at the beginning and/or end of a row; never in the middle of a row. This is external shaping. I've liked this kind of crochet ever since I swatched lots of shaping techniques for my Slip Stitch Shapes and Special FX class.
External shaping should be an elementary challenge, but it depends on the stitch and the shape. Each row might be different from the rest. I bet crocheters rarely do it constantly for a whole project, though. See my free heart pattern. It's an easier shape than a bunny because you're adding or subtracting no more than two stitches at a time.
New to external shaping in every row? Use the short stitch you're most familiar with: single crochet (sc), slip stitch (sl st), or Tunisian simple stitch (TSS). You need to be able to easily count your rows and stitches. For most people it's single crochet.
Crocheting any shape in the round (other than a straight tube) requires internal shaping. It kind of depends on the crocheter how basic that is. It's probably easier for those who started early on with granny squares, flowers, and other motifs in the round.
Slip Stitches, or Tunisian Crochet?
I found no examples of TSS or sl st crochet bunnies, flat or otherwise, except this sweet one in Tunisian knit stitch (TKS). (You'll need a Ravelry account to view it). I decided to do side by side bunny comparisons. Yes, I went down a rabbit hole.
Surprising Differences
I used the same chart size for each blue bunny. The Tunisian bunnies are much bigger! After making several sl st bunnies, the forward and return passes of Tunisian felt like double the work for the same bunny. Compared to sl st fabric, the return pass seemed to add padding and height to the stitches. The TKS one also feels heavy. It has so much more yarn in it than the others.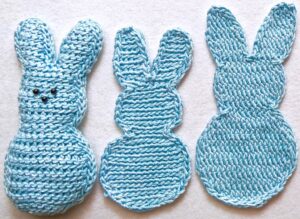 Of the three blue sl st bunnies, the inverse front loop one (far right) has the most height. I used it for two bunnies in the first photo above too: the smaller yellow silhouette, and the white bunny from a square.
TSS is similar to using sc. Besides being of similar height, it's easy to count rows, especially the TSS rows. Both prevent stuffing from showing through (so does sl st). Unlike sc and sl st, Tunisian stitches do lean, but more weakly than it appears. The lean readily blocks out.
Tunisian crochet has a few strong advantages over sc and sl st. There is no turning, so following a charted shape is the easiest. Another big advantage is when edging the shape. I like to edge flat shapes with a round of slip stitches before I seam them together. Crocheting into Tunisian row ends is a joy. "Joy" isn't the word that comes to mind when crocheting into row ends of sc or sl st.
Happy Easter 2020 everyone!