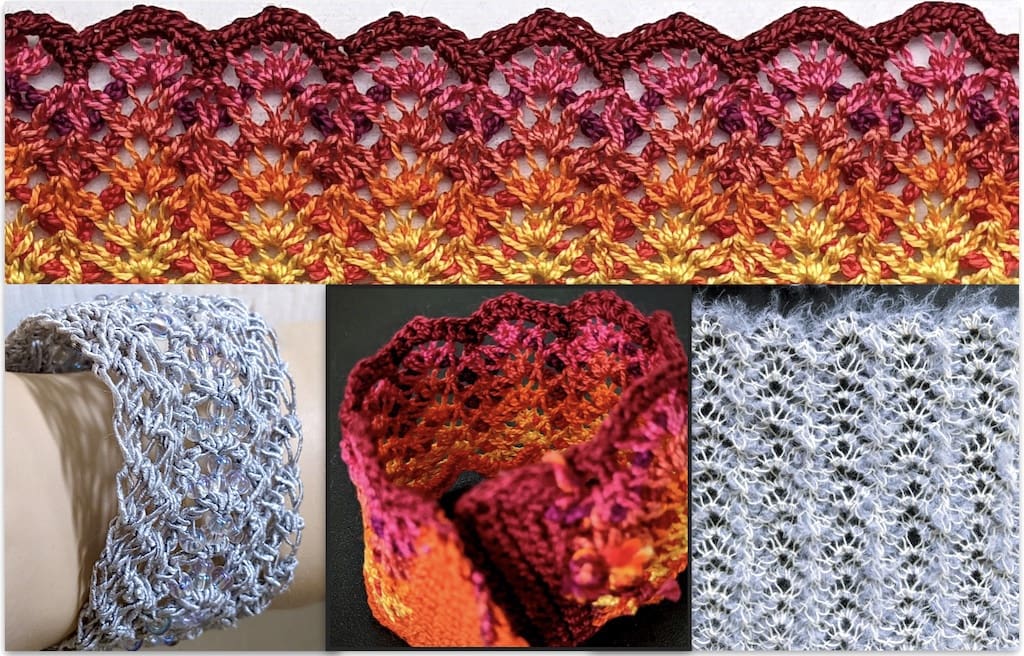 Up to date as of 4/23/2022. This page may be updated again before class time and after. 
This page is a conveniently clickable group of things I mention in the new Zegue-Along: Tunisian Scrap Zapper Project class. This two-day class will be held Wednesday, April 27 & Thursday April 28, 2022 at 11:00am – 12:00pm Central Time. I show a lots of published and unpublished designs in this class. Each illustrates the stitches and techniques learned. — Vashti Braha
A Project Class With Some Design Theory!
For this project class I'll be posting some tips, like the two swatches below, to help you choose your yarns, color/texture combinations, and crochet hook size for the kind of project you want to make.
This is no ordinary stitch pattern! I've just sent out a crochet newsletter (issue #105) about it. So, along the way I'll be including some crochet theory and construction method aids. Bookmark this page and check back.

Why "Zegue"?
Like the Zegue Wrap is a riff on the Ziggy Vest, the name Zegue is my riff on the name Ziggy. Both refer to the zig-zaggy ripple stitch pattern I used for both and which was a unique look for Tunisian Crochet. (Maybe still is, in its lacy way?) I pronounce Zegue zeg.
It's a Self-Healing & Reversible Yarn Blender.
Zegue is self-healing when cut. In fact, Zegue is a great first-time experience with cutting crochet stitches. If you've recently taken Self Healing Stitches you've experienced the empowering freedom of this.
It also has extended stitches in both the forward and return passes. Extending Tunisian adds easy laciness, stretch, and shaping (such as the shells and clusters you might be able to see here). It's even reversible enough that if you choose to use a double-ended crochet hook, you'll get the same look with different color options!
Easily blend yarns of different weights and textures. The odd balls in your yarn stash will likely look their best in Zegue stitches.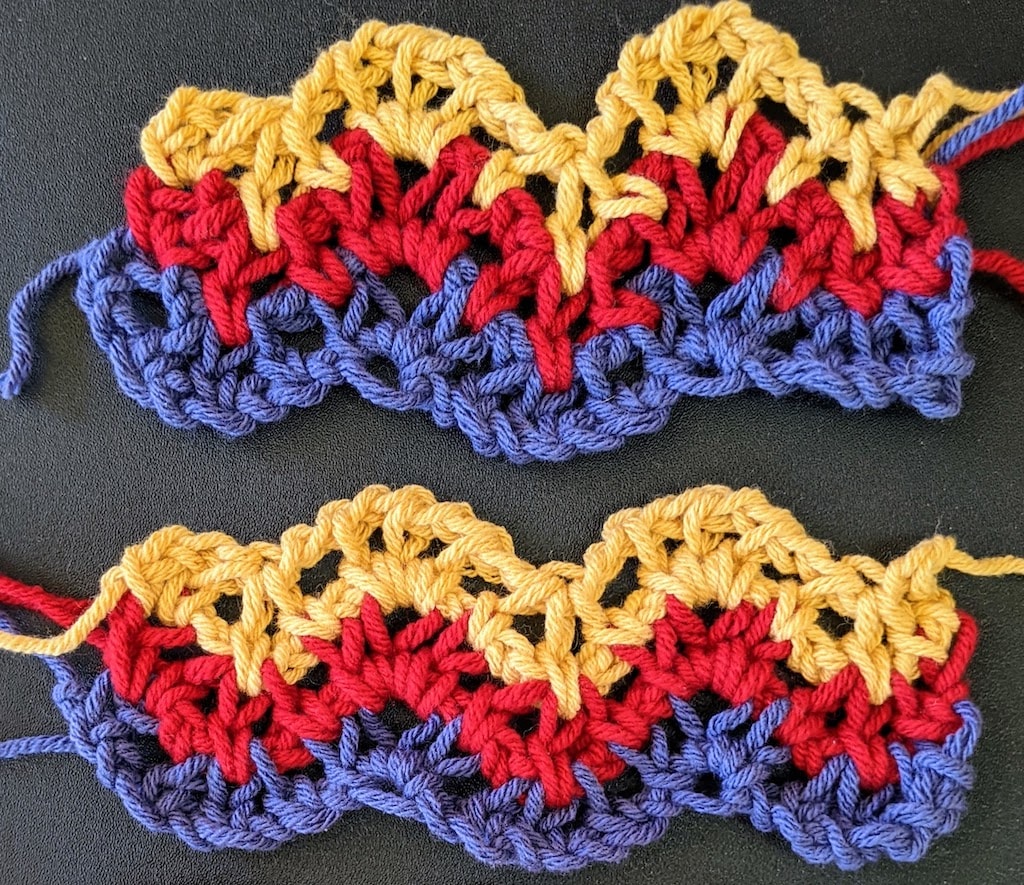 The difference between these two chunky Zegue swatches is when you change color. For the upper swatch, I changed color at the start of a new forward pass. For the lower one, I changed color to begin each new return pass. You can tell by looking at where the beginning yarn end is when each color was first attached.
The upper one has a spike-stitch look because the new forward pass covers a return pass of a different color. I personally prefer the lower one because my eye travels smoothly along the wave pattern.
The Class Resources
Designs & Patterns
Zegue: in Ravelry (it's a variation of Ziggy Vest, see #3 below)
Ziggy Vest: the pattern was first published in Delicate Crochet by Sharon Silverman (see below).
Clarenzeg, a new lace pullover for Spring: follow along as it takes shape.
Flickerzig bracelet, a color riot of size #5 perle cottons!
Rhianrhod Zegued-Bead bracelet: silver thread and beaded Tunisian stitches.
Swanzegue loop scarf in progress.
Corguescrew Spiralzig: a ruffle scarf, swatched.
Zegue Swatches, Zegue Tests
Flickr photo album for this class. This is a great place to see class material at full resolution, and to see an array of new pattern variations. Zegue itself is a fun variation of the Ziggy Vest. I love scrolling through stitch albums. I'm continually creating swatches and photos to add to this album.
My Pinterest Pin Board created for this class topic. Zegue is about being able to combine the weird yarns in your stash, and mashing up colors in new ways, and crashing wearable simple shapes that don't look simple at all.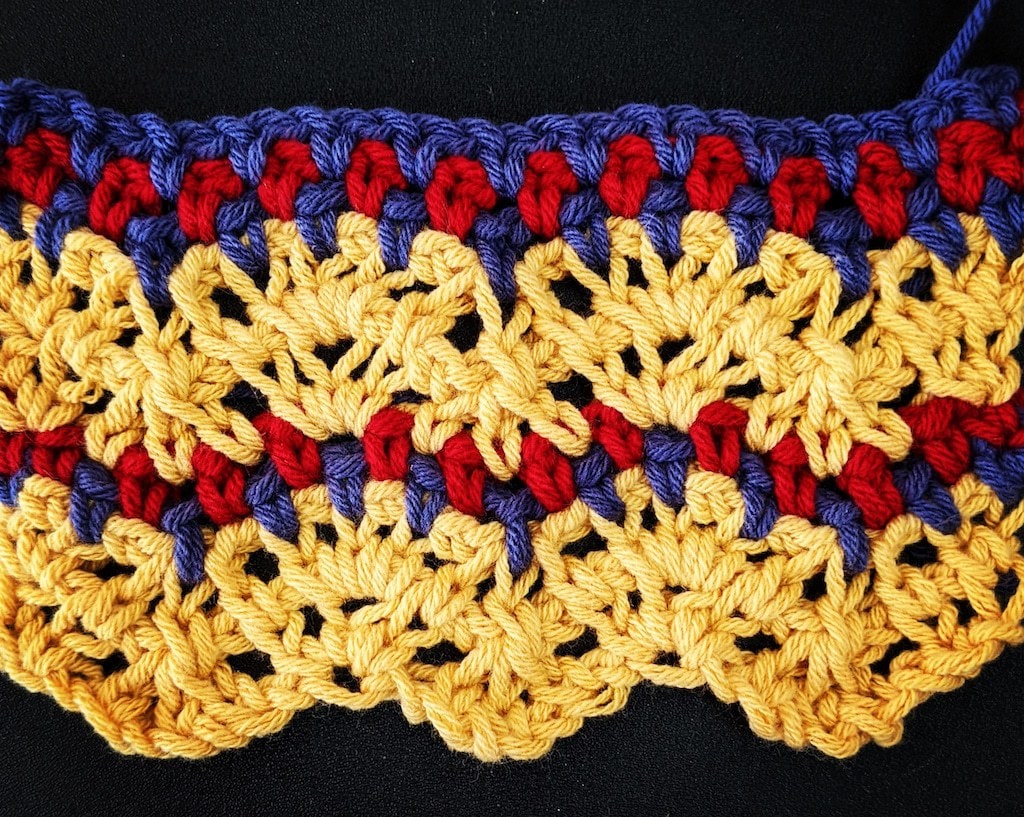 Turns out Zegue (in gold) is super-fun-compatible with linen stitch (red and purple) so I'm adding this option to the Zegue-Along class.
Zegue along with whatever you want!
Recommended Books and Articles
Inspiration Boards for this Class
Still need to register for this class? Register with CGOA. This is a NEW two-hour class held online over two days: Wednesday, April 27 & Thursday April 28, 2022 at 11:00am – 12:00pm Central Time. Registration closes 4/24/22 or when the class is filled.