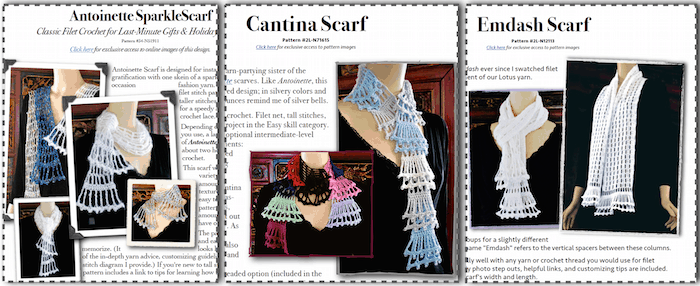 Welcome, Natcromo Blog Tour Visitors!
In honor of (Inter-)National Crochet Month, I've added a lacy spring scarf pattern to my Ravelry shop: the double-flounced Emdash Scarf. It's free for one week.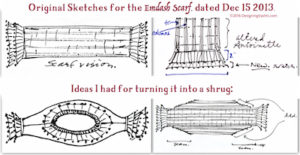 I thought I'd show you Emdash's crochet story in pictures. National Crochet Month is for crochet stories, right? Especially about lacy spring scarves. First, the design sketches:
Emdash has two design sisters.
There they are all together at the top of this post. It's easier to show some alternate views of them this way.  Antoinette is the eldest (I published her popular pattern in Nov. 2011). She loves lace weight metallic mohair with sequins and other holiday party yarns. Cantina is the youngest, even though her pattern was published before Emdash's (in Dec. 2015). Cantina is a freewheeling hippie girl who likes color parties, scrap yarns, and beads.
How did Emdash get her name?
While I was exploring special characters on my keyboard, I kept seeing the scarf draped on my mannequin. The columns of tall stitches are grouped with vertical spacers. (I like the slightly different crocheting rhythm of it.) They started reminding me of emdashes, yes—a type of punctuation. It shortens so nicely to "Emmy."
The last part of her design story is that I learned how to format and print out kit patterns with the Emdash Scarf, for the show booth I had last summer. This means Emdash is also available as a printed pattern while they last.
Happy National Crochet Month!