Three ways to add stitches at the end of a Forward Pass
It's good to know how to increase Tunisian crochet stitches more than one way because every project is different. These first two methods are my favorite because they don't limit how many stitches you can increase at a time. This means I can smoothly add big lacy spaces and whole blocks of solid stitch repeats, when and where I wish, in Tunisian crochet. This is something I've always loved about regular crochet.
Have a favorite method of your own? Please let me know in the comments!
Method #1. How to Add Tunisian Stitches with Half Hitches
In my original 2009 blog post about this method, I use a pair of half hitches as one increase. This pair is well known to those who do macramé as the double half hitch (dhh). As far as I know, I'm the first to use it as an edge increase.
A single half hitch can also be used for adding a new stitch, and I've since found it mentioned for this in a few older books on Tunisian crochet. I add them to a timeline in this half hitch resource post as I find out about them.
The half hitch is also well known in knitting as the simple/single/backwards loop cast on in knitting. This video shows half hitches being added to a knitting. This is how I do it and I've really picked up speed.
How to Do the Double Half Hitch Increase (DHH)

---
Method #2. Use Tunisian Foundation Slip Stitches as Increases
At the end of your Forward Pass, insert hook in one side loop of the end stitch, yarn over and pull up a loop. Then chain the number of stitches you wish to add. (I chained four in this photo.) Then take the last loop off of your hook; your chain stitches should resemble those in the photo.
Then, insert your hook under one loop of the first chain (tinted pink) and leave on your hook. Repeat with each remaining chain; then put the live loop back on your hook, as described in the caption.
I discovered this Tfslst method after I designed the Five Peaks Shawl with half hitch increases. Tfslsts is the method of choice in the Four Peaks Scarf pattern and in the Warm Aeroette Scarf (pictured at the top).
I love having both of these methods to choose from, depending on the project.
They are probably interchangeable enough that you could use the one you prefer. (More on that in the newsletter.)
The most important thing is to choose a method that doesn't impose a limit! Especially when you're crocheting something that has a diagonal edge and needs to drape nicely, like a triangular shawl or an asymmetrical scarf. Compare the triangles below.
Often when someone asks in a forum how to increase Tunisian crochet stitches, the advice is to squeeze them in. Typically this means adding a stitch in another loop just behind or next to another stitch. This method is fine if you're replacing a stitch that you accidentally decreased in an earlier row. If you think of basic Tunisian crochet fabric as a grid, space was already reserved for the missing stitch, and you're just filling it back in.
Method #3. The "Squeeze-It-In" (my least favorite shaping method).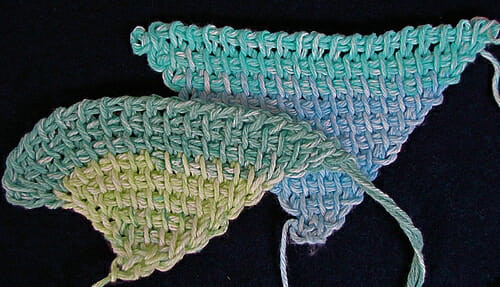 The Squeeze-it-in method has limits. It's okay for just a rare stitch here and there, and away from the edges. In other words, as an "internal" shaping method. I don't mean to impose rigid rules. Depending on the project, yarn type, and hook size, squeezing in new stitches when you wish may come out fine.
For me, this shaping method often interferes with my goal of a languid, swaying drape for Tunisian crochet accessories. When I consider how to increase Tunisian crochet edges for a new design, Squeeze-it-in is last on my list.