This is my Crochetville NatCroMo blogging day.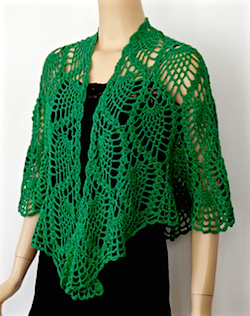 Thanks for stopping by! It's certainly a big weekend for us crocheters.
Tomorrow is a very green holiday (St. Patrick's Day) so check out our DesigningVashti Lotus yarn in the new Emerald Deep color. This is a rich, satisfying, inspiring green to take you from winter to spring.
Want to feel warm and cozy quickly? 
I've just returned from teaching "Big-Hook Slip Stitch Crochet" in icy Chicago. I urge everyone to gather up their jumbo crochet hooks and super bulky yarns! Some of my slip stitch projects take only an hour or two this way.
Expedient Cowl Took Only Two Hours to Make.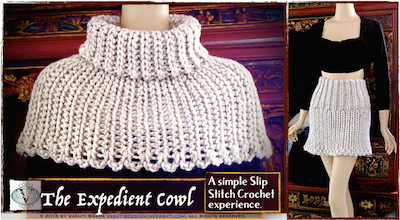 Warm up a big hook (size P/11.5 or 12 mm) for this toasty, speedy item. I named it "Expedient" because it took me just two hours tops to make one during LAST year's surprise cold snap.
No super-bulkies handy? Create your own: just crochet with multiple strands held together of whatever's in your yarn stash.
Tip: throw in at least one strand of alpaca or angora. These fibers are four times warmer than wool. Add a yarn with a halo like mohair, or a textured novelty yarn, to fill in any gaps between stitches.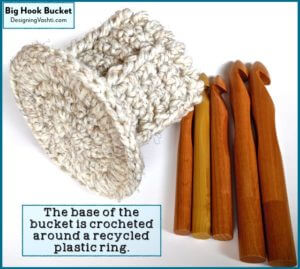 Be ready for the next cold snap with this set of five jumbo crochet hooks—sizes Q, R, S, T, and U—bundled with a free Big Hook Bucket pattern. (It's already at a discount as a kit so I'm unable to discount it further for NatCroMo readers, sorry.) You can buy these crochet hooks individually here.
Armed with these hooks you'll also be ready for when I release these new Big-Hook Slip Stitch crochet patterns (links currently go to their Ravelry project pages):
Zumie Lace Vest  I used a size S (19 mm) hook for most of it. This one-skein lace item took only 45 minutes to crochet. Yarn: the fun Hikoo Zumie by Skacel.
SS-Luscious Sampler  Size 12 mm ("P") crochet hook and two skeins of luscious Berroco Noble.
Pink kitty-ears hat with only 95 yds and an M/9 mm hook. It's simple back loop slip stitch in rows, then seamed on the top and side. It came out smallish on me and perfect on my friend (she kept it!). No yarn left over so I'm mulling a way to get a slightly more out of about 95 yds of yarn for this.
Slip Slab Neckwrap  It was the first prototype for the Expedient Cowl. I needed only 168 yards and a P/12 mm hook.
Also: Happy Spring Break!
Does it start this weekend for your family? My son's starts this afternoon.