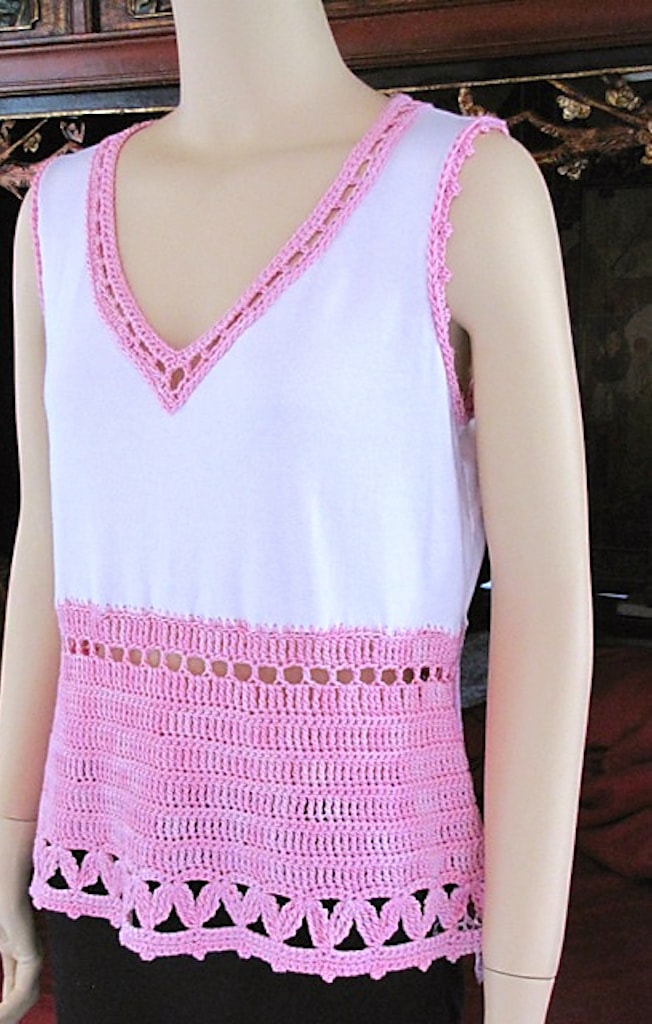 Remember I started to customize a tank top with crochet?
I cut a tank top to crop it and to give it a deep V-neck. Then I added crochet to it to customize it.
It's mostly done now, and I like it. This is a size Medium tank top on a Small-size mannequin. In standard sizing, Lindsay the mannequin is on the Extra-Small side of Small. I'm on the Large side of Medium. On me, the waistline of the top sits higher, like an Empire-waist top. Also, on me there is no ruffling where the crochet meets the cut hem.
I uploaded a bunch of photos of this project to its Ravelry project page. (If I take a selfie I'll add it there too. Maybe even here on the blog if I'm not too shy.)
This is my first attempt at a customized tank top with crochet. Thank goodness for a timely email I received from designer Sue Perez! She shared with me her sewing experience: a V-shaped neckline needs special reinforcing. I took that into account when I chose the crochet stitches and gauge for the neckline.
This experience of refashioning store bought clothes answered lots of questions I had. For example:
The Yarn Thickness Worked Out
It's standard sport weight, very smooth, and is a cotton mixed with rayon for drape. In crochet thread sizing this would be a Size #3.
I wouldn't want to go with a yarn that's any thicker than this, or that has any fleecy loft or friction on the yarn's surface.
A thinner yarn (a.k.a. a crochet thread Size #5 or #10) would work great, especially for fancier, fussier garments. This sport weight thickness works for the casual nature of a daytime tank top, or for a tee shirt. It also gave me the feeling of making progress quickly enough to stick with it.
Amount of yarn
I'd say it took up to 1.5 balls of Lotus yarn; that's 325-375 yds.
Method of Attaching the Crochet
Seems fine so far. It will also have to hold up to washing and wear. Crocheting right onto tee shirt fabric like this? Yes, it can be done. I used a needle-sharp steel crochet hook. It was the largest I have and was not quite large enough for the yarn. A larger one might have left noticeably big holes in the fabric though.
I didn't loooove doing the first row. Funny thing about crochet – that's often the case. Crocheting into the foundation chains isn't my favorite thing either, nor is crocheting foundation stitches. I usually want to get whatever the first row is over with. Same with this top.
Holes Where Stitches Meet Fabric
I mostly don't want to look at the holes where the crochet stitches meet the fabric. When I wear it I don't notice it at the hem. It stands out in this photo to me because it's rippling a bit. At the neckline, though, I added a surface crochet row that covers the holes.
A customized tank top with crochet looks pretty nice, doesn't it? I super love the hem. Those are split clusters of triple trebles.