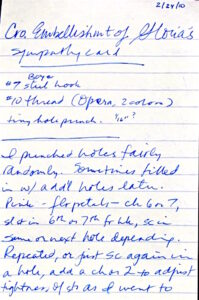 The other day I posted a photo of a freeform crochet card edge I did over four years ago. In that post I described how to crochet it, to the best of my memory. Back then I mailed off the card right away. I have no memory of having written down any how-to info.
Well, I just now I found the notes to myself about it (pictured at right). I've been going through lots of old files, boxes, CD roms, etc. so I'm finding all kinds of things.
Below I've typed in everything from that paper to be readable. I suppose you could say this is a…
Picot Crochet Card Edge Free Pattern
Supplies Needed:
Size #7 Boye steel crochet hook (or size that will pull the thread you're using through the holes punched in the card).
Size #10 cotton crochet thread: Coats Opera (100% mercerized cotton, 230m per 50g ball), 2 colors.
Greeting card: the thicker the card stock, the better. Glossy card stock is even stronger.
Single hole paper punch: 1/16″ diameter holes. (Look for one in the scrapbooking section of a craft store.)
Stitches and Abbreviations Used:
ch = chain
sc = single crochet
sl st = slip stitch
st(s) = stitch(es)
Begin Picot Petals Crochet Card Edge
Step One: I punched holes fairly randomly. Sometimes I filled in with additional holes later.
Step Two: With pink thread for flower petals, *ch 6 or 7, sl st in the 6th or 7th ch from your crochet hook, sc in the same or next hole, depending. (Depending on how it looks and how far away the next hole is. Bunching them here and there brings out the petal look.) Repeat from the *, or just sc again in a hole; add a ch or two to adjust the tension of the sts as you edge the card.
Step Three: With green thread for leaves, ch 6 or 7, sl st in 4th or 5th ch from your hook. Space these out a bit more than the petals were. I spaced them with only just enough chs to sc in the next hole gracefully.
I ended the pattern notes with, "I like how the bunched pink petals look next to the more spread out green sts."