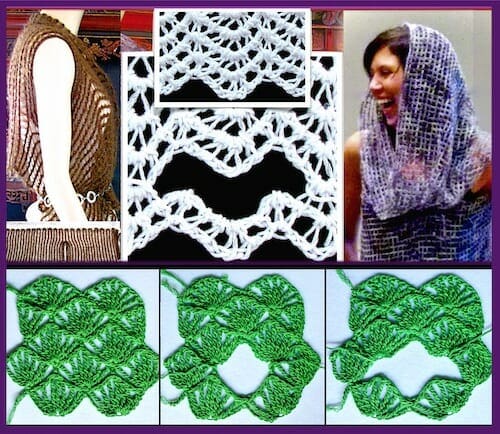 Up to date as of 2/03/2022

. This page will likely be updated again before class time and possibly after. 
Recommended Articles
Designs & Patterns
Steeked Crochet Designs by Others
Inspiration Boards for this Class
Self-Healing Crochet Stitches and How to Cut Them started out Tunisian-only in 2016. It was originally titled Steek (Cut) Tunisian Crochet Lace for Fun, Fast Fashions. I overhauled the title to help differentiate this topic from steeking knit fair isle sweaters and other traditional reasons for steeks.
Three fashion trends are relevant to this class topic: graphic/linear texture, net lace, and fringe. I've created a Pinterest board for each trend.
Cutting self-healing stitch patterns is a unique and fun construction method. Knowing how to easily steek as part of your crochet skillset opens up a whole creative avenue of projects. It's freeing and empowering. As of 2022, it's always an option that comes to mind when I'm dreaming up a new design. It goes together with inventive folds and seams I might like to use.
I find it also makes pattern schematics newly inspiring—especially for simple shapes. You might enjoy newsletter #80: Pattern Schematics for Insiders and Outsiders. and its "overflow" blog post, Steek Crochet With Pattern Schematics in Any Language (June 2016).
Any Books on Cutting Crochet?
I'll add information here as I find it, so please check back. (In 2016 I found nothing in books on specifically steeking Tunisian crochet. (If you know of a source, please leave a comment.)