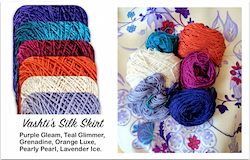 Happy Crochet Easter! Today I'm taking a break from lots of behind the scenes crochet work to post a quick update. Below is a long silk skirt I've worn every spring for years. It's one of my all-time favorites. This weekend I mused on its colors.
This "Vashti's Silk Skirt" color combo would make a striking crochet Easter/springtime project, wouldn't it? Perhaps a wrap, shrug, or bolero to go with the skirt?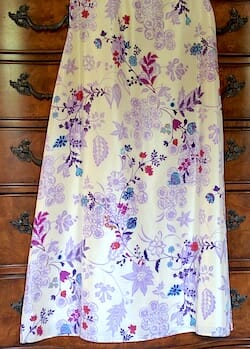 I can picture multicolored motifs. Or, a cream and lavender thing, with the darker colors as a contrasting border–little flowers, maybe.
In fact I'm going to create a project page for this in Ravelry after I finish this post.
I'll be able to send out a newsletter issue after I meet a big design deadline this week. So close! I'll also be able to keep moving forward on new blogging and crochet video plans I'm excited to share.