Reinforcing a Steeked Crochet Hole
There's more than one way to reinforce a cut made into crochet stitches because there's more than one kind of steek, and use for that steek. Here are just two kinds of projects made in the same stitch pattern.
Example #1: Keyhole
I added a keyhole to a pink Mesmer scarf. The two yarns in this first stitch close up are a lace weight mohair and a worsted weight sequined silk.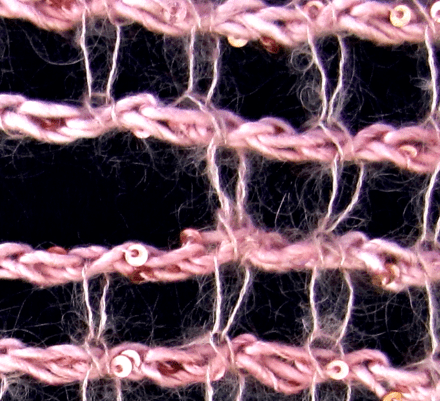 Both of the projects are part of the Mesmer Tunisian Veils pattern. If you steek crochet stitches the easy way—within one row—you have at minimum two yarn ends to fasten securely and then weave in. Some Tunisian stitches will cause you to have more (see newsletter #79 about that).
The more stitches you unravel, the larger the hole and the longer the yarn ends will be. I only unraveled 3 of the pink stitches and that left me with yarn ends that were just long enough to work with comfortably.
If the steeked crochet hole won't be getting a lot of direct wear and tear, use those yarn ends to reinforce just the stitch at each end of the slit. See where I've woven the fine mohair yarn in and around the stitch? It will get light wear.
Example #2: Armhole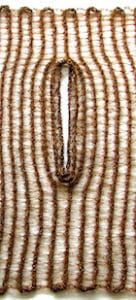 You're looking at an edged armhole of a brown Mesmer Vest that was designed for Interweave Crochet Magazine.
An armhole needs more reinforcement because of the constant pressure it supports in a garment. I switched to a double-ended circular crochet hook to crochet a few rounds of the same Tunisian stitch. It has a nice cap sleeve look when it's worn. In the future I'd love to try longer sleeves this way.
---
This post is part of my blogging goal of 50 posts for these 50 days of epic crochet conference prep. I've missed a day here and there lately because my dear friend from college is here for the week! We're about to leave for the day to see the mermaids of Weeki Watchee. It's a spring fed lake and water park.