First Photos of Today's Steeked Crochet Scarf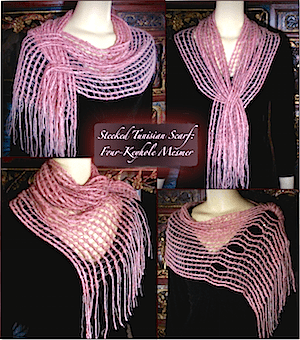 This afternoon I added four small steeks (cut holes) in a wide Tunisian lace scarf. I've had this scarf for years. It's an old oversized swatch, really. It gave rise to the Mesmer Tunisian Veils pattern and to the Maze Vest in the summer 2014 issue of Interweave Crochet Magazine.
One of my goals has been to create a "keyhole" (steeked) crochet scarf for my July Steeking Tunisian class. A keyhole scarf is just one of many reasons to steek.
Instead of crocheting a new one from scratch, I thought of this sequined pink rectangle. It has always been dear to my heart, even though it's just a bit too small. (The only reason it's too small is that I was trying to conserve the expensive yarn! I didn't know then that this Tunisian net stitch uses less yarn than usual.)
Not only does adding a "keyhole" (a steeked slit) make it easy to wear now, it can be styled so many ways.
-:——————–:-
This is Day 18 out of the 50 conference prep days I have until the big event. I can cross this project off my list! I've been wanting to turn my pink Mesmer into a steeked crochet scarf for months.
Today is also the day that Tropical Storm Colin arrived, and I'm happy to report that it has gone easy on us (so far). The worst seems to be behind us and it has been no big deal. My son did have to miss school today—we couldn't get to the mainland. The flooding is minor compared to what it could be, and the wind and rain have been milder than predicted. No power outages so far; no need to move the car to higher land.