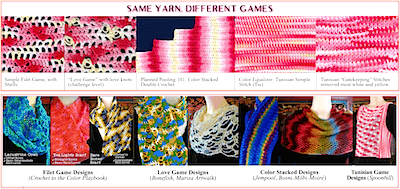 Pictured is a type of photo gallery that I've started including in my crochet class handouts. This one is for the Stitch Games class. View it full size. It shows a few different stitch games across the top. In the row below are finished designs that are based on one of those game types.
(I'm still tweaking the handout. This gallery may change by July 13.)
Pattern Galleries are Like 2-D Trunk Shows
Crochet class pattern galleries have turned out to be very useful over the years. I bring an overabundance of crocheted examples for what we cover in class. It's like a whole trunk show per topic! Anyone is welcome to examine them and try things on. As you can imagine, I'm often asked what the name of a design is, or whether the pattern for an item is downloadable. It's just easier if I label thumbnail photos of them in the handout.
I first did this in 2012 with the 21st Century Love Knots handout. It helped immensely. When I pass around items, someone will ask, "Is the information for this one in the handout?" and it's wonderful to be able to say "Yes, in the gallery on p. 3."