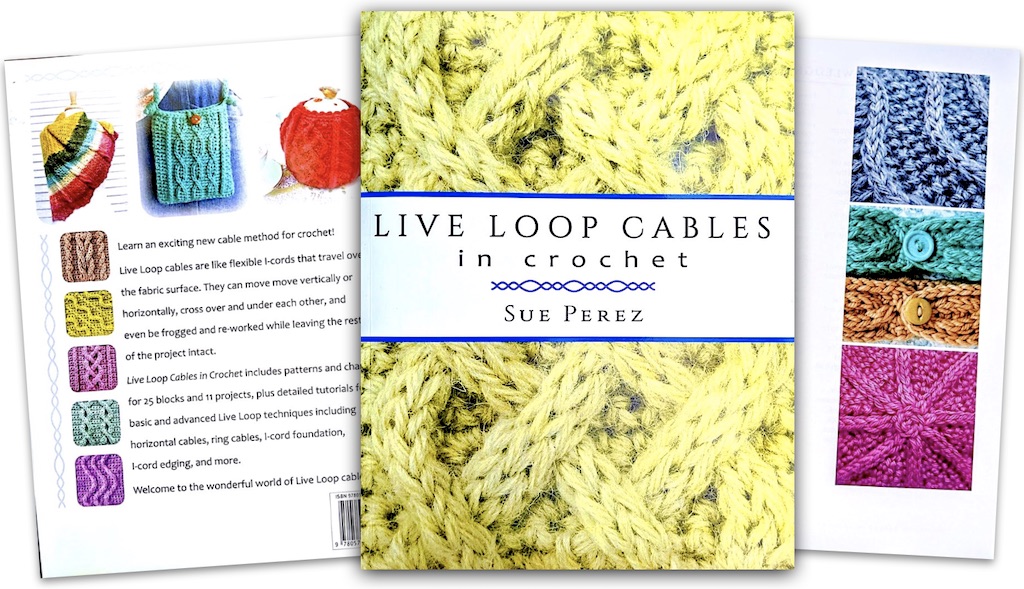 There's a new crochet technique book you need to know about: Live Loop Cables in Crochet by Sue Perez, ISBN 9780578720678. This is Sue's first crochet book, and she's been writing about crochet for a long time on her blog, Mr. Micawber's Recipe for Happiness. (Link goes to her post about the book where you can see lots of great photos.) We've connected on other geeky stitch tech things over the years, like limpets and weird foundation stitches.
I'm excited about live loop crocheting (I've had a newsletter issue in mind about fun with live loops for years), so I bought this book the moment I found out about it. It's my first Amazon print on demand purchase. The book arrived quickly and the print quality of the full color photos, and detailed diagrams, is great.
"Live Loop"?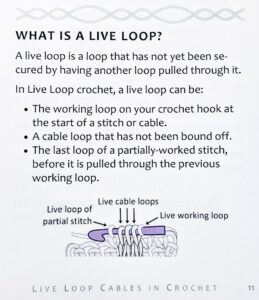 A live loop is a simple and unique thing in crochet: it's a loop that could unravel. It's in a transitional state. It needs another loop to be pulled through it to secure it.
I've also heard the term working loop used for this special loop that's on your crochet hook as you crochet. If there's more than one loop on the hook, they're all working loops or live loops.
I think of "working loop" as referring to the loop(s) on the hook. I think of "live loop" as a working loop that is not on the hook and so it needs to be watched (kind of like a "live wire").
Partial Stitches
One of the things that excites me about Sue's book is that it explores what crochet loops can do while in a prolonged live state. It's like a science fiction story where a little stream of time splits off from the main river of Time. The live loop cables are running on a separate little stream. You can even unravel some cable loops to fix an error without disturbing the background stitches.
A Hybrid Technique?
Knitters seem to recognize something about this technique. I've seen a few people associate it with i-cord. I can't speak to these associations with knitting because I haven't knitted since I was ten years old. I wouldn't be writing this review on this blog if any knitting knowledge were needed to understand or enjoy the book.
It's written with crochet language for crocheters. In fact, there are many little ways that I see a crocheter's touch in the book design. I also see a crocheter's understanding of what it's like to learn a new crochet technique. Sue even developed a way to chart the cables for people who are spatially challenged ("like herself" she says). I also love the guidance she gives about overlooked basics like distinguishing the right side and wrong side versus the front and back. There is so much more than this too.
I mention this for two reasons: first, if you do also knit, something about this technique may be familiar to you. Second, it doesn't have to be a hybrid technique for you. It isn't for me. I just experience it as crochet. Theory wise, live loops/working loops are a simple crochet fact, so a technique exploring them holds up as crochet for me. Live loops have been used in other little pockets of crochet for a long time. (Hence the newsletter topic on the back burner.)
Plenty of Projects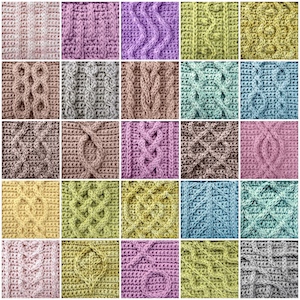 This is a large-format 173-page book. The first 32 pages are thorough step by step explanations of the technique. THEN, patterns for twenty-five cable blocks take you to page 100. Each block has a color-coded chart, color photo, and often a helpful little diagram of a special step, or a design tip.
For the remaining 73 pages there are eleven projects, plus some reference material at the end. There are hats, mitts, cowls, a scarf, shawl, tea cozy, bag, bowl, and headbands. (Scroll through this blog post to see them all.) They would all make very useful gifts. This is an important new crochet technique.
You may have seen Sue's designs in Interweave Crochet, I Like Crochet, Love of Crochet, and for SweetGeorgia Yarns. Her designing and pattern writing experience shows.
Congratulations, Sue! It's a remarkable book that raises the standard for crochet technique book publishing. I know you must have given it your all because it is so finely word-crafted and illustrated. Thank you for your contribution to the field of crochet.
---
Live Loop Cables in Crochet by Sue Perez is available from Amazon. (The custom link is the author's.) Sue also has a Youtube channel; view a 2017 video of her live loop technique.