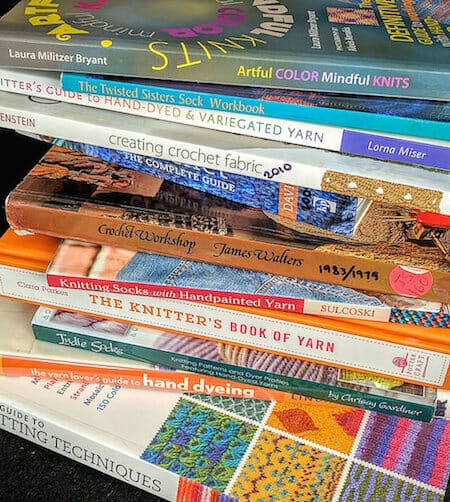 Some Crochet Class Research
Back in January I read a stack of crochet books (and many knitting books) as research for my Stitch Games class topic. I welcome doing this, especially in January after the hectic holidays. It's so cozy.
I take notes as I read them. Then I set it all aside for a few months until I'm ready to look it all over and start writing the class handout.
It wasn't necessary that I do this kind of research for the other class topics this year (one never knows how time-consuming it's going to be!). I went through stacks of crochet books about love knots, star stitches, and Tunisian lace methods in earlier years.
Below is the list of seventeen knit and crochet books that helped me in some way. They're in alphabetical order by title. I starred the ones that I recommend the most (about stitch games/pooling techniques). The list doesn't include a few articles and websites I also used.
17 Knit and Crochet Books Read
***Artful Color, Mindful Knits: The Definitive Guide to Working with Hand-dyed Yarn by Laura Militzer Bryant XRX Books 2013 ISBN-13: 978-1933064260