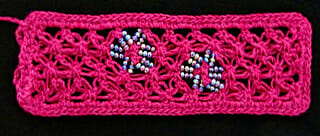 View project page for this "Bead Urchins Cuff" in Ravelry.
I'm still testing new crochet designs…
…for the five classes I teach next month! This started months ago. It never stops, actually.
I have other new crochet ideas in progress for this year's classes too. For Tunisian Eyelet Meshes I have a draping collapsible "Leanin' Loopholes" wrap to finally start when the new Lotus colors arrive. Another project in motion for the Stitch Games class is an argyle (only a few rows done, no photos yet).
When CGOA puts out a call for class topic proposals in the fall, I send more than enough: all the topics that I've enjoyed teaching in the past, plus interesting variations on them, plus new ones. Designing new crochet examples starts the moment I find out which ones I'll be teaching. (Not on purpose, it just happens.)
Meanwhile
Meanwhile I stand ready (with camera) to receive a giant new lot of Lotus yarn. Can't wait to get my hands on the new colors. Doris has her designing cones already so I know UPS will be here any day. Once the yarn arrives–on giant cones–I get some of it turned into Z-Bombes (1-pounders). A lot of it will be "pull cakes" ASAP.
I also stand ready to design with it. I'll need some new crochet for the road trip up to the conference, right? Doris got started immediately with a new design in emerald green. This reminds me that I also need to lock in the new color names for the ball bands and snip cards.
I'm on Day 35 of my 50 blogging days of crochet conference prep and I'm feeling behind! I still need to get some crochet patterns reformatted into print versions (for some of my classes and for kits in the market booth).