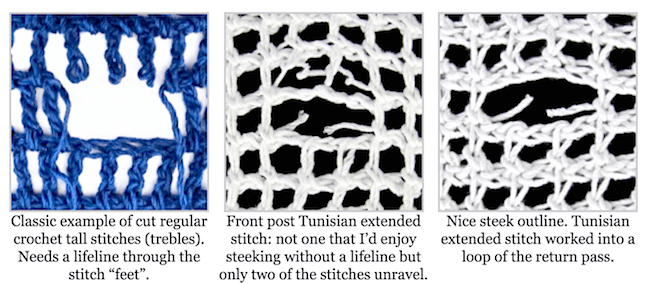 These three images didn't make it into the newsletter I sent out yesterday on steeking crochet.
Not sure if it's obvious in the middle photo: I removed two stitches in the forward pass. It freed up the return pass AND the stitches above them in the next row. This is because I crocheted these stitches around the post of the stitches, not into a base (i.e. into any return pass loops).
Without a lifeline, these post stitches just dissolve into messy loops. It's not as bad as Tks or Tfs (as mentioned in the newsletter). The unraveling is contained.
My friend arrived last night from Kentucky! So glad I got the newsletter sent off. I hope you enjoyed my exploration of steeking crochet. My next critical conference prep task is to complete my last class handout (Starwirbel Way). After that milestone, I'll add corrections to all handouts as I receive them from my editor, and direct my mental energies toward writing patterns.