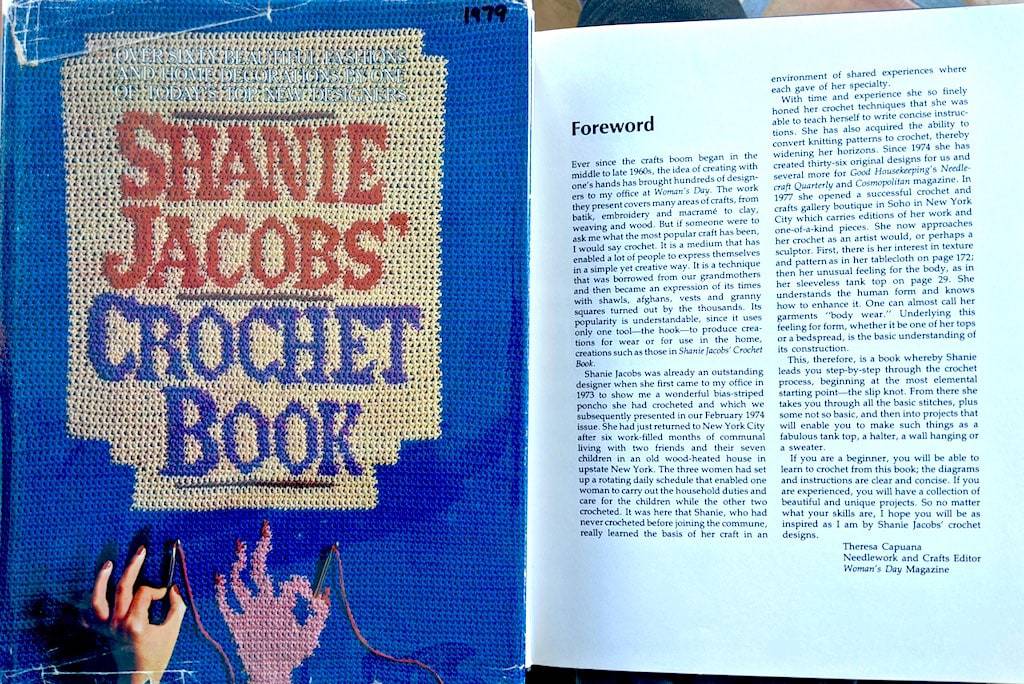 It's Day Thirteen of my self-quarantine from the pandemic. One of my favorite ways to use this time is to reduce my large collection of crochet books. As I mentioned recently, my husband and I plan to move. Fewer books will make moving easier.
I discovered an interesting bit in the Foreword of Shanie Jacobs' Crochet Book published in 1979. I've bolded the part that I can't stop thinking about!
Shanie Jacobs was already an outstanding designer when she first came to my office in 1973 to show me a wonderful bias-striped poncho she had crocheted and which we subsequently presented in our February 1974 issue. She had just returned to New York City after six work-filled months of communal living with two friends and their seven children in an old wood-heated house in upstate New York. The three women had set up a rotating daily schedule that enabled one woman to carry out the household duties and care for the children while the other two crocheted. It was here that Shanie, who had never crocheted before joining the commune, really learned the basis of her craft in an environment of shared experiences where each gave of her specialty.

Theresa Capuana, Needlework and Crafts Editor, Woman's Day Magazine 1979.
So Many Questions!
I have many questions for Ms. Jacobs! (Unfortunately she recently passed away.) Who were the other two friends and how did this crochet retreat plan come about? It sounds like the other two already knew how to crochet different things. Did Shanie come up with the idea as a way to hone her crochet skills?
What about the seven children: have they stayed in touch with each other? How did they get along? How do they remember those six months? Was anyone else there besides three women friends and seven children? Whose house was it?
A rotating chores schedule among three moms seems workable. I've done some long solitary days of marathon crocheting to meet design deadlines for publishers. After crocheting for two days straight, I'd welcome a day of simple routine tasks. What fun to be able to listen in on what the other two crocheters are talking about!
How Did Her Schedule Work?
I'm still thinking this through. Say the three participants are named A, B, and C. A crochets clothing and uses Tunisian and Hairpin lace sometimes; B crochets a lot of motifs and amigurumi and home decor; C is new to crocheting, having only learned how to make rectangle shapes with simple stitches.
A week's schedule could go like this:
Monday: A & B crochet, C doesn't (she's doing everything else—cooking, cleaning, shopping, and keeping the kids entertained/homeschools them or takes them to and from school).
Tuesday: B & C crochet, A doesn't.
Wednesday: C & A crochet, B doesn't.
Thursday: repeat Monday.
Friday: repeat Tuesday.
Saturday: repeat Wednesday.
Sunday: If everyone takes Sunday off, they can repeat the same work schedule from Monday to Saturday.
For each week, each person has four days of pure crocheting per week, plus two days of chores. Everyone has Sunday as a free day. Every Monday and Thursday, A and B would share what they know about crochet with each other. On every Tuesday and Friday, B would help C learn more about crochet. And on Wednesdays and Saturdays, A would help C with crochet.
Crochet Retreat, 1970's-Style
After several days of daydreaming and reminiscing about my own (much shorter) crochet retreat experiences, I started noticing the language Ms. Capuana used. She called it a commune and mentioned an old wood-heated house in upstate New York (away from the big city). Just three friends and their kids. It sounds idyllic, doesn't it? I wonder if it was.
Six Months Long?
Six months is a long time! Did she plan to take six months? (According to a 1998 profile of her in the Miami New Times, it was three years.) What goals did each of them have and did they meet them? What were the costs and how did they budget and pay for it? Do they think back on that time fondly? Are they still in touch with each other?
Two crochet designers and I met up for a crochet retreat eleven or so years ago. There were no children around and it was nowhere near six months long.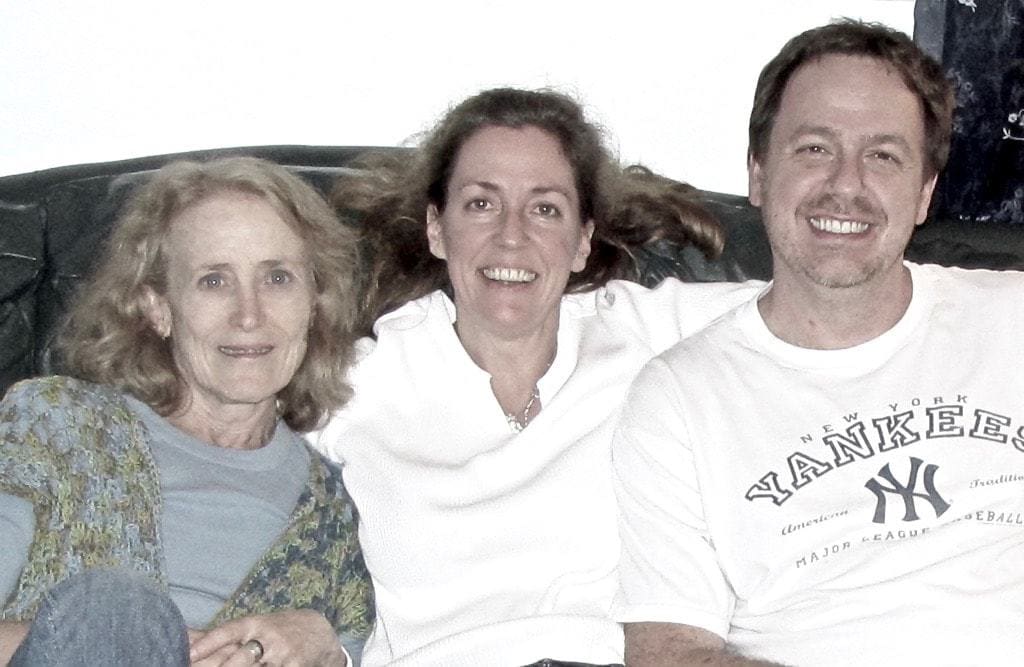 It was heaven! And, as I recall we tended to get restless after a few hours. Maybe the longest we could crochet for was about four hours at a time? I didn't time it, but I do remember at least one of us getting restless on a given day and coming up with tempting ideas for going out for dinner or visiting a new yarn shop. We all needed to deal with meals every day, and that's a significant difference from Shanie's commune, and from crochet conferences. We didn't do the rotating schedule of one person cooking and shopping for the day.
The Queen of Angora
"The saga of Shanie Jacobs, Miami's angora queen, is a curious weave of glamour and feminism" –Judy Cantor, Miami New Times (read full 1998 article)
This is how Shanie is described at her website: In 1970 at 30 years of age and a lifetime of unexpressed creativeness inside of her, Shanie learned to crochet. Four years later she took a bundle of original crochet designs to Woman's Day magazine. Her patterns would repeatedly appear in the magazine for more than a decade.
In issue 88 of my newsletter I wrote, Ever wonder what Shanie Jacobs was up to after she wrote the 1979 Shanie Jacob's Crochet Book? I Googled her when I dipped into her book for this issue. She was dyeing her own angora yarn to crochet and knit trendy cropped tops for fashion magazines and her website customers!
At her daughter in law's Facebook page you can scroll through photos of her angora designs and magazine covers. Visit her Etsy shop for angora items and yarns.
If you liked this kind of blog post, I expect there'll be more of them as I comb through more of my crochet books.