On this first day of National Crochet Month we're fantasizing about more colors of Lotus yarn.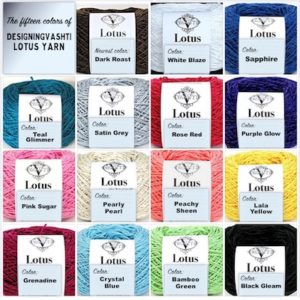 Help us choose the next colors of DesigningVashti Lotus yarn and you might be the lucky recipient of 512 yds (two balls or 200 g) of it. That's enough to crochet many of these patterns, and all of the Ravelry projects that came up in this search.
The existing 15 colors happen to fall into a tidy symmetry: there are 5 pastels, 5 neutrals, and 5 deep gem tones. What to add, oh what to add?
2017 Update: See which FIVE colors we added!
2018 Update: Explore albums of all the Lotus colors!
What do you think our 16th Lotus yarn color should be? (You're welcome to add a suggestion for #17 and 18 too.) Just mention it in the comments below. A one-word comment is fine. Color is very inspiring, and I'm especially passionate about color right now because I'm reading books by indie yarn dyers. So feel free to add why that color, or what you would crochet with it, or other colors you'd combine with it–whatever comes to mind. We look forward to reading every comment.
The gift recipient will be randomly chosen on March 15, and announced here on this blog that same day. We'll use a random number generator. Commenting more than once won't increase your chances. The yarn gift can be mailed free to a US address only.