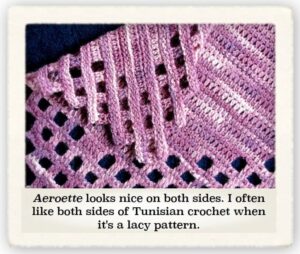 —-:—-
This blog post is the second part of a short series about the birth of a new crochet pattern pdf. The third is here.
Update: Downloadable PDF for the new Tunisian crochet Warm Aeroette Scarf is officially in the shop.
Behind the scenes of a new Tunisian crochet pattern
Pictured is draft #4 of Warm Aeroette Tunisian Crochet Scarf.
I'm a slow, deliberate pattern publisher.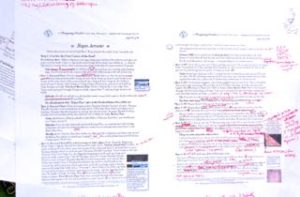 I love crocheting and so I think I chronically underestimate how much work it really is! Not only does a step almost always take longer than expected, I don't always know when I need to recharge. (Each of these is a "step": a stitch diagram, a photo tutorial, pattern testing, sizing, tech editing, etc.)
The Aeroette pattern has a longer title because this is a downloadable single pattern. The title needs to tell crocheters (and search engines) as much as possible in one line.
Three things can slow down new Tunisian crochet patterns for me:
Each design seems to bring unique issues!
For Aeroette, starting the scarf in one corner is a biggie. It merits a nice step by step photo tutorial. It's a rare construction method for Tunisian crochet. Also, the best pattern wording evolves slowly sometimes. For Aeroette I've revised the wording of how and where the beginning and ending picots go a few times for clarity. Tunisian crochet pattern language has its own conventions.
Temptation of creative design details.
Doris is the same way and we laugh about this. Maybe optimize X, or add Y feature? What about this or that variation? I'd better swatch it in a very different yarn to make sure the design is not dependent on the yarn I'm using.
How educational it is. 
Aeroette started out originally as a practice project for a class on the Aero Tunisian Filet Lace Wrap. My goal with Aeroette is that it serve as a new Tunisian crochet skill building experience.
Sometimes I print a 2-to-a-page draft like you see here, to save paper. To save printer ink, the photos and captions are temporarily tiny. Most images are step-by-step tutorial photos that will all go on a back page. That will make printing them optional to save everyone's printer ink.